24 Hour Private Care and Live in Care are the two best in home aged care solutions for elders who need around the clock care and want to avoid the nursing home
24 hour private care and 24 hour Live in Care are the two very best 24/7 in-home care solutions enabling elderly people to live comfortably, joyfully and safely in their own home. When they need care 24/7 around the clock care, rather than being placed into a nursing home consider in home care for your loved one. However, 24 hour care and live-in care are two very different services in the way they are staffed, what they cost and who they are best suited to.
You can explore the two options and discover their similarities and differences. After 21 years of providing both 24 hours care and live in care, you can trust that Daughterly Care's High Care Case Managers and Registered Nurses have the experience to recommend the most suitable solution for your loved one. We listen to you and work with families to recommend the best private and government funded in home elder care solutions to meet your or your loved one's care needs and lifestyle.
At Daughterly Care we recommend the best private or government funded elder care solutions for each individual client as there is no one-size fits all. Let's look at the options for around-the-clock 24 hour care, which is a far better alternative to moving into a nursing home.
Our High Care Case Managers have decades of nursing care experience to determine your private Live-in or 24 hour care needs. They are exquisitely knowledgeable on advising the most suitable type of care plus, understand the cost effective options for you or your elderly loved one to choose from.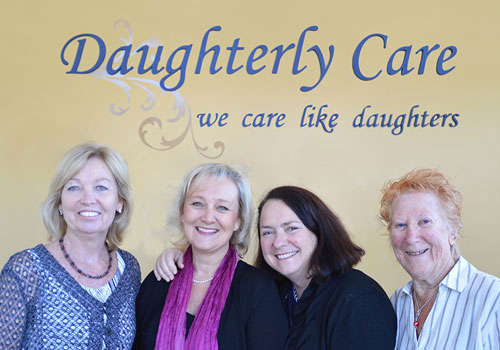 Daughterly Care's private 24 hour, around-the-clock or overnight Live in Care allows you or your elderly loved one to never have a reason go to a nursing home.
Click here for more information on private Live in Care or click here for 24 hour in home care information.