In Home Care Client Survey Results 2020
Daughterly Care is proud to announce our excellent in Home Care Client Survey Results of 2020 which show Daughterly Care provides the best, premium, high quality in home aged care services in Sydney, NSW. All our clients were surveyed and all their answers are published below, as they wrote them, positive and not so positive. So if you want to know what our clients actually think of us, in their own anonymous words, read on.
Registered Nurse and Co-Founder, Verlie Hall, and Directors of Daughterly Care Community Services Ltd, Nicole Hickey and Kate Lambert, are absolutely delighted that 99% of our clients who completed our 2020 Home Care Client Survey rated our services as either Exceptional, Exceeds Expectations or Met Expectations.
Our 2020 Home Care Client Survey results have filled our Directors with the same joy as this happy little girl. Our 2020 results are consistent with our absolutely brilliant 2019,  2018, 2017, 2016 and 2015 results and illustrate why Daughterly Care has such a strong reputation for being Sydney's best in home care provider and that's why health professionals and families recommend us so often.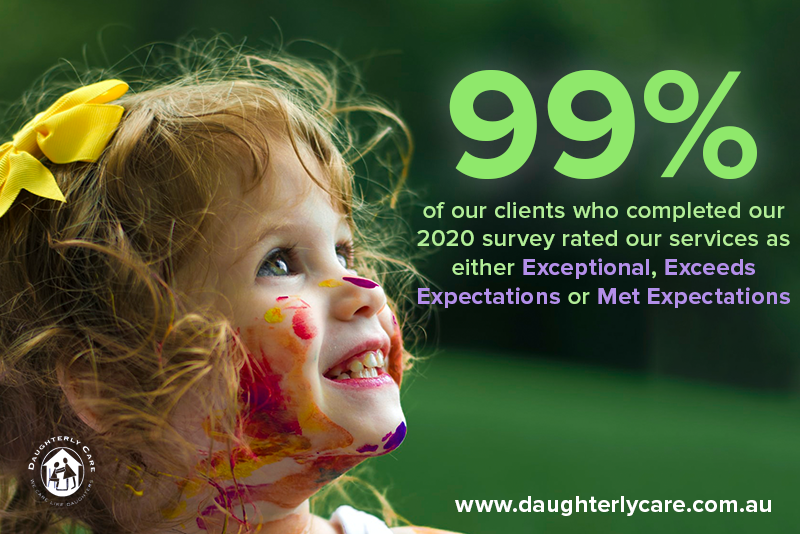 Do Verlie, Kate and Nicole believe that Daughterly Care provides 99% exceptional service all the time? Absolutely not. We are realistic. We know we fail at times. However our service guarantee means we work hard to turn sub-optimal situations around to meet our clients' high expectations and we penalise ourselves financially when we don't.
Q1. What is your overall rating of the 'service' you received from Daughterly Care Community Services?
98.62% of Daughterly Care Community Services clients rated our services as either Exceptional, Exceeds Expectations or Meets Expectations.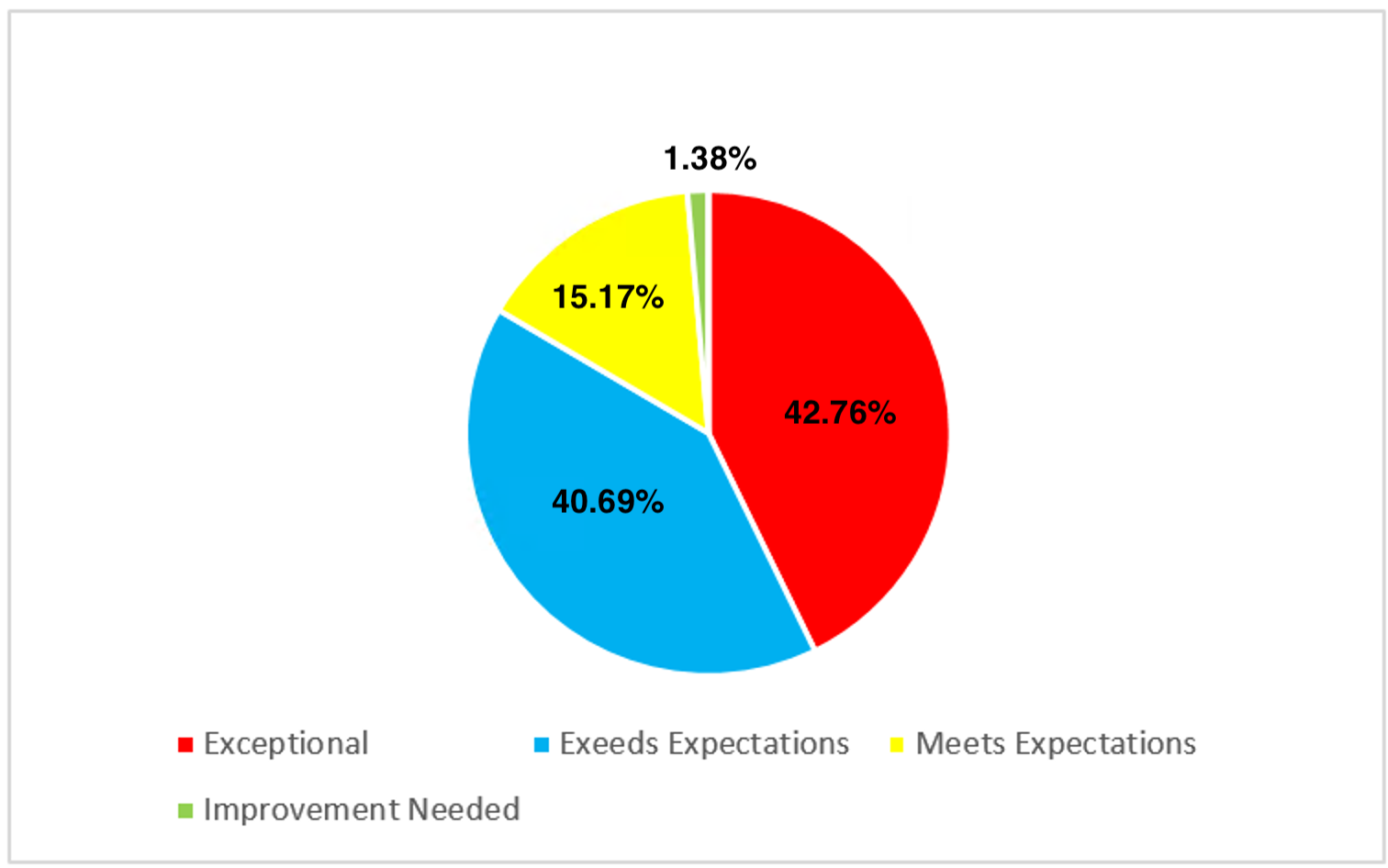 Q2. Does Daughterly Care Community Services meet your expectations as to the 'quality of care' that you/your loved one receives?
98.62% of Daughterly Care Community Services clients rated our services as either Exceptional, Exceeds Expectations or Meets Expectations.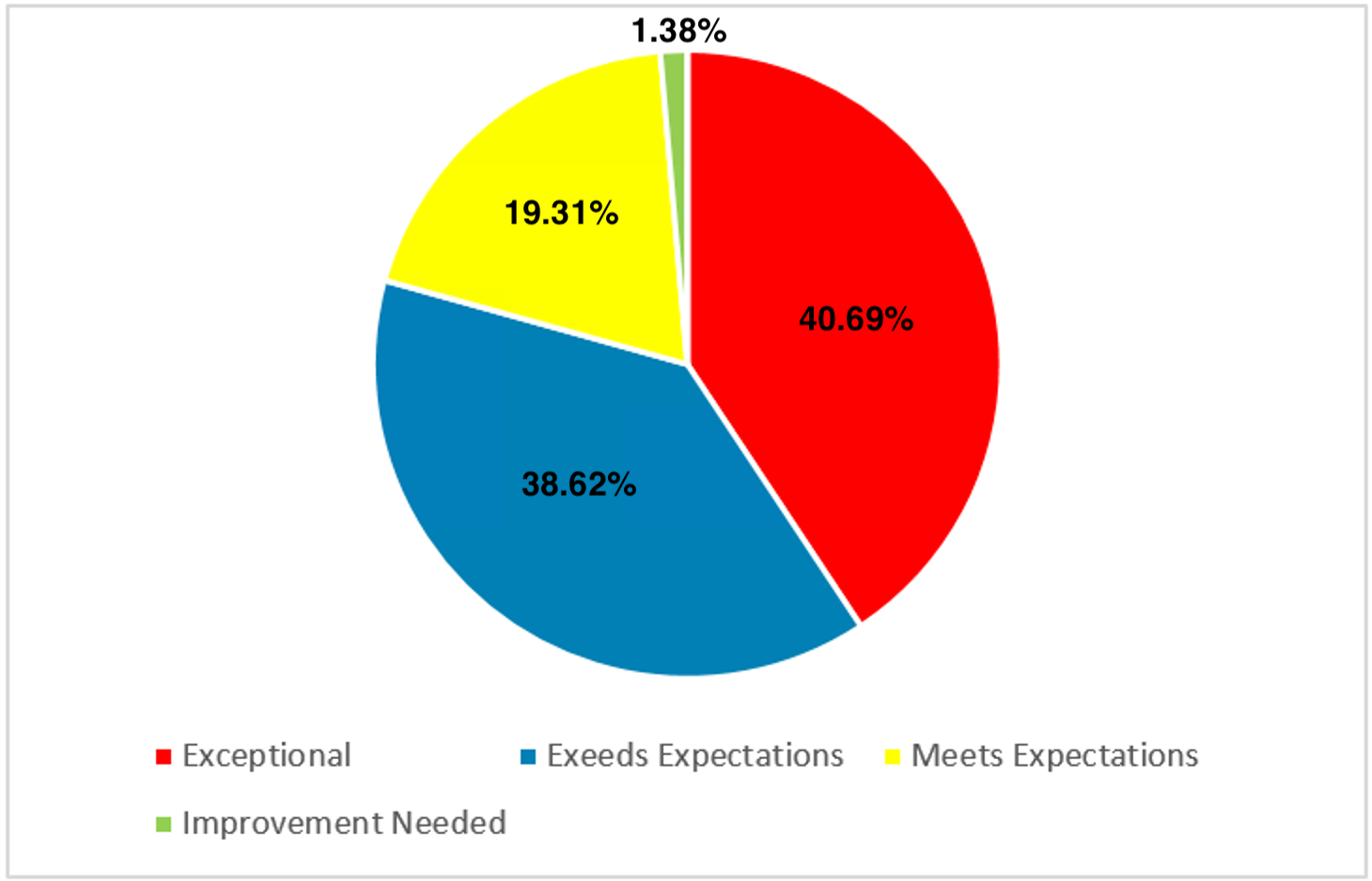 Q3. What exactly stood out as being exceptional about our Caregivers?
They are very sensitive to my mother's needs. Mum looks forward to their visits
Very professional, experienced and empathetic
The friendly and efficient service
Very Very Helpful
All the 'Caregivers' I have had (not many I know) have been very friendly and personal
The willingness to do most chores
Kindness
Willingness to help in any way. Will find things which need to be done without being asked
Kindness
Nothing was too much trouble for them
Caring, respect and friendliness
Supportive disposition – caring concern and helping with problems
Francis is absolutely exceptional and goes above and beyond to assist me in any task needed.
Kindness, empathy and compassion
Willingness, promptness, speed of help, consistency, thoughtfulness
They are caring and are safe.
Understanding and attending to our particular and various needs.
Exceptional except for the one or two who called in the evening to cook the evening meal and put Judith to bed. Phyllis carried her role with exceptional care and attention. She is a real gem.
Tina from Daughterly Care is exceptional – well organised and looks for ways to make mum more comfortable.
Generally, all carers are nice and caring
Magdalene is most thoughtful, cooks very well, is extremely obliging clean and tidy – nothing is a trouble!
The amount of relief I am experiencing each time I realise 'Oh Daughterly Care will help me with that!"
Our coordinator Kayleigh-Jane is simply amazing. She is always here to help and support us in times of need. We are very grateful
Warm, kind and professional caregivers
Always willing to help -Think ahead -Not lazy -Kind and warm hearted
Their caring attitude and willingness to help me and look after me
I was able to ascertain the quality of Daughterly Care in contrast to another provider. Always on time, majority happy to be in this role. A strong work ethic.
Their thoughtfulness, their ability to engage me in conversation. One in particular, Gail, is able to anticipate my needs.
Caring and individual personal attention.
caring, helpful, practical, cheerful personality
Very personalised care – actually better than a daughter! Daughters tell you what to do.
Not a time watcher, precise and organised. Very helpful with everything
Attention to detail, knowledge of dementia and elder care
Kind attentive reliable consistent, great food, take direction well
The kindness coupled with great competence
Anticipates what an elderly person requires. Puts on electric blanket at the start of a service, gives small meals, is proactive, sees what tasks needs to be completed during service.
Very good
The caregiver was kind and helpful
They were always on time. Patience is essential with people with dementia and all the carer's displayed this!
Catherine provides thoughtful care, companionship, intentions, information and encouragement
Always ready to listen and give caring help
Their advice in how to better care for our father's needs and their patience
Thinks ahead & reliable
Jo is very willing to do everything I ask her to do. She is such a nice person, so helpful in many ways, and my husband enjoys her being here to help us both.
Personality
Cleaning that is provided is high quality – the house is cleaned to the standard I need, Care taken as they move around the house & they are respectful of me & my property
Individual care that makes my mother happy and content
Julie's calm experience was very reassuring
Punctual, kind, interesting, good listeners, professional.
Mature, reliable, practical, uncomplicated
Just the all-round "care" everyone gives me
Being able to meet changes
Their calm and caring treatment, sometimes in difficult circumstances
The team take ownership of any issues and solve them pro-actively. Great communications and approachable, even if it means a quick text after the shift
Time to talk
Quality care approach, their professionalism and loving care
Their exceptional care, kindness respect for my father
Always on time and generous with her time. Does all the jobs well and makes sure I am happy with what she does
I have had so many in the last few weeks, it is difficult to remember but Dao stood out as being the best one could ever wish for. She was so willing and so quick to catch on anything one asked her to do and I was very sad when she told me she had to go to finish her pathology studies
Kindness- Efficient – Cheerful
Both our carers are very concerned for our needs and any problems we are experiencing
Outstanding service
Hard to answer this as you don't say what exceptional should mean
Tammy and Antje's thoughtful and creative care.
So caring, concerned and totally trustworthy.
Exceptional is too strong a word for me
The patience and capacity of the caregiver to give her client something to look forward to and enjoy.
On time, friendly and conscientious
Helpful and obliging
Supportive, reliable, understanding and flexible
Caring and very pleasant to have in the home. She is very obliging and does everything asked of her.
Their exceptional caring qualities
I have found each caregiver, without exception, to be of the highest standard in professionalism, willingness and in particular so easy to communicate with. I would be happy to have anyone of them as a friend. I have found each one both stimulating and cheerful.
Truth and honesty
Cheerful attitude
Flexible accommodating, understanding. Individual attention. Thoughtful and Kind.
Their willingness to do what is needed and nice dispositions,
Kindness consideration and empathy
Personalities, meticulousness, and forethought.
Belinda is very caring, Mum looks forward to her visits and to her little outings.
I appreciate the regular communication from my case manager and the updates from the carers.
Friendly and helpful
They are caring, prompt, communicative with family members, honest and therefore trustworthy.
Nothing in particular
The warm relationship which was so quickly established with all my carers and their individual skills, which I soon discovered and utilised, have assisted me to really enjoy my retirement years in the village. In particular I am grateful to our caregiver who I consider to be an exemplary CARER in all respects, my well-being, all my activities we do together aimed at achieving a life expectancy of 115 plus, her caring attitude towards people we pass when out and about, and care for the environment, collecting discarded rubbish for the nearest bin. Perhaps I am biased by having 4 or 5 visits a week…
Communication to Clients
Reliable kind and understanding. Also, practical
Helpful, understanding and cheerful. Sometimes meals are really good.
That mum actually puts up with them at all! She's not easy to get on with, I know…
Carers pleasantness and care for Betty
They understand, and are helpful in every aspect. They give me, the carer, support. They are reliable and always pleasant.
Their willingness to help in all situations
Nothing particular
The capacity and devotion to fulfil position allocated
Kind helpful nurse I felt so comfortable with.
Comfortability in the house and with their skills and with requirements and with the family.
Ming our usual carer has been exceptional.
Friendly, down to earth, practical and communicative.
Every single DC person is caring, thoughtful, goes above and beyond… both with our Mum and with us… I ring Mum every night and every night Mum says 'I think you found daughterly care… it's the nicest thing you've ever done for me'… I think there may be other very nice things that I've done!! but she loves the DC visits… and all the things that Odile, Lynn and Leanne do for her
Willing and able
The word CARE is very obvious
Carers who really care – and provide emotional, as well as practical support. The continuity of care is wonderful – the same carer (except when they take sick or annual leave) so that the relationship is strong between care recipient and care provided.
All ladies are lovely & mum enjoys their company
I can't answer as I am not based with my Mother whom you provide care for. From what I am told and seen (I have met) the service you provide meets expectations.
They are always proactive in coming up with ways to keep Mum stimulated whether getting her out of the house or doing activities in her home. This is very important to us since she is pretty much housebound.
The carers have all been very pleasant, caring, thoughtful and practical. The care may well be 'exceptional' but I have no comparison which enables me to say that! The communication from our case manager is terrific; I can say that that has been exceptional.
DCCS reimbursing transport expenses in the form of taxi fares.
Communication. Individual care and consideration. Availability of services
Caring and knowledgeable and making a real effort to give good care and support.
Thoughtfulness, kindness, respect and caring for my dear Dad
They really took the time to get to know my parents – their personality and interest, as well as, their needs.
Their intelligent approach to my needs together with their friendliness and willingness to help in all practical ways.
Our carer Kylie is a perfect match for both my mum and dad. She's kind, caring, funny and really tries to make them happy and help them in any way they need (sometimes knowing they need things they hadn't realized yet).
Always giving the best care and going beyond their job description. Very capable of handling unexpected situations. Very practical and reliable carers.
That my parents are happy to have the caregivers in their home.
Pam's patience and caring attitude
The Care giver provided has a good knowledge of what is needed, is kind and caring
Caring Courteous Respectful Patient; Knowledgeable and Efficient.
Professionalism delivered with personality; flexibility;
Very caring and attentive. Fantastic efforts from allocation staff to try to keep consistency with carers no chopping and changing like other agencies. Obviously, everyone is entitled to a holiday and can't come in when sick but we appreciate the efforts to keep a consistent carer group who can come to know mum and support her in her last few chapters
Some of the carers treat our loved one personally and with great kindness
Carers are punctual, compassionate, and truly care about helping my Mum.
Reliable response to requests.
They were there on hand should anything arise
All carers show great caring, kindness, patience, consideration and initiative
Caring qualities of carers
Everything has been seamless and very professional. The communication, the caregivers themselves, and the fact that my father has become so dependent on them and they never ever let him or us down.
They care beyond stated description of their care
All carers do what is required and if anything needs to be done they sort it out
Q4. Daughterly Care Community Services have 'quality' caregivers
93.80% of Daughterly Care Community Services Clients Strongly agree or Agree that we have quality caregivers.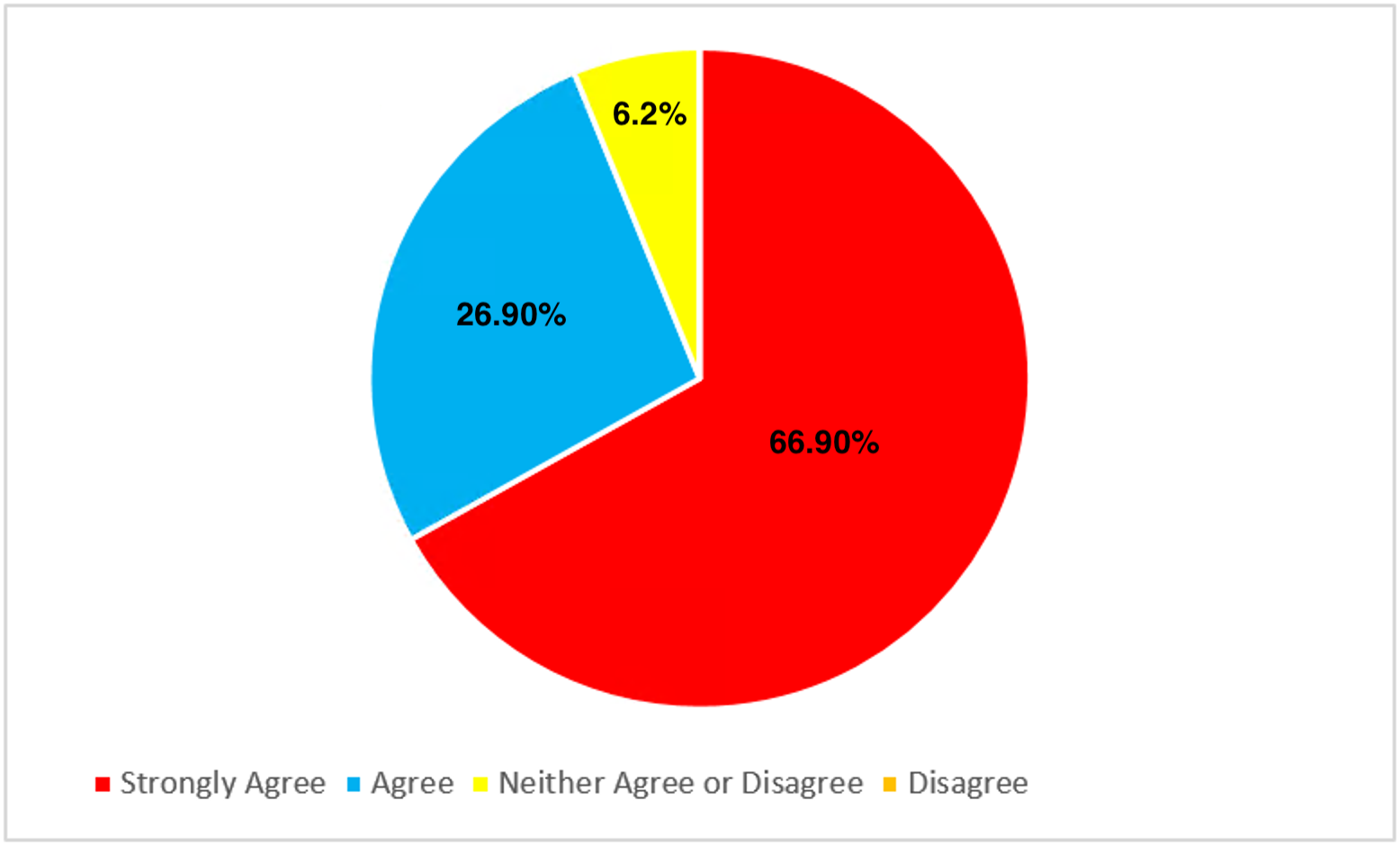 Q5. With reference to our 'service', what are you most satisfied with?
Our caregiver reads to my mother in Polish and also helps cook and does grocery shopping
Efficiency
Helpful cheerful attitude
The caregivers
Reliability
Cooking various dishes. Delightful easy personality – Like one of the family
Reliability
As my mother needs changed, you always rose to the occasion. Also, there was someone to talk with.
The Carers and helping me to remain independent at home.
Ease of booking care. Appropriate carers
Promptness of office service with organising dates etc.
The continuity of care, the communication and willing communication.
The service is efficient and well run which as a retired C.A I appreciate.
Quality of carers
Organised service generally good. extra messages & help with good aged care generally
Always ensuring a carer is available.
Thoughtfulness and forward planning. I have already recommended DD to a friend!
The pleasure I get from my carers visits
Alison's support. Able to rely on service date
Prompt replies and assistance. My questions are always answered promptly, nothing ever too hard.
How professional and caring the caregivers are.
Communication
The knowledge that I can obtain the best help, in my situation. Once the carers know me I like their abilities to leave objects close to me in the kitchen that I am able to reach on my own.
Good communication to clients. Able to be flexible – can come on another day if mum has an appointment with doctor. Able to replace carer if scheduled person is ill
Bella is wonderful
Responsible, respectful, dependable.
Punctuality/ reliability. Quiet, capable, competent, caregiver (Robin B)
Friendly and obliging carers
Very happy with caregivers service. Thoughtful and attentive
The Carers always go above and beyond
They are able to dedicate 2 people consistently to mum since early in the year
The carers
Matching of carers to client is good. Some tweaking needed. Some carers asked not to be rostered again e.g. Pam To the Manager: Carers text when leaving my mum at nights. Carers text me with shopping needs, so that I dont have to go to my mother's unit and make a separate trip to the shops after reading a list on her dining table. So electronic communication is brilliant!
Comment from Rita, Don's wife: Angela engages Don in conversation, encourages him to think and talk, and is patient and understanding. I take the opportunity to leave the house without worry! Thank you!
Communication both the caregiver and administration
The kindness and thoughtfulness of Jennifer to my mother
Presentation. Feedback from carers – anything they noticed always willing to do what "Ivy or we wanted" willingness to try to stimulate Ivy with new things, visits out, games, etc.
Reliance and caring
You are there when care is needed
Kind and friendly staff
Thoughtful
Jo is always here on time, and is very thorough in everything she does for both of us. She also has many very good suggestions which are helpful and does everything so quickly.
Everything
Continuity of service – the same person comes each week so we have got to know each other – she has a great personality
That we don't need to worry about our mother as she's so well cared for
Initiative taken by carers to get the job done. e.g. organised on-line food delivery.
Reliable and kind people
Carer matched my needs, supportive and encouraging
The wonderful ladies that are assigned to me
All the girls are lovely
The ability to meet changing conditions
Annie is always punctual and on time
On time, diligent work and cheerful
Staff retention is excellent and very helpful. We have had Bronwyn now since we began using Daughterly Care a couple years ago
Show compassion and companionship
Very well organised assistance and warm approach
All of it
Catherine is always there for me. Try to makes things happen if I ring them
I am most satisfied with most of the carers you recommend but Kate who only comes on Wednesdays is a great girl and does everything and anything you ask her to do
Reliability
The quality of both "girls"
Helping me, our chats over coffee, making lovely meals for me, helping me with tasks like computer, shopping etc.
Reliability.
I appreciate that you are motivated to always put the client's happiness and wellbeing first. The team is obviously committed to doing the best to find a good fit with the client and care-giver. I also greatly appreciate the updates on latest funding/taxation information.
Communication, manner of communication and level of care.
Continued follow up by Kayleigh-Jane The provision at very short notice of carers following Yvonne's spell at RNSH after a cat bite. The high standard of all the carers. We were sorry to lose Katrina to Administration but pleased for her. The assistance given by Jenny
Kayleigh-Jane. She is outstanding in her professionalism. Great attention to detail, always responsive, compassionate and friendly. She's a jewel. Do NOT let her go!
Helpful
Punctuality Reliability Insightful Knowledge
Willingness to meet my needs and requests
The company that they provide
All round excellence
Seeing her happy pretty face
Everything
Flexible & understanding
Their willingness to do what is needed and nice dispositions,
Everything. More than satisfied.
Ability of caregivers to see life, as we see it
Belinda encourages mum to be active and is extremely proactive when Mum can't articulate exactly what she wants to do or what needs doing in her unit on a weekly basis.
I find the communication is a strong point as I did not feel I had this when I was using a different provider.
Reliable
Your ability to provide excellent care givers, sometimes at short notice, and generally with the provision of information.
Punctuality Finance reporting finally cleared up
Jill is a wonderfully capable and patient contact in meeting my requirements, how lucky can I be.
Easy access to information via website and case manager.
The maturity of the caregivers
Meal preparation
The ongoing management of the issues of providing regular carers is very professional
The experience of the Daughterly Care girls, and how they also care
The help Carers provide
Willingness to do the best thing for our family member.
The quality of the appointed Caregivers
Reliable help always on time and generous with assistance
Quick to respond. Resourceful. Good communicators.
Your flexibility and helpfulness
My brother and I work with Lisa who manages Mum's care arrangements… she's an excellent communicator, identifies and addresses issues early and solidly with Mum's best interests at heart… she knows her stuff and is delightful to deal with
Carers pleasant willingness
The willingness showed in most of the carers
The quality of the care provided by caregivers – and really good, regular and clear information flow and communication from care coordinator to family/next-of-kin. Regular progress notes are provided, so that next-of-kin knows exactly what is going on and obtains an accurate picture of the care recipient's health and wellbeing.
The stimulation mum receives is lovely. They all brighten her days.
I can't answer as I am not based with my Mother whom you provide care for. From what I am told and seen (I have met) the service you provide meets expectations.
Happy with both the Carers and also the regular communication from Madalyn with both Mum and myself (and my Sister for progress reports).
The clear communication from our case manager and the open line of communication. That we can contact someone out of hours and that they have contacted us out of hours appropriately. Lastly, but definitely not least, the quality and reliability of the caregivers
DCCS reimbursing my transport expenses in the form of taxi fares.
How caring the caregivers are, how tolerant of all the quirks of old people
Level of care
Communication with the wonderful case worker and very valued support from Daughterly Care
The personal level of service.
Kayleigh-Jane is prompt to reply to my questions, always with a smile in her voice or email and with clear factual information.
Efficient, caring service covering competently all angles of elderly care.
The confidence your caregivers have with my parents.
Convenience of having a drop-in office in Mosman
The care that is provided with knowledge of the condition involved
Patient Centred care
Overall package
Dementia knowledge. Communication. Reports back on activities and any anomalies.
The quality of the care provided by the main carers The timely response of DC staff
Engagement with my mother and making her feel cared for, with dignity and respect.
Readiness to help.
They were there on hand should anything arise
The quality and work ethic of the carers.
Carers provided
Timely and detailed communication
Madalyn communication with me and her excellent knowledge and suggestions. I have observed, our caregiver's genuine caring attitude towards my father
Ability to facilitate any requirements
Q6. I would recommend Daughterly Care Community Services to a friend or colleague
97.24% of Daughterly Care Community Services clients Strongly agree or Agree that we have quality caregivers.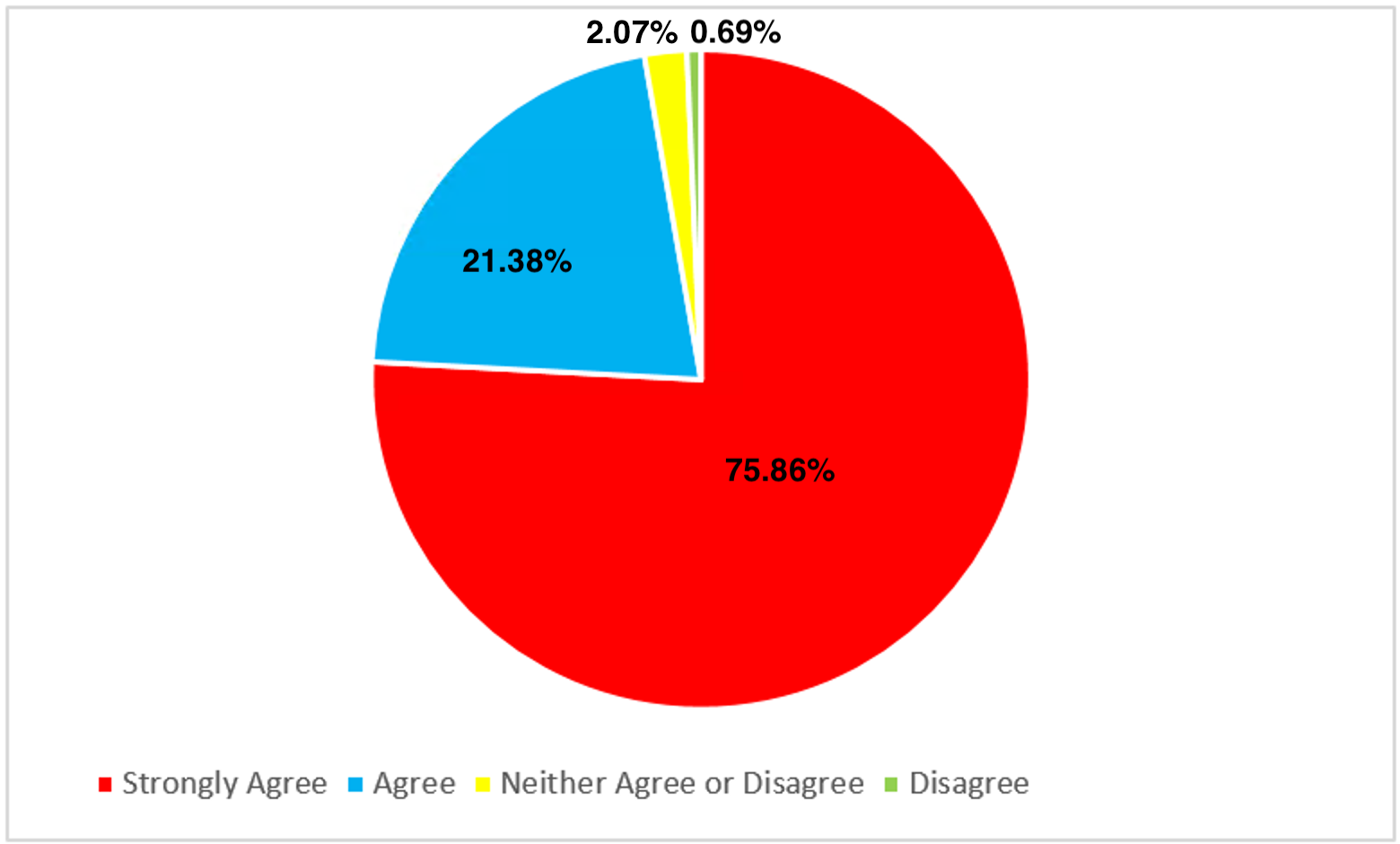 Q7. Throughout the COVID-19 pandemic, Daughterly Care Community Services kept me well informed about what policies and procedures they were implementing to ensure my safety.
90.97% of our Clients agreed that DCCS kept them informed about policies and procedures that were implemented in order to keep them safe during the COVID-19 Pandemic.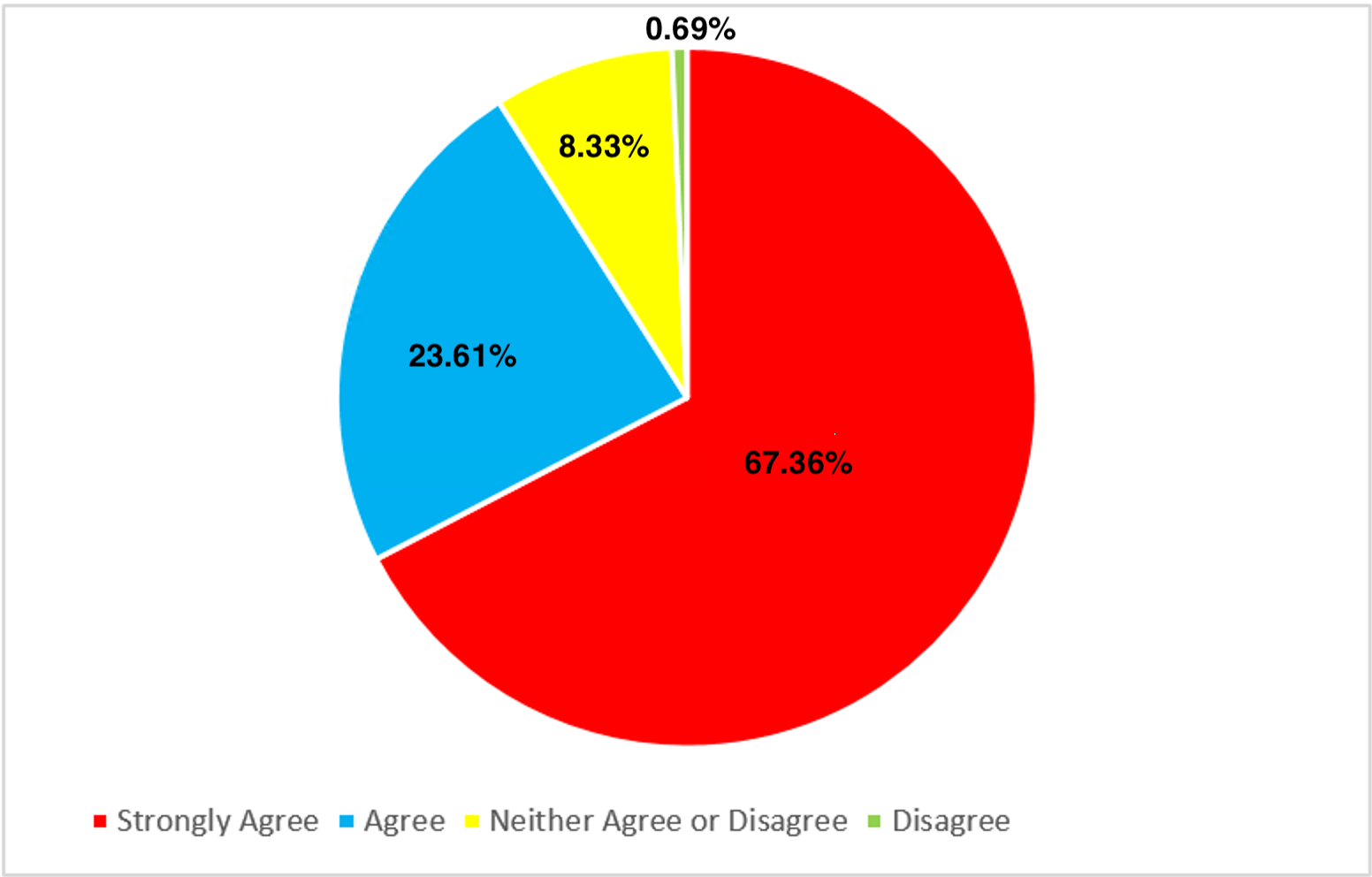 Q8. My Caregiver(s) followed all precautions to ensure my safety during the COVID-19 pandemic.
86.80% of our Clients agreed that DCCS' Caregivers are following all precautions to ensure their safety during the COVID-19 Pandemic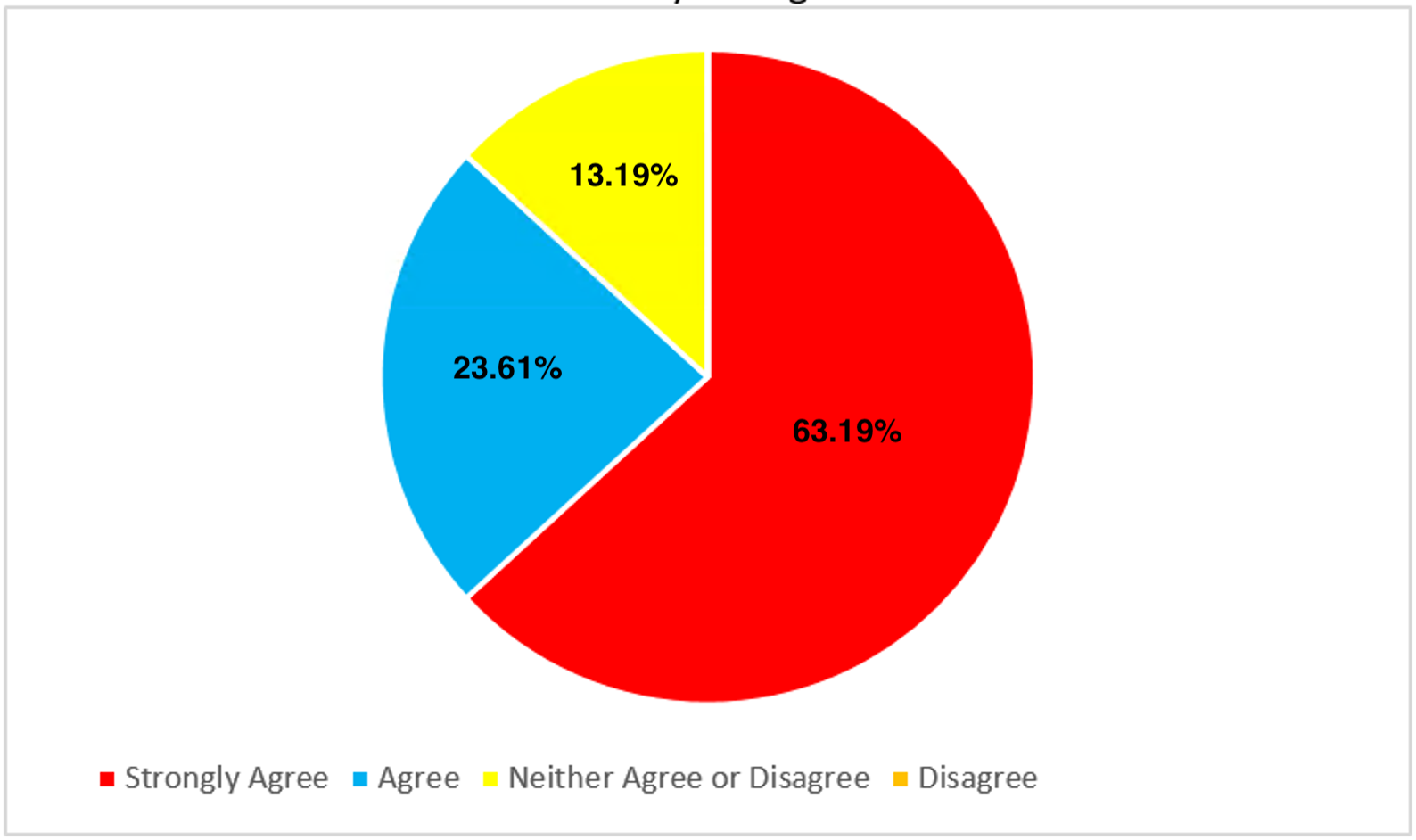 Q9. I would feel confident recommending Daughterly Care Community Services to others during a health crisis, knowing that they are providing safe Aged Care.
95% of Daughterly Care Community Services' clients would feel confident recommending during a health crisis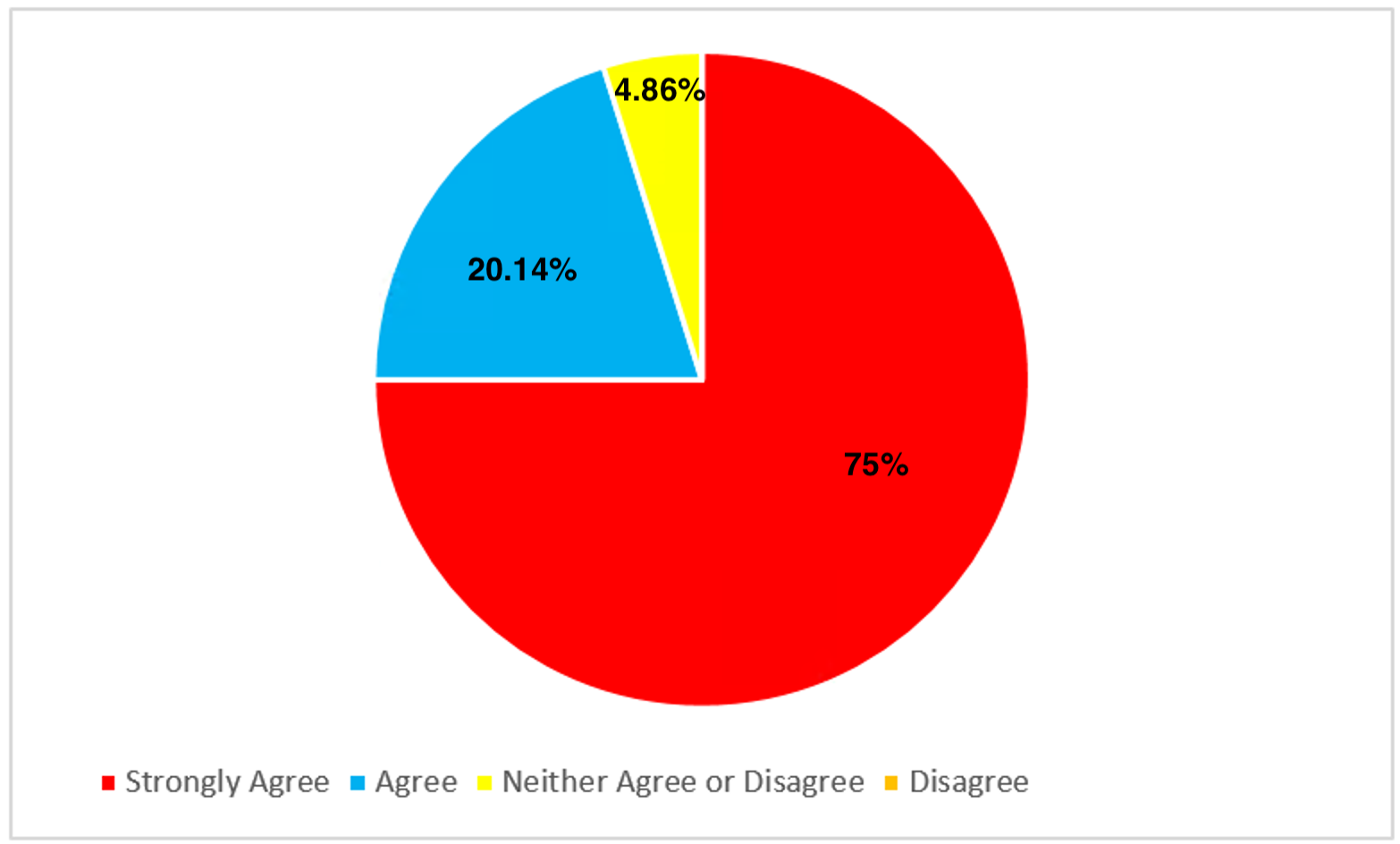 Q10 We always want to improve.  If any, what areas would you suggest?
When the accounts team send through reimbursements, I wish they would send through an email notification as well.
None comes to mind
I am quite happy with the service I am receiving
Sorry – no suggestions, I don't have any improvements to offer
Look for companies that offer services like cleaning and gardening
Our only issues came when the two caregivers did not agree with each other
Very happy – no suggestions
When the regular caregiver is away (holidays or sick) it would be really reassuring to have a caregiver already known to mum
I have mentioned two who came in the evening, but I cannot recall their names.
I can't think of any at the moment, but if I do I will let you know.
We are very happy with what we receive.
Overall, we are satisfied
One day perhaps a light survey for carers to find mutual interests. I have wide interests, welfare of humans, trees, garden, cooking, reading everything. talking
Keep up the good work!
We are so satisfied – no suggestions. Margaret says "She didn't imagine she would be so comfortable with the service".
Can't think of any
Write name tags with carers names. Mums eye sight is poor. She has up to 6 carers so clearly seeing who is in her unit for a service.
I have been very happy with the care
It's difficult, sometimes Ivy would talk carers into only eating 1/2 her lunch etc. I found this frustrating as nutrition was important given she was so active. But I understand.
More bilingual carers
None that I could see. Possibly a quicker implementation of the service? I have used Daughterly Care twice and had to wait about a week until service began. If it could be a quicker process that would help me, yet I understand logistics of organising a service
Accounts department – probably fixed with recent appointment
Very happy with the service we receive
As a private customer: I found it a bit confusing understanding CHSP vs packages, perhaps giving solutions and thought to CHSP would have been helpful. We have ended up continuing with DC through CCNB but it took 2 years for me to realise we could do this.
If possible, community day outings. I would be happy to volunteer assistance
Not to my knowledge
Areas I would suggest that it would be better if one could have carers for longer periods of time, if they have proved to be successful.
I have been satisfied for the care I have been given
We find both "girls" great in their fields
Explain what exceptional means
I am happy thank you
None at this stage.
To pass on progress notes more quickly. To make clear to client and care-giver what is expected in the way of cleaning. To encourage care givers to do things outside of the usual routine. ie. go to a gallery?
If progress notes could be forwarded sooner after the visit date, that would be helpful.
I have not perceived any areas calling for improvement
None in the area in which we know about
Not sure how to, but greater quality control to ensure each and every carer does follow protocols and perform specific in-home tasks requested by clients (such as inspecting and managing bathroom conditions and refrigerator past-due contents).
I can't think of anything
Overnight fees are excessively expensive.
To date I have found they meet my requirements in every respect
More than happy
None come to mind
My only concern is that there seems to be some inconsistency in the care provided by the 2 carers who look after my mother. I don't see this as an issue that requires fixing, more a result of the different personalities of the 2 carers.
There has been some inconsistency in the provision of accounts advice and the timing of payments (from us to you) in relation to direct debits. More consistency with the dates for direct debits would help us with our cashflows.
After Virus issues resolved: more community activities for dementia clients. Music, outings., communal activities.
Possibly recommended list of service providers for loved ones to use for Third Party helpers.
None
I would prefer not to have so many different carers
Hard to say – keep up the continuous improvement attitude and action
A variety of tunes on the call waiting.
Carers will not accept any "gifts" when offered to show my gratitude.
Better accounts procedures hopefully in the future. We are the ones constantly chasing statements & progress notes.
I am very happy with your regular appointees, but did have some reservations with some of those provided for evening positions, which we no longer require.
Great assistance no obvious need to improve
Nothing at this point in time.
Preparation of good meals. spending more time entertaining dad and not putting him in a chair to watch TV all day.
Can't think of one
Give more positive approach to outside claims rather than cow towing to the department. In other words, work for the client
Can't think of anything you need to improve. Just keep doing what you do so well.
None
I can't answer as I am not based with my Mother whom you provide care for. From what I am told and seen (I have met) the service you provide meets expectations.
We are very happy with the overall service so have no suggestions at this stage.
Ideally, it would be good if there were less faces visiting my mother. She has 8 different faces each week at the moment. However, I do feel sure you are doing the best you can with this, and lately the mix has been pretty stable which helps. We have gotten used to it!
None. The service is fantastic.
All OK
Information on financial status
I really can't think of anything.
I am satisfied with present arrangements.
Having the ability to track our account in real time so we know how much of our package is underspent/overspent. Being able to contact our carer quickly (via text) if necessary (while we can go through the office it's not as fast as direct contact). Knowing more about how and on what the Aged Care package can be spent.
Can't think of any at present.
All good
Accounts
More knowledge of local walking areas
Nothing to add
Nothing comes to mind
The billing was an issue but you may have sorted that now with your new appointment We try to stay on top of things always and when the billing was delayed we get stressed and worry there won't be enough money in the account etc. anyway be diligent w billing and we will all be win win win
Carers following instructions and keeping to all shift times.
Weekly reports/progress notes were very patchy and not always well done.
Use your accumulated experience to speak up for your clients changing needs with the Government regulators.
Better match of carer with client
Can't think of any.
No suggestions
Nothing comes to mind
I felt initially I needed more information and follow up as I was totally ignorant to the processes. I have no complaints presently.
Q11. I would recommend Daughterly Care Community Services as a company who will care exceptionally well for you or your Loved One
93.61% of Daughterly Care Community Services clients Strongly agree or Agree that they would recommend us as a company who will care exceptionally well for them or a loved one.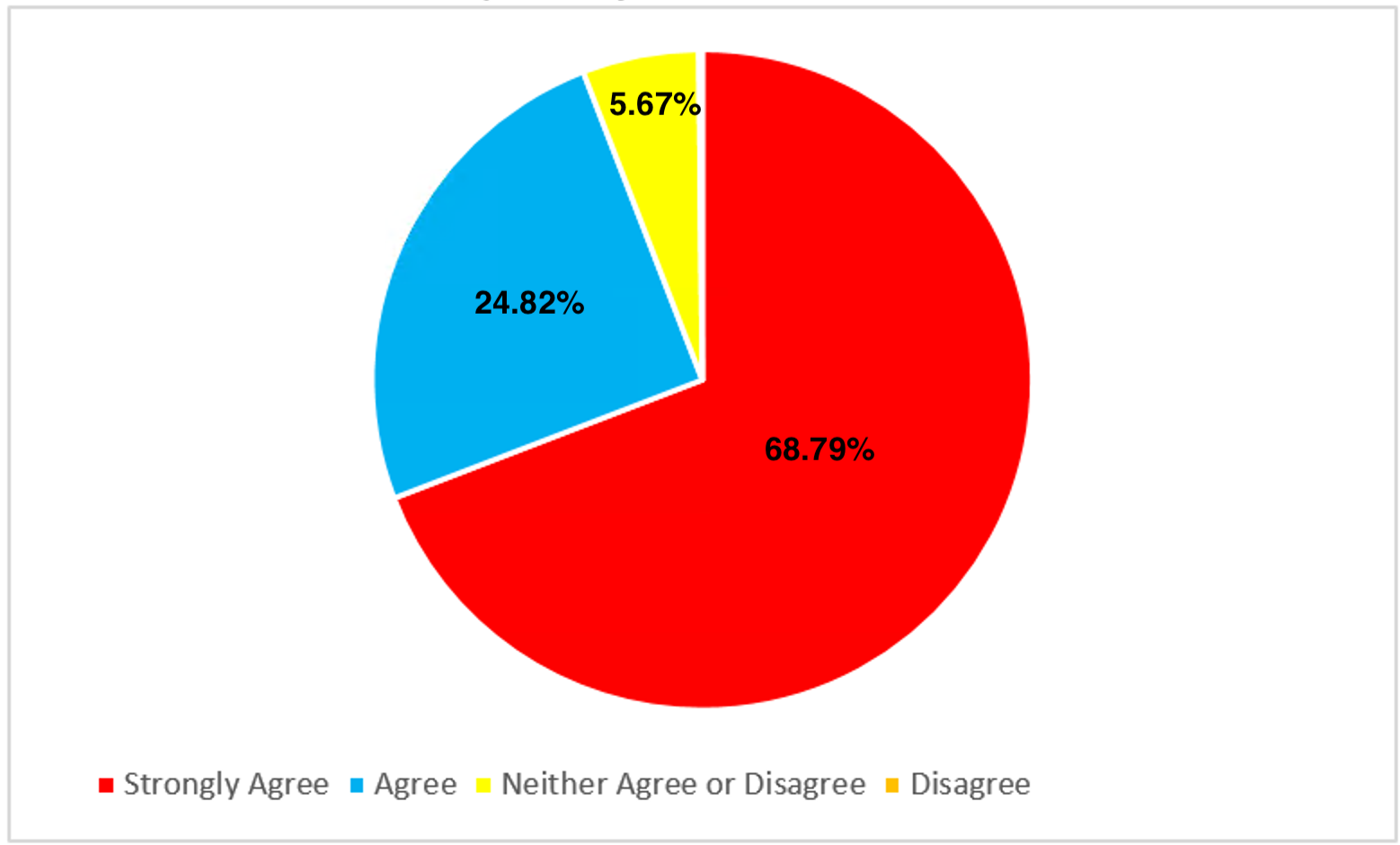 Q12. I plan to keep using Daughterly Care Community Services in the foreseeable future?
89.37% of Daughterly Care Community Services clients Strongly Agree or Agree that they plan to keep using our service in the foreseeable future.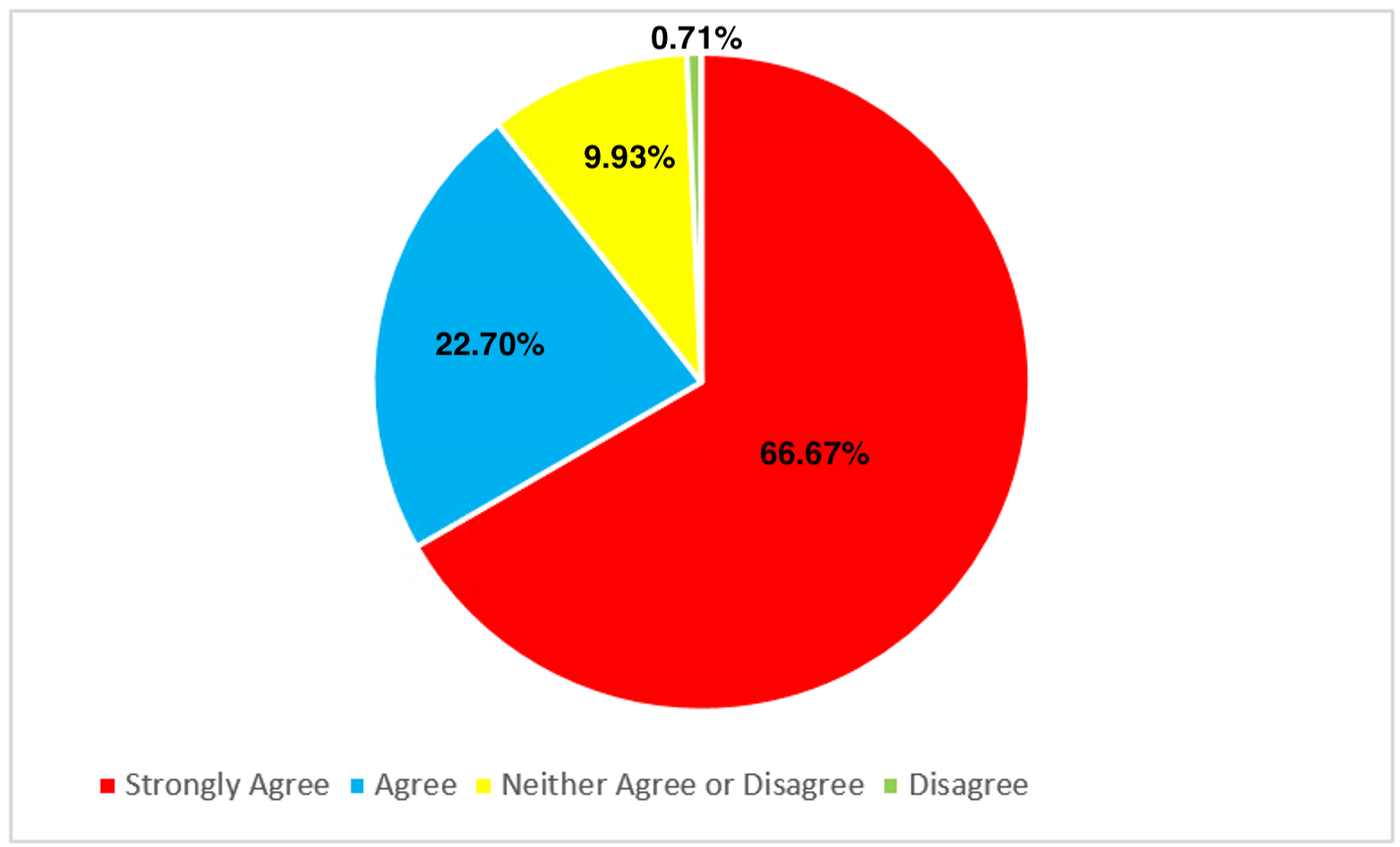 Q13 If you answered Improvements Needed; Unsatisfactory; Disagree or Strongly Disagree please provide your reasons.
They appeared indifferent and did not perform to my satisfaction
On the contrary, I look forward each week to my service.
At the start of covid 19 DC's policies weren't communicated. This was addressed however in time and then signage and procedures were clear.
Going to nursing home so no longer required
We often have carers who weren't able to stay longer. It could be very good if carers stay longer.
I can't say that all Dads carers are providing exceptional service, but certainly most do. He has had some issues with some of his carers. You have been good at changing carers when requested.
The quality of carers has been good. I have canvassed similar organisations and find they provide more flexible programs for dementia clients rather than just 'babysitting services'. Even Mosman council not for profit activities provide more social opportunities. The DC website is not helpful in planning transition strategies for managed care requirements.
I do not always remember to whom I have told what.
Admin/Accounting procedures require improvement. Hopefully this will happen now you have new Finance Manager.
I no longer have evening appointees and therefore cannot comment on your present evening appointees
I can't answer as I am not based with my Mother whom you provide care for. From what I am told and seen (I have met) the service you provide meets expectations.
The accounts team in the past have been inept, but I understand things have changed for the better
Uneven care quality