Live in Care and how it works
Page 2 of 11
Live in care enables elderly people to remain living safely, independently and most important of all…happily in their own home, for life.
Our in home Live in Care service is our most sought after service because it provides consistent, stable and a caring environment with mature and experienced Live in Carers, who are warm and compassionate like daughters. Our Live in Carers provide a bespoke home nursing service of support, assistance and in-home care, uniquely tailored to you, in your home, for all your days.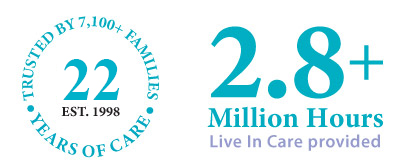 Examples of Live in Care
Client who needs 7 days a week in home care
The week is shared between two Live in Carers. Commonly, one Live in Carer is present for 3 days, which consists of 24 hours each shift and a second Live in Carer stays in the Elder's home for the next 4 days. Caregivers return to their own home when they are not working.
The Live in Carer is 'on-hand' or 'present' 24 hours, to provide up to 8 hours of active or direct care for your loved one over a 24 hour period. Live in Care can only be provided when our Live in Carer can normally sleep through the night. If more than 8 hours of active care is needed then we may need to add pay-by-the-hour care to give the Live in Carer a break. Alternatively, 24 Hour In Home care might be needed.
An elderly client who requires part-time Live in Care
The following example is where an elderly client who does not need Live in Care from Daughterly Care on a full-time basis because their three children want to provide part of the home nursing care. By utilising their Level 4 Government funded in Home Care Package and the children providing 3 days of in home care a week, the elderly client can receive 7 days of Live in Care.
As you can see in the diagram below, two of the adult children spend 24 hours each with their elderly parent on Saturday and Sunday. The third child, who is 'time poor', pays Daughterly Care to provide his or her 24 hours of in home care on Monday and arrives early for a baked dinner each Monday night with his or her parent.
You can also see in the diagram below, that the elderly client has used their RIGHTS under the Consumer Directed Care legislation to tell the existing Approved Provider who administers the client's Government Subsidised in Home Care Package that they want Live in Care from Daughterly Care. They have nominated their Home Care Package to pay for Live in Care on Tuesday and Wednesday of each week.
So, the Government pays Daughterly Care for two days of Live in Care and the Elder pays for two days of Live in Care a week and the three adult children provide one day of care, each. All 7 days are covered.
An example of Part-time Live in Care
You can reduce the cost of  Live in Care by engaging us on a Part-time basis

There are other ways of funding full-time Live in Care where the elderly client is 'asset rich' and 'income poor' such as taking a reverse mortgage against the family home. Often Seniors only need Live in Care for the last year or two of their life.
Where does Daughterly Care provide Live in Care?
We provide 24 hour Live in Care throughout New South Wales (NSW). We have a number of rural elderly clients who wish to remain on their beloved farm or remote property, where they are close to their family and friends.
Live in Care can be short term
We can provide 24 hour Live in Care assistance for your loved one when they return home from the hospital, rehabilitation, respite or a nursing home, or to give the main carer a holiday.
Our focus in this instance is:
assisting your loved one to resettle back into their home and routine;

rebuild strength;

rebuild confidence;
improve nutritional and fluid intake;
re-learn daily living skills; or
take over the care role to give the main carer a holiday.
Achieving these goals, in addition to re-connecting with family and friends will dramatically lift the elder's spirit and they will live joyfully for all their days. Get a glimpse of the benefits Convalescent Live in Care by clicking here.
Live in Care can be long term
Often our Live in Care is an ongoing long term support role enabling years of quality joyful living at home. In this case, in the beginning, our role is to enable the person you love to continue living their busy social life and to provide companionship.  Over time the role becomes more nursing focused and finally we provide the palliative care and end of life care. We are there for your loved one… for life. Find out more about Palliative Live in Care.
Dial us down, dial us up
Once we have re-enabled your loved one, we can advise on how we may be able to reduce your hours of in home care without compromising the quality of home nursing care and provide you with an explanation of your options. Our service is flexible and can change with your needs. We have brought Elders home from the nursing home and re-enabled them and then reduced our in home care down to pay-by-the-hour care and then ceased our services because our client was now well enough to go on a cruise!
Privacy and Security
For the privacy and security of our clients we don't advertise to their neighbours and community by wearing uniforms or driving branded cars. Our Live in Carers present as a 'friend of the family' so as not to highlight our elderly client's circumstances.
During visits from family or friends, we get your loved one comfortable and "set up", then we can step into the background, garden or go for a walk to give you privacy and space.
Big enough to support you, small enough to care
Daughterly Care has over 100 professional and qualified Live in Carers. With such a significant pool of experienced Live in Carers to draw from, you can be reassured we're 100% reliable. Daughterly Care is Sydney's best in home Live in Care provider because of our boutique size and niche focus. We are focused on our 4 specialisations. We have provided over 2.8 million hours of live in care over the last 22 years.

No Lock-in Contracts
Our Live in Care services can be cancelled with just 24 hour's notice and there is no additional fee. At Daughterly Care, we aim to retain clients through great service, consistent care and good value, not through contracts.
In the financial year ended 2020, 73% of all Daughterly Care's new Live in Care clients were recommended by health professionals, existing clients and families of past clients. That is a very high referral rate and reflects our client's high satisfaction with our excellent service.

We don't have lock-in contracts so our elderly clients can enjoy the flexibility of the in home care they need.
Access Government funded in home care

to reduce the ongoing cost
Once your loved one has returned home and settled in, and is living more confidently and joyfully, our High Care Case Managers can advise you on how to access up to $58,400.00 of Consumer Directed Government Subsidised Home Care Packages. We will guide you through the whole process.
21 December 2017 – Feedback from son of Mosman client after his mother passed away gently at home
"I didn't realise Mum would have such good quality of life in her last two years. The two Live in Carers who were selected for her, were just so supportive and caring. They both had a special connection with Mum and really cared for her."
Take us for a trial run
Why not trial our Live in Care service? We would be delighted to organise everything for you. There is no need to make a long term or permanent decision at this stage. Try Live in Care and see if it feels right for you.
Be Informed
Many in home care Approved Providers say on their brochures and website that they provide Live in Care, when in fact they don't. They actually provide 24 hour care. Live in Care and 24 hour care are two very different services, in both the way they work and what they cost. During our free initial consultation we will advise whether you need 24 hour care, Live in Care or pay by the hour care.
Our Live in Carers are experienced in managing 'reactive behaviours from unmet needs', that can be challenging for Caregivers. Our success comes from trying to identify the triggers and understand what the person is communicating to us. Extensive experience also allows us to be mindful of when an elderly client needs their personal time and space. This is particularly important for couples.
Our well qualified workforce of Live in Carers have decades of experience, Certificate III in Home & Community Care or higher. They also receive on-going training in medical conditions and nursing care requirements, as appropriate for the elderly clients they are caring for.
Live in Care Requirements
For Live in Care to be possible, the following is required:
A separate bedroom for our Live in Carer with a comfortable bed, a bedside table and a bedside lamp
A suitable number of smoke detectors installed (hard wired or battery operated)
Research shows falls happen 30% less in the home environment than in nursing homes and hospitals. Realistically, not all falls can be prevented as elderly clients don't always wait for our home care assistance when we are completing domestic tasks or having a shower etc, but we are on-hand 24 hours to provide 8 hours of active care.
The elderly client generally sleeps through the night. (We can get up to assist the elderly client to go to the toilet, take pain relief or redirect the senior back to bed once or twice providing the 'up time' is very short). We cannot be up numerous times during the night and then work all day when sleep deprived. It always takes longer to fall back to sleep so the 'up time' is longer than the time we were physically 'up' with the client. An elderly client who needs support or assistance numerous times during the night is the most common reason that 24 hour care is recommended over Live in Care.

If we are required to be up at night, where normally our elderly or senior client sleeps through then we charge for an active night.

This might happen occasionally if the client is not well. Daughterly Care Case Managers actively recommend solutions that are likely to prevent 24 hour care being needed.
Our Live in Carers need to walk each day to maintain their fitness and their mental health, plus have a low stress demeanour. When family visit, once we have your parent comfortable, with your permission they will take advantage of your presence and go for a walk. This gives you valuable privacy and alone-time while maintaining the health of the Live in Carer so they can give optimal care.

3. Read on What does a Live in Carer do?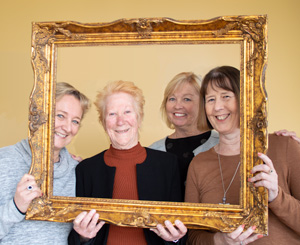 How people use Live in Care: