24 Hour Care for Elders
There may come a time in an Elder's life when they require 24 Hour Care. The decision to find the right aged care services for an Elder can be confusing and sometimes daunting. Commonly, you'll need to compare the differences between Pay-By-The-Hour, 24 Hour Care, Live In Care or a Nursing Home. Statistics tell us that Elders would much prefer to stay at home for life. It's therefore, a relief to know that all the care that a Nursing Home can provide, Daughterly Care can provide at home.  
In our 22 years' experience helping over 7,100 families, these are some common questions families have asked us about 24 Hour Care.
My Loved One is reluctant to accept care. What do I do?
How does 24 Hour In Home Care and Live In Home Care differ?
I don't live in Sydney can you help me?
Can I get Government funding to lower the cost of 24 Hour Care?
At Daughterly Care we understand how frustrating it can be when you're trying to determine what type of care your Loved One needs. There is not a one size fits all scenario when it comes to providing the right type of aged care.
Sometimes the need for full-time care can arise suddenly and it is common for important, life-changing decisions to be made under pressure, standing in the hospital car park, without even knowing all the options, with a short deadline looming.  There are definite advantages in knowing in advance what your options are so that you can make a fully informed decision that is best suited to your Loved One.
Why not draw on our experience and let us explain the options that will suit the needs, budget and lifestyle of your Loved One? 
We would love to come out and talk to you and your loved one in their own home or hospital. Give us a call and we can arrange for one of our Registered Nurses to pop out 9970 9333.
In the meantime, let's address those common questions…
1.  My Loved One is reluctant to have anyone in their home. What do I do?
This is a very common situation. Understandably, Elders are reluctant to admit they need help, they don't want someone they don't know in their home and sometimes they believe they are coping better than they actually are.
We have published a FREE e-Book on this very subject that you will find on this page. Feel free to download it.
2.  How does 24 Hour Care differ from Live In Care?
These two services are often misunderstood, even by Health Professionals.
24 Hour Care with Daughterly Care
Our Nursing team and High Care Case Managers have a lot of involvement in supervising our Caregivers in this environment due to the high level of care required.
No lock-in contracts are required. Daughterly Care prides itself on being flexible enough to increase or decrease services depending on our client's needs with 24 hours notice.
Clients who require 24 Hour Care require a high level of support and care so we divide each 24 hour period into three shifts. That allows our 3 Caregivers to actively cover the entire 24 hour period and provide the one-on-one personalised quality care we are well known for in the aged care services industry.
We can make sure that all your personal preferences are attended to while you enjoy the comfort and security of living at home. We support your medical needs and lifestyle rather than you having to fit into the routine of a Nursing home or hospital.
Here is an example of a 24 hour Caregiver roster: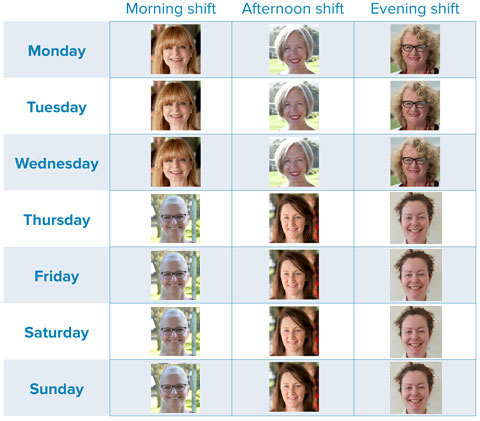 The shift times are set to meet the individual needs of each client. To meet Award requirements, three Caregivers or Nurses share the 24 hour workload with a minimum of 6 Caregivers or Nurses per week.
Live In Home Care
Our Nursing team oversee the Care Plan for each of our Live In Care clients and liaises with our Live in Carers.
Again we have NO lock-in contracts.
24 hour Live In Home Care provides two Live in Carers per week. Live in Carers sleep overnight in the home of the client and work shifts of 3 or 4 days. Live In Care is ideal for your Loved One if they sleep through the night so our Live in Carer can get a good night's sleep. During the days our Live in Carers are fresh and on hand to provide the care your Loved One needs and deserves. When they are not rostered on the Live in Carer returns to their own home.
We can customise our services to the amount of care that your Loved One needs. Anywhere from two 24 hour periods to 7 days a week. Decide what your Loved One wants and when they want it. We support their lifestyle rather than them having to fit into the routine of a Nursing Home.
Here is an example of a Live in Carer roster:

Two Live in Carers share the 7 day workload. At the end of their 3 or 4 day shift, they return to their own home.
There are advantages and disadvantages of both 24 Hour Care and Live in Care. We explain the two options to help you make the right decision for your family.
3.  I don't live in Sydney can you help our family?
We offer 24 Hour Care in Sydney, and Live In Care anywhere in NSW.  Give us a call and let's chat about how we can help (02) 9970 7333.
4. Can my Loved One receive Government funding to reduce the cost of 24 Hour In Home Care?
Yes definitely. If you are aged 65 and your care needs are such that you need 24 hours of care you will definitely be entitled to a Government Subsidised Home Care Package and most likely it will be a Level 4 Home Care Package worth up to $58,400.00 because you have high care needs.
It's very common for the very people who need help, to deny the help offered.
Additionally, it's very common for caring relatives to call us to arrange care for their Loved One, only to have their loved one resist the idea of In Home care.
We have a wonderful FREE e-Book that talks about this challenging situation and offers some great solutions. Download it now for some great advice. Plus, we are extremely experienced with these types of situations so give us a call  (02) 9970 7333
So many times the very clients who resisted help initially are our biggest advocates. Read what they have to say HERE.