In Home Care Client Survey Results 2019
Daughterly Care is delighted to announce our excellent in Home Care Client Survey Results of 2019 which show Daughterly Care provides the best, premium, high quality in home aged care services in Sydney, NSW. All our clients were surveyed and all their answers are published below, as they wrote them, positive and not so positive. So if you want to know what our clients actually think of us, in their own anonymous words, read on.
Registered Nurse and Co-Founder, Verlie Hall, and Directors of Daughterly Care Community Services Ltd, Nicole Hickey and Kate Lambert, are absolutely delighted that "100% of our clients who completed our 2019 Home Care Client Survey rated our services as either Exceptional, Exceeds Expectations or Met Expectations".
Our 2019 Home Care Client Survey results have filled our Directors with the same joy as this happy little boy. Our 2019 results are in line with our absolutely brilliant  2018, 2017, 2016 and 2015 results and illustrate why Daughterly Care has such a strong reputation for being Sydney's best in home care provider and that's why health professionals and families recommend us so often.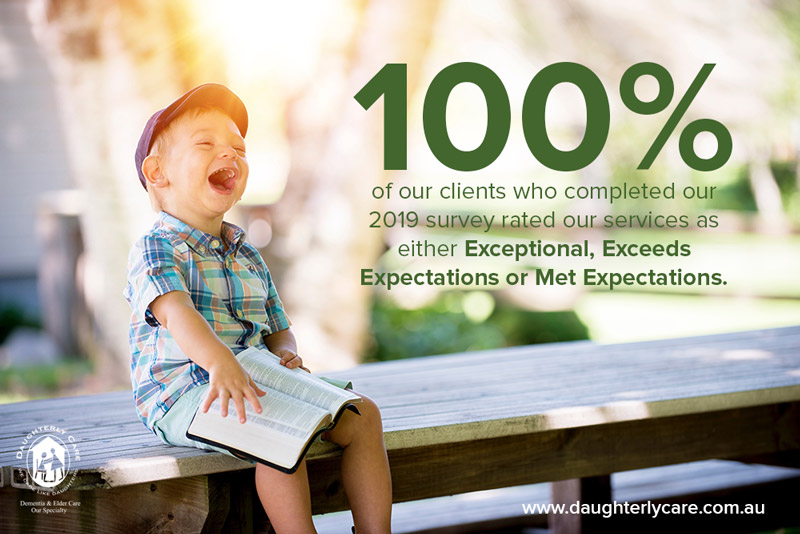 Do Verlie, Kate and Nicole believe that Daughterly Care provides 100% exceptional service all the time? Absolutely not. We are realistic. We know we fail at times. However our service guarantee means we are working hard to meet our clients' high expectations and we penalise ourselves financially when we don't.
Q1. What is your overall rating of the 'service' you received from Daughterly Care Community Services?
100% of Daughterly Care Community Services clients rated our services as either Exceptional, Exceeds Expectations or Meets Expectations.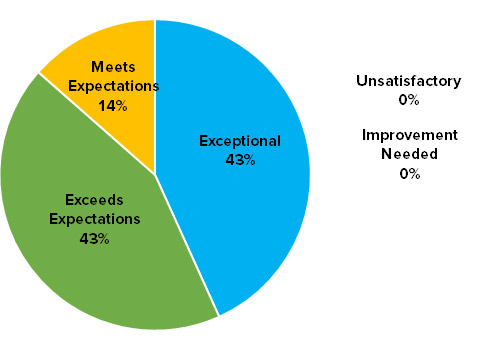 Q2. Does Daughterly Care Community Services meet your expectations as to the 'quality of care' that you/your loved one receives?
100% of Daughterly Care Community Services clients rated our services as either Exceptional, Exceeds Expectations or Meets Expectations.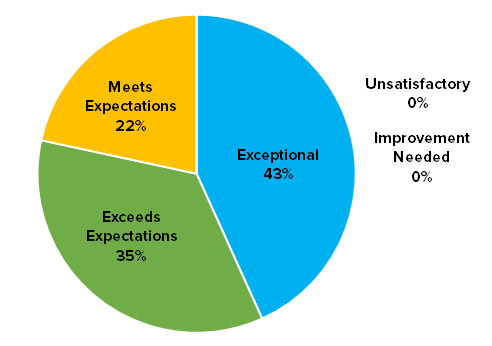 Q3. What exactly stood out as being exceptional about our Caregivers?
Warm and caring nature.
The care and affection given to my sister.
Care and patience of staff.
They are prompt. They have a good understanding of dementia and are respectful of our mother, gently suggesting but not coercive.
Friendly, competent, caring, professional, compassionate, on time and "angels" to say the least.
The quality care for dad especially around his health and well-being. They also have initiative to call me if they have any concerns.
Personal interaction skills. Communication with the client's family.
Karen 'Kaz' is a wonderful, cheerful, caring and practical person. She is great with Mum and has adapted to fit in seamlessly in our family life. Mum's quality of life and her general health have improved significantly as results of Kaz's care.
General attitude.
Good communication and genuine care.
Versatility, adaptability, agreeable manner.
Independent – Can see what needs to be done and does it!
Kind, thoughtful, all polite and nice people and happy to help.
Warmth and friendliness.
Kindness from Linda.
Their professionalism, front attention and a pleasant outlook, also their positive thinking.
Their friendliness and help in every way.
Marj is very happy with Belinda and Joanne.
Friendly, helpful, genuine.
Willingness to help where they could. They saw a need and filled it. Quick to understand requirements.
The ladies are so pleasant and adaptable and good company.
Friendly and understanding.
Both show patience, compassion and support. We also have a laugh!
Taking that extra step to give care.
A few of the Caregivers really had their heart into the service with our mother. It was obvious that they really care as opposed to just doing the job.
They go the extra mile. Are proactive, reliable and always give 100%.
The quiet instinctive understanding of what needed to be done and a willingness to go the extra mile in a most professional way.
It is their acceptance and understanding of my situation.
Few people know how to deal with very difficult and exceptionally challenging behaviours. We are very fortunate to have found Trish. Trish is calm, understanding, very kind and has that special quality that makes her a special kind of carer.
They care how you feel and try to pleasure you in any way they can.
Very caring and loving.
Practical common sense, well experienced and professional know-how in providing care for a severely disabled person. Couple this with a naturally caring nature and a want to make a contribution to improving the quality of life to someone with limited time, especially Mia.
Thoughtful, patient, kind, able to anticipate, willing to do any request, cooking, shopping, sense of fun, humour, company.
Thorough, patient, good company, interesting, friendly, good advice, reliable, I am treated with respect.
They were all very competent.
Kindness – Caring thoughtful, always happy.
The caring and patience that Lyndie gives me.
The people all were great and lots of fun treated like part of their family.
All the caregivers have been caring, considered, thoughtful, prompt, nicely & appropriately dressed, these comments apply to casual carers as well as the regular ladies.
Engaged, friendly, willing, human, and competent.
The care and knowledge of Alzheimer's sufferer.
Quality, well trained, empathetic women as carers excellent communication and care from our "case manager".
Caregiver was very genuinely interested in the wellbeing of my mother and her partner. Provided pragmatic and sympathetic emotional support as well as nursing support. Caregiver was very accommodating on availability and incredibly thoughtful in communicating my mother's needs to me.
They all have very calm engaging personalities.
Good workers, look after me well, outing, always there.
Their concern and loving understanding for us both. Denis and I really appreciate this.
Reliable and punctual – Experiences and dedicated – Attentive and caring.
Experienced – Capable – Kind and caring – Able to manage a very non-compliant client
Very thoughtful and very caring.
Punctual, reliable, relaxed, competent, flexible.
Loyalty, trustful, caring.
Phylllis provides a wonderful service. She is always helpful and cheerful and goes over and above of what is expected of her. Phyllis is willing to fill in when other staff are not available. She is a treasure!!!
Continuity of service, quality care, lovely and compassionate carers.
I never had a daughter – if I had I would hope she would have cared as much as your "daughters" do. I feel cared for by every one of them.
Cheerful disposition and going out of their way to help in many ways.
They will go the extra mile to be able to lead the life I've always lived.
Phyllis is caring, patient & an extra set of eyes for our family. She goes out of her way to look after Mum.
Most try very hard to quickly fit in with my mother.
Friendly and reliable.
Professional, caring, helpful, just very good in every way.
Patient, thoughtful and kind.
I have so far only had one care-giver. She has been versatile, and sensitive to my needs on different days.
One on one personal relationship.
The level of patience and understanding as to what needs to be done in the home balancing this with remembering to chat with mum and let her get to know her carers on a personal level.
They are always happy to answer questions and try to help.
Q4. Daughterly Care Community Services have 'quality' caregivers
99% of Daughterly Care Community Services clients Strongly agree or Agree that we have quality caregivers.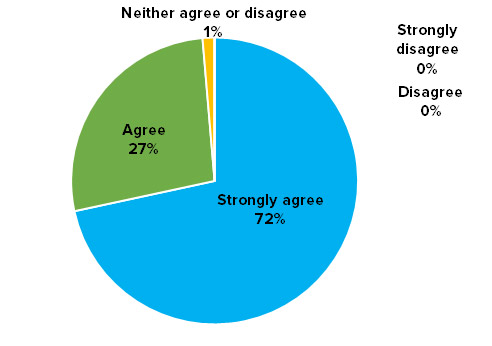 Q5. With reference to our 'service', what are you most satisfied with?
Warm and caring nature.
The thorough feedback from Lisa, whether via email or phone. An amazing level of attention to individual needs. Feedback in the DC book is extremely detailed.
Well organised, cool-calm-collective, kept kitchen and bathroom tidy as well as rest of house
The communication and responsiveness is excellent as well as the flexibility.
Staff are confident and know their clients. Managing behaviours, communication with family.
Kaz is reliable, practical and a lovely person. She is always cheerful and a great companion as well as a carer. She is quite inventive in finding entertainment and outings for Mum, despite her very limited mobility. Mum loves her – we all do!
Overall service and meals excellent.
Standard of service and punctuality
My carer helped me positively in driving me to shops and helping with the selection
Kindness and thoughtful.
Administration excellent – All polite – All on time.
Carers maintain constant attention to my wellbeing.
Linda's awareness to give Mum "space".
They have common sense and very caring.
I cannot fault your services in any way.
Readiness to be obliging. Punctuality.
Communication of Care status.
Always friendly, cheerful and hard working.
Cheerfulness in delivering care.
Communication from office. Timely emails from accounts.  Ability to speak with Andreas who is fantastic if any questions regarding billing.
The quality of Caregivers.
Prompt and willing professionalism.
I am most satisfied with the Caregivers with their instant attention and understanding of what matters.
The fact that we can find mature, suitably qualified or experienced people to help with our particularly challenging situation. (Who also speak perfect English as language is an issue with our loved one).
They are hard working women, middle aged, and do what they can in the time they have.
Always on time.
Excellent communications from all departments, including M.D reliability of staff.
Confidence in the service provided continually to caregivers.
Kath is a member of our family and we are all very fond of her.
They are all very engaging and lovely.
A bright lady always smiling.
The special support I receive.
The lot, everything they kept on smiling.
When making a phone contact – everyone makes one feel that the reason for the contact is important. Also the person answering always gives the impression that they do know the "caller".
The excellent training of their Carers.
The quality of women/carers and the communication.
Willingness of Daughterly Care to provide an excellent service urgently and the wonderful high standard and responsiveness of that care.
The caring nature of your staff.
Carers look after me well.
The sympathetic understanding and efficiency of the staff.
Have confidence in ability to manage whatever arises.
The attitude and attention given by the carers.
Organisation, support, skilled care workers.
Ania is an exceptional carer.
Carers all come on time and are very pleasant in carrying out their duties.
Punctual and reliable, care tailored to the care recipient's needs, friendly and compassionate carers, and detailed and informative progress notes.
All aspects.
Mobility – being driven to nice places for walks. Convenience of having transport for shopping.
To be able to stay in place at home and continue my life.
Usually very punctual and well organised.
You keep the gaps filled.
The quality of the people you hire as caregivers. The good organisation via emails.  The ability to offer help in changed circumstances e.g. when the family goes on holiday.
Tact and sensitivity.
Personal attention and reliability
Communication I appreciate the immediate feedback if concerns arise.
The times that I have called with queries, someone has always taken time to answer them.
Q6. I would recommend Daughterly Care Community Services to a friend or colleague
99% of Daughterly Care Community Services clients Strongly agree or Agree that we have quality caregivers.
Q7 We always want to improve.  If any, what areas would you suggest?
It would be useful if your website had a weekend number that is manned /even an answering service for situations where an urgent care need arises. [Kate: Our normal number 9970 7333 automatically diverts to a High Care Case Manager outside office hours. Just state your name, phone number and a detailed message and the On Call Manager will call you straight back. We will emphasise this on our contact page.  Thank you.]
Keep up the good work. You make God smile.
I can't think of anything at present.
No comment as haven't had much time with service as yet.
No improvement needed.
We haven't seen any areas at this stage that would need to improve.
Cannot think of any – I am an experienced designer and analyser of "mystery shopping" and I can be very critical.
No suggestions.
Not all carers understand mum's needs and her desire NOT to go to hospital or nursing home. Better communication of Mum's wishes.
Getting accounts timely and please send me a simpler receipt such as: Invoice no….   amount date received.
Address communication to carer not client.
When dealing with clients with dementia don't offer too many choices ie/or What do you want for lunch, because it gets too hard. More empathy is required from Caregivers rather than following and acting of a care plan.
If carers have an issue with something in the home to ask the client and/or refer to Case Manager as first line of complaint.
I was satisfied with my one experience.
We only used the service for such a short time as my mother, Anne had a fall and was in and out of the hospital. Our personal experience- the nursing staff changed a few times, this was a little difficult as mum liked the reassurance of the same nurse.
Keep up the good work.
I understand it does not pay your carers to work for less than 2 hours at a time, but that would be of help to us. Sometimes we just need an hour of help.
Call back request not responded to. One occasion only, but important at the time to me. I appreciate there could be a myriad or reasons, so presume it simply human oversight. Perhaps there could be a check off system.
At the moment I have no complaints.
Kaz puts a lot of effort into her progress notes. As I frequently travel these can be very useful. Unfortunately they do not get sent through promptly. The last batch I received for 4 weeks were up to 5 weeks post the date stamp as received. Can I get these weekly within 3 days of receipt. [Kate: I'm really disappointed to read that. I have spoken to the Manager of the Live in Care team and we have put a system in place to ensure that doesn't happen again.]
May be the price for those $ careful.
Can't think of anything.
I am a new client therefore I cannot make suggestions yet.
More staff so that clients can have immediate start and continuity of carer.
We are very happy with the service provided so far.
Happy with service.
Is the paying by cheque within a given/or definite period really necessary?
Nothing to improve.
I wish we could manage to have daily care… We would want Daughterly Care to assist more often.
Organisation, different standards with care (no car, not helpful etc.).
Being able to provide a consistent care service for our evening service. We would prefer to have one or at the most two carers to cover the 5 evening services. [Kate: We would love to oblige. The difficulty is that Caregivers work all day and they want to be home with their own family at night.  For this reason it is very difficult to get one or two Caregivers to work seven nights a week between them.  Evening services are the most difficult time slot to cover.]
Can't think of anything.
I have none to suggest.
More information on what services the package covers especially to new clients and how it impacts on other services – e.g. Easylink, MWP Community Aid Building Services, etc.
The person you sending that they will be able to do the job efficiently.
None I can think of yet.
Improved system of keeping track of client requirements.
Initially it was difficult to know who was my phone contact at Daughterly Care's Head Office but this seems to have been resolved.
Caregiver timekeeping though this is minor.
Don't think we would want anything to change. Feel we're very lucky.
Q8. I would recommend Daughterly Care Community Services as a company who will care exceptionally well for you or your Loved One
99% of Daughterly Care Community Services clients Strongly agree or Agree that they would recommend us as a company who will care exceptionally well for them or a loved one.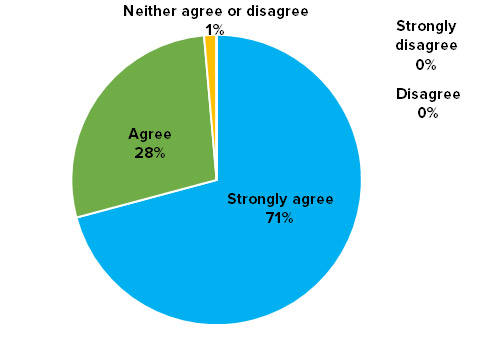 Q9. I plan to keep using Daughterly Care Community Services in the foreseeable future?
96% of Daughterly Care Community Services clients Strongly Agree or Agree that they plan to keep using our service in the foreseeable future.