In Home Care Client Survey Results 2018
Daughterly Care is delighted by our excellent in Home Care Client Survey Results of 2018 which show Daughterly Care Community Services Ltd provides the best, premium quality in home aged care services in Sydney, NSW. All our clients were surveyed and all their answers are published below as they wrote them, positive and not so positive. So if you want to know what our clients actually think of us, in their own anonymous words, read on.
Registered Nurse and Co-founder, Verlie Hall and I were delighted that 99% of our clients who completed our 2018 survey stated they STRONGLY AGREE or AGREE that Daughterly Care has quality Caregivers.
Our 2018 client survey results have filled Verlie and I with the same joy of this little boy running through water. Our 2018 Client Survey results are in line with our absolutely brilliant 2017, 2016 and 2015 results.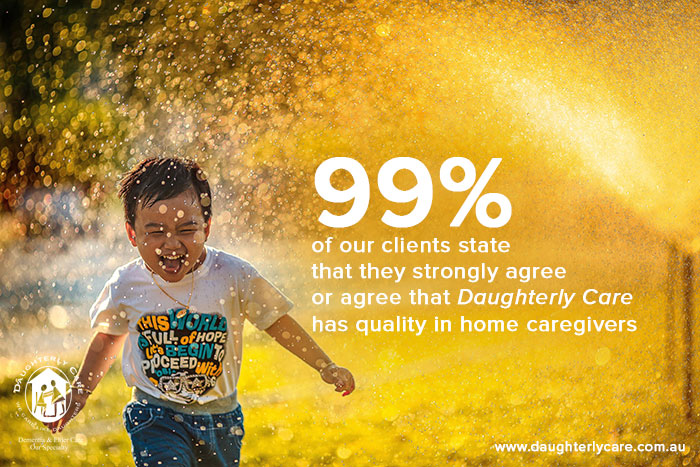 Our 2018, 2017, 2016 and 2015 survey results illustrate why Daughterly Care has such a strong reputation for being Sydney's best in home care provider and that's why health professionals and families recommend us so often.
Our service guarantee ensures we are working hard to meet our clients' high expectations.
Q1. Overall service rating of Daughterly Care Community Services
94% of Daughterly Care Community Services clients rated our service as either Exceptional, Exceeds Expectations or Meets Expectations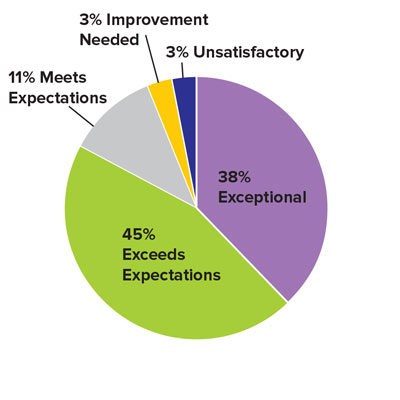 Q2. I would rate Daughterly Care Community Services Quality of Care
96% of Daughterly Care Community Services clients rated our quality of care as either Exceptional, Exceeds Expectations or Meets Expectations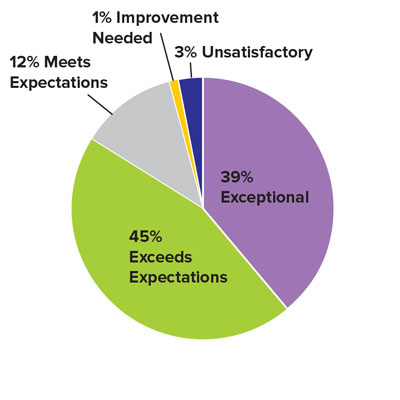 What exactly stood out as being exceptional about our Caregivers?
The commitment of care is natural towards the client. At no time, do I get the feeling that the carer is just there to fill in. They are engaged with the client and are a companion to her.  All personal care is of high standard.  I strongly agree with the 2 current carers.  However, I strongly disagree with a previous carer.
She is a good cook! Friendliness, efficient, punctual, honest, cheerful – which was wonderful to have around.  See's things to be done without being asked and so much more!  We just LOVE HER because we love having her around.  A GEM.
They are always on time – take an interest in keeping everything 'ship shape' including my clothes.
A mature group of ladies – very considerate and very kind in attitude.
It's as if I'm with mum – you can't beat that!
Thoughtfulness in anticipating mum's needs and willingness to fight to protect her.
Punctuality, care and kindness, authentic care and passion for it. Maturity life experience. Do what is needed willingly.
My carer Marlene is now my good friend. She is very caring, confident and hard working and makes a big difference now. I need a lot more help and I appreciate her a lot.
Their kindness, knowledge and availability to connect, empathy and competence.
Tina has been outstanding – has foresight and initiative.
Both Kim & Jess do a wonderful job with Neill. They provide excellent social support while giving Neill plenty of exercise.
They have always arrived on time and in good spirits.
Caring people, lovely to talk to.
Philippa always does a great job of meal prep, especially because she cleans up after preparing the meal.
Patience, caring nature, dedication.
Lauriane is wonderful and a self-starter. She looks for areas where she can help and does so. Fairy is also very pleasant and helpful and has (like Lauriane) a very pleasant manner and helpful.
Punctual, bright, happy personality and engaging in interesting activities.
Rebecca is delightful, very friendly and helpful, a pleasure to be with – interesting to talk to.
Friendly helpful caring chatty but respectful if I was tired. After I had everything done and if there was more time they would offer to take rubbish out etc
The carers listen sympathetically and with understanding. Being available when I need them and having patience.
They are pleasant and care about us.
Punctuality, kindness, happy to assist in any way. I feel very confident that my husband is well cared for and safe when I am at work, as Daughterly Care is there.
Neill loves going out with each of his "nice young ladies". I am very grateful Kim and Jess are able to give him the exercise and companionship he needs.
Cheerful and always support – time always spent.
Professionalism and compassion.
Care, cheerfulness, helpfulness, energy.
Friendliness and willingness to listen.
Each client is made to feel special.
Always cheerful, respectful and very supportive.
Patience and understanding of problems.
They are individuals with their particular gifts.
Their sensitivity to my physical needs.
Nothing too much troubles always happy and looking for jobs.
Personal attention and compassion.
On time, work consistently.
Thoughtfulness about what will improve her quality of life.
Understanding and listens well. Kind & caring.
Reliable, friendly and cared about my needs.
Katherine works very hard when she comes. She is a wonderful cook and is very active.  She never stops when she is here.
Thoughtfulness, caring, warmth.
Efficient always gives an opinion good communications.
Good company – easily found their way.
My father's caregiver is always very kind and patient with him.
Open access – the essential gateway to institutional communication is excellent – especially at top management
This is difficult to define with some, because they vary. Some have different strengths because of their personalities.  I think that courtesy is important, but it may not rate highly with others.
They do indeed care. Always go the 'extra mile'. Organised and dependable.
They each have different strengths, which ensures a balance service.
My confidence in the Caregiver was enhanced by her willingness to accept our way of doing things and to spend time here before I went away to get to know our needs.
Jenny & Dao's enthusiasm and meets all needs to me. They take me out on outings and I enjoy them tremendously.
Friendly, chats on our health care progress. Regularly updates & advises.  Very professional nursing care.
Very caring and competent.
Pleasantness – agreeable.
The care-givers adapted quickly to my requirements and to the house arrangements, although one of them was not very communicative.
Caring patient understanding.
Caring, individualised relationship with my mother.
Formed enduring relationships with my father; made him feel special without patronising.
The carer failed to administer medications to my wife, spent a lot of time on her phone, left early and so didn't take me to my eye specialist necessitating my daughter to leave work at short notice to do this. [From Kate: This employee was terminated]
Easy access to staff and high level of flexibility and ability to assist.
From discussions with my family – carers were kind & attentive & thoughtful – all very nice carers. Perhaps a little more training would be helpful and information and communication from the office improves.
Constant concern for mum's wellbeing.
The carer's kindness patience and loving carer.
All caregivers were very reliable and professional. They did tolerate a sometimes quite difficult client and the office ladies were always extremely professional.
Very caring personality and willing to do any tasks.
Some of the ladies that have cared for me are very efficient and friendly and help me in many ways.
Friendliness, concern and cooperation.
Reliability Carers look around and find things to do themselves. Thoughtful and compassionate.
Very caring and supportive of both my husband and me. Flexible as my work commitments.
Mum's carers and very thoughtful to her and look after her very well.
Interest taken in the cared for person.
I use the live in care for my father and feel confident in leaving him with someone who will be more like a family member than only a care worker.
Reliability and willingness.
Friendly – really does care and notices what needs doing and does it.
Always on time and well dressed.
One of the caregivers is exceptional (according to Mum) and the others are very competent.
Professional service but given with genuine interest and care.
Eileen was very attentive, kind and often anticipated my needs.
Intuitive, sensitive and responsive in a complex family situation. Able to suggest better options and resist poor decision making by family while staying professional.
Most have been well trained and remain calm in emergency situations.
Able to see what care is required without asking.
Great empathy. Totally understood the situation and the needs.
One of my mother's caregivers, Hanna, left Daughterly Care for a full time position elsewhere and on her last visit she gave my mother a beautiful bunch of roses….we were both extremely touched by the gesture. My mother finds the ladies very easy to talk to and I can see that they genuinely take an interest in her and do make a difference to her life in a very positive way….her apartment is always clean.
They are very patient, and accommodating and listen so that within no time they are providing exactly what is needed. They are proactive and identify new things that will benefit my dad that we hadn't thought of.
Karen is a very positive caring person and takes a real interest in Mum. She has made a real improvement in her quality of life. We are very comfortable having her in our family home.
Patient and totally respectful of mum's wishes. Making mum feel as if she is in charge and has options and decisions she can make for herself.  Has greatly affected her mental happiness.
Q3. Daughterly Care Community Services has 'quality' Caregivers
99% of Daughterly Care Community Services clients strongly agree or agree we have quality Caregivers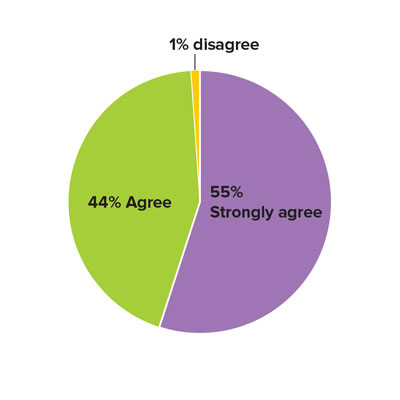 With reference to our 'service', what are you most satisfied with?
I like having an assigned case manager to look after our requirements. They are always prompt to help, professional, courteous and keen to find exactly the right carers to suit the client.
Low level of worry as believe my mother is being well looked after.
Knowing that my sister in-law is having the daily care she requires from carers, and taking her on special outings and following through on family requests.
I can't find any fault with Daughterly Care. They are lovely people and placed in the right job, I was very pleased.
Follow-up is most important if there is a change of days. You are efficient in that area and with Accounts.
The name Daughterly Care is perfect. Either the staff are daughters of elderly parents or they are extremely well trained it seems because as a customer they give me confidence through their caring, proactive and confident service.  My experience with Daughterly Care has been wonderful.  Thank you.
Removes a lot of stress for me.
Alison's smiling face and happy, positive attitude.
On time with expected appointments when arriving at our home. Prompt notification when delayed.
Your carers, they are great.
Cheerful disposition, honesty, promptness, nothing is too much trouble.
The weekly visit of our carer and her willingness to do what we request.
The co-operation and empathy.
Openness and willingness to help in a complex system. Their patience and understanding.
Dependable and training of Caregivers and staff.
Washing, shopping and appointments.
Obliging to do 'most things'.
Marlene is always on time and is always bright and willing, and she will help me pay bills, because I have difficulty writing now.
Carers arrive on time. Administrative office staff prompt with answers.
Neill thoroughly enjoys his outings with his 'lovely young ladies'. It is wonderful to see him so happy.
Your reporting and overall care.
All ladies very kind and loves to be helpful.
How respectful, helpful, caring and willing you are 🙂
Ongoing care for mum and support for me too, when i had to tackle other family members trying to take our parents money.
They are always prepared to drive me out to the shops, explore, and go for a walk or whatever.
Consistency of carers. Head Office responsiveness to changes and additional services required.
Reliability of service, punctual, friendly, takes initiative.
I am a new client to Daughterly Care, but all the charming ladies who have transported me to appointments so far have been 'great'.
The cheerful manners and willingness to do whatever needs to be done – what I call a self-starter!
Always pleasant and helpful.
I have never used this type of service before, so I had no idea how it would be. Had heard from other friends who had bad experiences with other providers.  I am satisfied with the booking service, communication from Daughterly Care and all the Caregivers.
Willing to take on any helpful tasks.
While Neill's happiness is my primary concern I have found everyone I have dealt with has been really supportive of me. A big thank you to Kim and Lisa in particular.
I have had over 2 periods of surgery and on my return over 3 years.
Their patience and perseverance with 'sometimes' a difficult man. Loved getting a copy of daily progress notes – very helpful – unfortunately not received until 5th week of a six week service!
That I don't need to worry – there will always be someone here.
Helpfulness and consideration.
Companionship and understanding.
The assistance I receive with shopping is all I could wish for. At this stage, I have no other requirements.
Your staff are always available.
Commitment to friendly care.
Always happy and helpful.
The Caregivers are very obliging.
The quality of the Caregivers.
Being kept updated on who and when.
Well, after you 'lost' my booking which I found unnerving, the service was completely satisfactory.
Being comfortable in talking through issues. Often backed with sound advice.  A great support team.
Rebecca is very pleasant, and a helpful carer. She is hardworking, skilled, and punctual (as much as the traffic allows).
It seems to come down to the individual caregiver with little QC from Daughterly Care … perhaps some more QC would be good.
The time my father spends with his caregiver every week.
The ease and excellent service from both Daughterly Care and the lady helpers.
Service – a comprehensive team (caregivers & management).
The assurance that's all will be done to our satisfaction.
All my meals were looked after and very efficient and loving our carer.
Everything that Jenny & Dao do for me.
Current Carer is fabulous! Some are less experienced and some don't let the client make the decisions, i.e. if it's raining, some don't go out.
Our carer Karen is wonderful.
Co-ordinator, Kathy Green, did an excellent job in finding the best arrangement for us and her efforts were greatly appreciated so the end result was disappointing.
Reliability, caring and thoughtful, genuine relationship, supportive and helpful information, clear communication.
Sorry, very little. The offering is poor, and the execution correspondingly lacking. Why don't you just offer a 'companion' service, as that is pretty much all it is. [Kate: the caregiver who caused this feedback was terminated]
The regular reports were good to receive.
Ease of dealing with staff.
The quality of care and professionalism.
In an emergency I was able to get a very nice lady who was very competent and a great deal of help.
The quality of your service and the overall philosophy of the organisation.
Overall care provided by carers.
Maintaining coverage when on leave of etc.
The peace of mind that my father is at home where he wants to be and maintains his routine.
Probably Natalie who I find most capable, willing and a truly nice companion.
Treated the client with dignity and in a friendly manner. Carried out all tasks well and with health and safety in mind.
Ready to explore clients' needs.
The love they show dad and Ele's great service.
Well planned, always on time.
Punctuality, diligence in completing any tasks that my mother requests, friendliness.
Very professional. Cover all areas exceptionally well.
The carers monitor, without  me  saying,  how  I am  feeling,  changing  their  "service" to  the communication is usually conveyed well.
It is inevitable that the nurturing of some rate more highly, but most try hard and attempt to do their best. Some, of course, are exceptional and are to be commended by Daughterly Care, and we, from whom we receive their care. The care and dedication is exceptional.
The variety of personalities bring different emphasis on the different requirements, e.g. one looks after my clothes, another loves cooking, another loves cleaning.
From Kathryn Green's insightful and expert management of arrangements to the round the clock back up, and the on the ground skills of each of the carers – it's hard to pick an element I was most satisfied with. Very grateful for the expertise and combination of practical and professional.
Q4. I would recommend Daughterly Care Community Services to a friend or colleague
95% of Daughterly Care Community Services clients strongly agree or agree they would recommend us to their friends or colleagues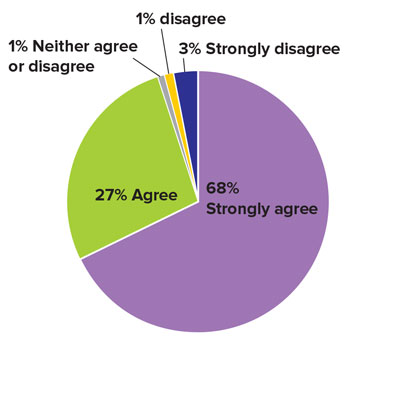 We always want to improve. If any, what areas would you suggest?
I am very happy with everything. I have recommended Daughterly Care to a number of my friends. They have been very impressed with the care I receive.
Keep up the excellent standard.
I can't find fault – great service!
I find with Anna, I don't think there is anything I can think of, maybe stopping her sometimes from working too hard.
The service meets our needs.
I never see anyone from my culture and think this would be good so we can have more in common.
Honestly, nothing comes to mind.
Better screening and regular monitoring of carers.
I would like to be able to have Fairy for just 1 hour to shower and dress my husband – John 4 x times a week (not Wednesdays).
Communication between office, carer & client. Some gaps appears due to no or misinformation. I feel a 'permanent' client would fare better, but temporary arrangement causes problems due to many carers involved.
If someone is about to be 'placed' , a good idea is to have them visit the Joyful Living Home prior so they become familiar with the staff and place.
Some Individual carers show less enthusiasm for 'tidying up' than others.
It's nice to get a call from time to time to discuss the Carer – not just an email or survey. It's a lot of money that's being spent, communication is the most important part.
More carers to fill in gaps when required.
More enthusiasm / action in keeping the place tidy.
Develop mutual relationships with other Caregiving organisations.
More QC of the caregivers… it seems as if they're pretty much left to their own devices… in Mum's case they're all delightful but their level of care seems to be contingent on the level of interest of the individual caregiver.
No I am happy with what i have.
None – it would depend on the Carer.
None really….just always listen to the client and if the client isn't responding…as they are elderly and can be moody… to always be proactive and attend areas that they feel are in need…such as cleaning or ironing or taking the rubbish out etc….or even just talking or reading to them.
Not at this stage, as we use a limited range of service.
Had a billing problem initially (that was soon rectified).
Not really anything! Wardrobe/kitchen cupboards.  Taking clothes from one room and put in another.
Payment system – please consider a credit card system for your client's convenience.
Progress Notes to be provided ASAP. I have had to chase these a number of times!
Provide caregivers that are also cleaners.
Read all the notes in the book. Think of different ways to engage dad. Don't be afraid to suggest changes for his care.
Sometimes matching a person to fit my needs and my personality a little better would help. Some of the people I've had certainly can meet my requirements others just can't do things the way I want.
Steps you have already taken in the realisation that two-way communication is essential and when it is most needed.
Charge less for petrol and a bit less per hour, now that I have qualified to have more government help from ACT.
Transparency in pricing. Over Easter, the carers stayed an extra couple of hours. I had no idea that cost reverted to a casual rate, not 24-hour rate, plus public holiday rates.  Well over $100 per hour created bill shock!!!!
We are very happy with Karen, she is great – and very 'caring' – the main requirement from our perspective. One of the carers we had wasn't suited to our needs. I don't doubt the competency of the physical care but the 'Daughterly Care' and genuine interaction with our mother wasn't sufficiently in evidence.    I find that the co-ordinator we have can be quite officious. When we need to resolve difficulties I feel like I am being talked down to or lectured. It feels like she goes on and on as if I am not capable of understanding, rather than cutting to the chase and being pragmatic and solution-oriented. I would prefer to have a different co-ordinator and a more constructive partnership for what I hope will be a long term arrangement.
Get better staff, and maybe change your offering to be of real value.
When a carer cannot be provided I do not want to find out the day before by email. It has been said twice lately that you do not have sufficient carers available to fill a service in our area should the regular carer not be available.
There were services not available to us, yet expected to be (catheter care). Not sure about skills around palliative care.
Taking initiative – organising things as required like Doctor Appointments.
With 24/7 care would be good idea if one carer is nominated to do weekly shopping, and other carers just shop for incidentals and inform other carers what she has purchased for weeks menu.
We have good communication so very happy.
We are very happy with our service.
Unable to think of anything.
Q5. I would recommend Daughterly Care Community Services to Loved Ones
95% of Daughterly Care Community Services clients would recommend us as a company who would care exceptionally well for you or your Loved One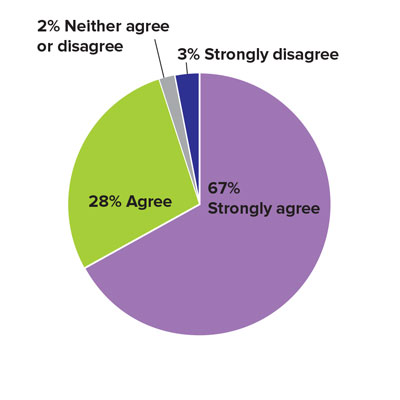 Q6. I plan to keep using Daughterly Care Community Services in the foreseeable
93% of Daughterly Care Community Services clients strongly agree or agree they will be using Daughterly Care Community Services in the future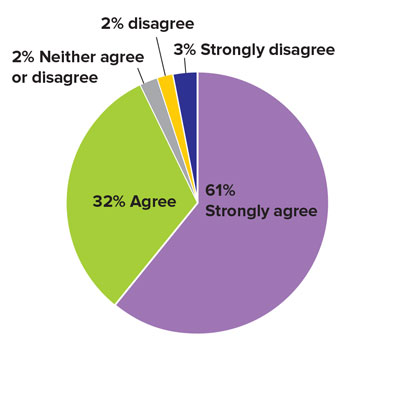 If you answered improvements needed; unsatisfactory; disagree or strongly disagree, please provide your reasons.
I think Daughterly Care has made a huge difference to mum's quality of life and I'm grateful… my comments are only to suggest possible areas of improvement… BUT we're happy with the caring that is given and grateful.
N/A – I LOVE DAUGHTERLY CARE. What you do, how you do it, the amazing people you employ and everything about you.
There are many excellent aspects of this service. The concept is great and it fulfils a real need in a niche with few competitors. At the end of the day it's very much a people business.
We will keep using Daughterly Care for mum while we can afford as feel it is the best care she could have at her age. It is wonderful when her mind is going to know there is still familiarity around her.
I am fairly new to your company but to date I have found no reasons for complaint.
We need a cleaner – but it would be great if Caregivers can clean too while they are here. [Kate's comment: Our caregivers do light house keeping services.]
ACAT told me that I now have been assigned as requiring extra help. I will not be charged as much per hour, but that hasn't happened. [Kate's comment: A Government Subsidised Home Care Package pays for all care up to a specific amount. Our hourly rate is the same whether clients are paying privately or the Government is paying.]
We are still finding things in odd places. But the wardrobes are the worst.  Very frustrating. It must have happened overnight, unbelievable.
We had had 6 different carers and I was beginning to despair, but lately, we have had 2 regular carers which has been so much better – especially for Bill, i.e. he can recognise a familiar face, names mean nothing to him.
Third Party (YOURSIDE) cancelling services wrongly. Recommend confirmation be sought from client's family to determine progress.  Thank you for the opportunity to add these comments to the survey.
Provide an employment service so it's more affordable, i.e. clients get more hours. [Kate's comments: Quality Caregivers are in very short supply.]
Daughterly Care should have sufficient carers to provide consistent care when regular carers are ill or unable to attend. Most times if a carer is late or lost I as the in home carer have to chase Daughterly Care to find out what is happening and if anyone is still coming.  Daughterly Care should have backup procedures in place to ensure that a client is not left with a Carer from our provider at the last minute, especially when the FT in home Carer has to go to work and leave the person alone because the provider cannot provide the care as per our agreement.
I and my siblings would strongly recommend and use Daughterly Care for my father's care but have been blocked. He has finally been removed from his home which we fought hard for him to stay in and which Daughterly Care enabled for much longer than might have been possible. Something I forgot to add earlier: Daughterly Care was critical to my father returning from hospital/respite to home.
Payment system – please consider a credit card system for your client's convenience. [Kate's comment: we have had a credit card system in place for 5+ years.]
Not needed. Person now moved to aged care facility.