The best in home elder care provider on Sydney's North Shore
Daughterly Care has been caring for elders on Sydney's North Shore for over 21 years.
Our very first in home care nursing client lived in Killara and our second client lived in Lindfield. Those two families recommended Daughterly Care to their friends and colleagues, and we grew from there.
We are the best in home care provider on the North Shore having provided over 111,484 private nursing services to enable, support and care for elders just on Sydney's North Shore alone.
73% of all new clients are recommended to Daughterly Care by existing clients, their families or by health professionals who are very pleased with our exceptional mature qualified aged care Hourly Caregivers and Live in Carers.
Additionally we have provided more than 71,405 in home nursing services just in the suburb of Mosman (on Sydney's Lower North Shore) and over 76,560 services on Sydney's Northern Beaches.
Some people think of Daughterly Care as a Northern Beaches elder care provider but that's not the case, at all. We started Daughterly Care 21 years ago in North Ryde (on Sydney's Northern Suburbs), just around the corner from the North Ryde Lady Fairfax Alzheimer's Association (also known as Dementia Australia).
As the business grew we chose to re-locate our head office to Collaroy Beach and finally settled on Narrabeen Lake, next to Woolworths.
With over

111, 484

 in home care services delivered to Elders on Sydney's North Shore, why haven't you seen Daughterly Care?
Our in home care clients are discerning up-market elders and our invisibility is just one of the more than 14 reasons elderly seniors and their families choose Daughterly Care.
Our Hourly Caregivers and live-in carers don't wear branded uniforms like other in home care providers do, nor do they drive branded cars advertising our business name and the presence of care or extra assistance for the elderly.
Of course, our in home carers and Live in Carers do carry a photo identification badge to prove they work for Daughterly Care.
Sure, we would love to be seen everywhere we go while providing extra assistance to our elderly clients but that's not what our high profile senior clients and their family want.
They don't want to be seen with uniformed care workers or carers whose branded shirt or car advertises to the world their vulnerability [disability, frailty, dementia or like]. No, they prefer to move through life with our well dressed, high quality private in home carers and live in carers who are easy to talk with and relate to.
Daughterly Care Caregivers present as helpful engaging friends or a personal assistance, rather than paid help advertising their employer.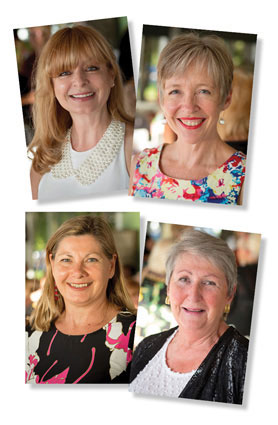 Sydney's North Shore clients and health professionals recommend Daughterly Care
Whilst you don't see us walking and driving around the North Shore – you can tell we have gained a reputation for delivering superior home nursing support and private care because 73% [1] of all our new clients are recommended to Daughterly Care by existing clients, their families and health professionals – all these people who have seen our Hourly Caregivers and Live in Carers in action.
Email from daughter of elderly client in Hunters Hill on Sydney's North Shore
Dear Kate,
I don't know anyone who can match up with Daughterly Care Community Services in this industry.
Your in-depth analysis of Mum's Home Care Package statement is very matter of fact. You're recommendation of the solution is very practical to my Mum's situation.
Narrabeen Aged Care Advice Centre – the best in home care for elders
The founders and owners of Daughterly Care, and indeed all the team are passionate about advocating for and supporting Sydney's North Shore elders. They are able to live their best life, their way, in their own home for as long as possible.
Co-Founder, Kate Lambert is a passionate advocate for elders and Seniors through educating older Australians and their families. She is very willing to inform, empower and advocate on their behalf of the Productivity Commission review of the in home aged care industry. In addition, she speaks about The Living Longer, Living Better Reforms which resulted in the introduction of Consumer Directed Care.
Ms Lambert says, "We are having more and more elders contacting us to take advantage of their new Consumer Directed Care powers. They are disappointed with the quality of the personnel and Care Workers being sent to them. They much prefer to use a premium home nursing service like Daughterly Care to provide their Government Subsidised in home care, also called Home Care Package".
Ms Lambert added, "elders are choosing to exercise the power the Government has given seniors to nominate who provides their in home care services so that they can have quality aged care Hourly Caregivers or Live in Carers supporting them. Furthermore in home care providers who come at the time that suits them and to do the tasks they need assistance with".
Sydney's North Shore elders and their families can discover their 9 New Rights under Consumer Directed Care (CDC) and learn how to negotiate better outcomes like:
1. your Government funded Home Care Package paying for more hours of care; or
2. your right to choose better quality carers – the type that Daughterly Care carefully chooses; and
3. choosing the right type of care that suits your health in home care needs.
Read reviews from our North Shore elderly clients and their families.
[1] Source: Daughterly Care's Rostering Database.