The best live in dementia care in Sydney
To justify calling itself a Live in Care, Dementia Care specialist, an organisation has to meet a number of criteria. They need to provide a great alternative to a Nursing Home, be highly experienced, be experts in the field and be highly credible.
In the later stages of the dementia condition people with dementia often require around the clock care so our Live in Care is ideal as it enables them to continue living fully and joyfully in their own home. Don't take our word that our live-in care is the best solution for dementia care…read what our clients have said recently: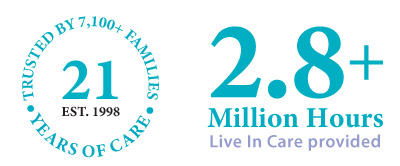 11 January 2018 – Appreciative email from the daughter of Live in Care clients from Turramurra on Sydney's North Shore
[This couple transferred out of a Group Home back into their own home using our trial Live in Care service and now receive personalised one-on-two in-home dementia care in their own home with our Live in Care service.
Mrs E had been a Concert Pianist and due to her dementia was crying. Their High Care Case Manager, Jean Parlane, organised for our Musical Director to visit who worked out that Mrs E's left hand wasn't keeping up with her right hand when playing the piano and Mrs E was grieving the loss of not being able to play the piano.
So Jean organised for a Caregiver who is also a Piano Teacher, to visit for 2 hours, 3 times a week to play the piano with Mrs E.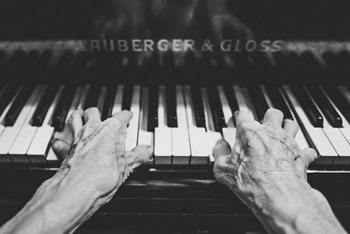 Our Caregiver / Piano Teacher played the left hand of the music and Mrs E played the right hand. Now that's person-centred, enabling care.
Mrs E regards our Caregiver as her music student and gains great self-esteem from teaching her how to play the piano properly. Mrs E also plays the violin and plays duets with our Caregiver who plays the piano.]
Hi Jean,
Yes it [the Caregiver who is a piano teacher] is a wonderful addition to Mum's life and Andrea has become a treasured part of Mum's life. Thank you so much for your vision and exceptional understanding of supporting both, Mum and Dad.
I would love to get reports as they come in and am looking forward to telling my students of how companies like Daughterly Care are innovating in the world of dementia care, particularly with Elders.
Cathy seems to be all over it and has won Dad's heart through her fabulous wholesome meals and happy non-flustered approach. We are all very grateful they are being loved and cared for.
Thank you so much
Sonya
Registered Nurse & Aged Care Trainer
Appreciation from Daughter of live in care Client who lives in St. Ives, on Sydney's Upper North Shore
Dear Wendy,
Words are not enough – the love, the laughter, the adventures you gave Mum – they were unique. But beyond that, you were always trying to make things better for her – more comfortable, more safe, more yummy!
Thank you also for those final days – you took a lot of the fear and pain out of those times for Mum, and for us.
I hope you look at these 2 ducks (that used to sit in her bathroom) and remember all the times you led and Mum followed you – across many wonderful trips, drives, memories and meals – thank you for including Mum in your unique "pond".
All our love for your future adventures.
Maxine & family.
Judith, our Live in Carer describes the warmth and joy, Live in Care brings to Elders and their quality of life. 
Just to let you know that my time with Jeanie was a delight. We gardened, chatted, did some housework together, sang a great deal, enjoyed some poetry and went for a walk over the oval complete with a small bush walk to see the views across the valley to Chatswood and the City. We even stopped in the middle of the oval for a dance and song, just because we could.
Jeanie's appetite was excellent, fluid intake good and no problems. Jeanie slept through and was gracious. Lots of reminiscence despite her communication difficulties. Excellent handover from Jackie as well (as you had told me to expect).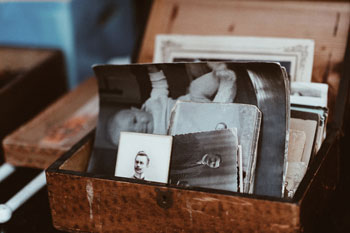 We began providing Live in Care services more than two decades ago. To date, we have delivered 2.8+ million hours of Live in Care, many of these clients have a dementia condition, Parkinson's, MS or age related frailty.
Our 200+ Private Nurses and Live in Carers are all uniquely skilled, highly trained and entirely committed to a team culture characterised by our trademark Joyful Living Approach™.
Our exceptionally high annual Caregiver retention rate of 91% compared to a 75%, which is industry standard – allows us to invest heavily in professional development and ensures more consistent, better quality private in home aged care.
More than 73% of all new in home care clients are recommended to Daughterly Care by health professionals, Not-For-Profit organisations, and the friends and families of existing or former clients. We offer a wide range of Dementia Care therapies including Music, Reminiscence, Validation Therapy, Pet and Gardening therapies.
These are a positive and joyful alternative to the misdirected and often abusive over-prescription of psychotropic medications by elder care providers and aged-care facilities across the board.
We are Sydney's leading Live in Care Dementia Care specialist
Referral from a high profile Not-For-Profit organisation that regularly contracts work to Daughterly Care:

"I was just talking to Mrs M and she wanted to compliment your wonderful team of live in carers. She will miss them very much. She has had support from other aged care agencies in the past and said, the Daughterly Care team is the most professional and adaptable."
Right now, in 2017 medical science knows no cure for dementia. We cannot even say with certainty what causes dementia, except that it comes in a multitude of forms with a broad range of possible trajectories and combinations of symptoms, each with a unique impact on the lives of people diagnosed with a dementia condition.
Daughterly Care was conceived as a better alternative to a Nursing Home. Institutions are often ill-equipped to provide the necessary level of personalised dementia care that a quality of life demands.
Our Live in Care services use hugs, not drugs and a variety of creative responses to meet the needs needs of our private care clients. We take our expertise to our live in care clients so that they can preserve their dignity, retain their identity through close contact with family and friends and do the activities that have always brought them joy in their own home.
Daughterly Care's Joyful Living Approach™ ensures the best dementia care possible. Book a free in home care consultation by calling us today on (02) 9970 7333 or email: claireg@daughterlycare.com.au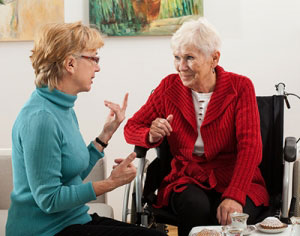 How people use Live in Care: