Younger Onset Dementia (previously Early Onset Dementia)
Younger Onset Dementia is the term used to describe any form of dementia diagnosed in people under the age of 65. Did you know that Dementia has been diagnosed in people in their 50's, 40's and even in their 30's? Dementia in a younger person is much less common than dementia occurring after the age of 65. For this reason, it can be difficult to diagnose. The latest figures show that younger onset dementia affects approximately 25,100 Australians, with these figures on the rise (Alzheimer's Australia 2015).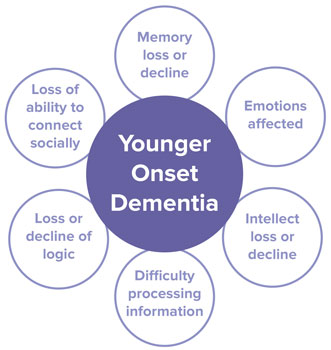 What is Dementia?
It's the term used to describe a cluster of symptoms that effect memory and thinking.  This may include: a loss or decline in memory, logic, intellect and/or difficulty processing information. It can also effect a person's emotional reactions and their ability to connect with others socially. Dementia can be temporary such as with brain trauma, infection or certain illnesses. It can also become permanent/progressive, and this is usually the result of an underlying disease such as, Alzheimer's disease, Parkinson's disease and vascular disease.
Younger Onset Dementia can go unrecognised and is often misdiagnosed. Generally seen as an older person's disease, symptoms of dementia in younger people often get mistaken for another condition such as depression. As symptoms develop however, it is important to seek advice from a specialist health professional such as a neurologist or geriatrician. Specialist groups, like Alzheimer's Australia, campaign for better services and are able to provide direction, support and advice for young people with Alzheimer's disease and other types of dementia. More information about Dementia can be found here.
Specific Issues of Younger Onset Dementia
Younger people diagnosed with dementia can have very specific care needs.  A younger person usually still has a career, parenting responsibilities, a full social life and is physically strong and healthy. As such, they need enabling support and care that assists them to live their life to the full. For example perhaps the most important assistance needed is to support them to care for their children so their spouse can work and provide an income for the family. Perhaps respite services need to be more outdoors and physically challenging to maintain physical fitness.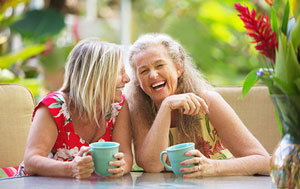 How can Daughterly Care Help?
Daughterly Care has been providing dementia specialist care for over 21 years. As such, we have a sound knowledge of the challenges involved with a diagnosis of Younger Onset Dementia. We take special care to keep up to date with the latest developments in the treatment and management of dementia and offer our Caregivers regular/ongoing training and support.
With the increased need for Dementia Care Services for  this younger population, we have added to our team a group of younger, physically fit, IT savvy and socially active Caregivers who are willing and eager to address your dementia specific needs. Our care-plans are tailored to meet individual needs, and an example of this is a recent dementia care service request, which included:
Encouraging memory and cognitive exercises; making sure the client stays independent for as long as possible.
Socialisation; going for lunch, coffee, gym, tennis, shopping, or just sometimes visiting friends.
Companionship; Staying at home with our client and helping with paperwork, IT, bill payments etc.
Taking client to appointments and liaising on their behalf when necessary.
Enabling our client to continue their parenting role.
General household assistance.
A note to our Co-Ordinators from a Not For Profit who contracted work to Daughterly Care.
"I was just talking to Mrs M and she wanted to compliment your wonderful team of Caregivers. She will miss them very much. She has had support from other agencies in the past and said the Daughterly Care team are the most professional and adaptable."
Discover how we care for people living with dementia:
Read about other exceptional in home dementia care examples:
Our aim is to support and enable all of our clients to stay as fit, independent and self-managing for as long as possible. We would love to send out one of our Nurses to further explain our services and discuss your individual care needs.
If you have any questions, please call us on (02) 9970 7333 and speak to one of our friendly Care Managers.