Private In Home Registered Nurse Care Case Study
Valda's (not her real name)* regular private in home Carer, Sue, who is from Daughterly Care noticed that her legs were looking red, hot, inflamed and infected when she arrived for her usual in home care service.
As elderly people have compromised immune systems, Sue was concerned that the infection would spread so she immediately called the client's Daughterly Care Coordinator and reported a detailed description of Valda's legs. In the past we would have relied on the private in home Carer's verbal descriptions of Valda's legs to determine the next course of action.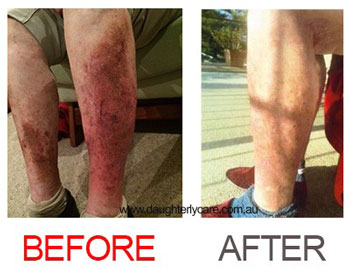 *Our client's daughter gave consent to use these photographs.
Proactive Caregivers + Registered Nurses
=
Reduced Hospitalisations
+ Increased Wellness
+ Better Quality Life
+ Cost effective Health Care
The client's family had given permission for us to take non-identifying photos of the wound…
So our Caregiver, Sue, immediately emailed a non-identifying photo via her SmartPhone of Valda's legs to Daughterly Care's In Home Care Coordinator who showed it to Jenny, our private in home Registered Nurse.
Our In Home Care Coordinator rang the family to explain our Registered Private Nurse recommended Valda have a doctor look at her legs, as soon as possible.
As Valda's children live in a rural country town and Valda has a diagnosis of dementia, her daughter authorised Daughterly Care to take Valda to the doctor straight away. Our private in home Carer was able to be there during the appointment to hear what the doctor recommended. This enabled our private in home Caregiver to report the actions needed to the client's daughter.
The Doctor prescribed oral antibiotics for Valda and a medicated cream to be applied to her legs. The doctor said, "if her legs do not improve, come straight back".
The small team of long-standing Daughterly Care Carers were informed of the newly prescribed antibiotics that Valda had to take, plus the cream to be applied to her legs.
They were asked to take a photo of Valda's legs, upon arrival for each home nursing  service so that our in home Registered Private Nurse could ensure her legs were improving. This also allowed the in home private Nurse to determine if the clinical home nursing care needs to "change direction" or be slightly tweaked, as well as deciding the right time to take the elderly client back to the doctor.
For each service, our Inhome Care Co-Ordinator and private Registered Nurse reviewed photos of Valda's legs along with the descriptions our Caregivers verbally gave.
Fortunately, with each service we saw an improvement until Valda's legs were in fine form once again!
Daughterly Care didn't charge any additional fees for our Care Coordinator and Registered Nurse to oversee the healing of Valda's legs. If our private care Nurse had visited the client and dressed the wound – then yes, we charge a private Registered Nurse fee.
What if our Caregiver hadn't been observant?
For 21 years, Daughterly Care has had a policy of providing a small number of familiar and known private and government funded Caregivers because the evidence based research shows that private Care Workers accumulate knowledge about the client thereby developing a deeper relationship with the elderly client resulting in better quality home nursing care and more positive health outcomes.
If Valda's legs had not been observed as needing treatment for the infection, it could have turned very serious, very quickly. This would have meant that a Registered Nurse would have been needed to dress the wound therefore an extra cost would be charged. Without adequate treatment the infection could easily have transferred to Valda's blood. She would have become very ill from septicaemia (blood poisoning) then been admitted to hospital.
Our skin is the largest living organ of our body. Our skin is critical in protecting our "insides" from bad germs.
Caring for our skin is even more important as we age because elderly skin becomes drier and thinner, therefore it is easily bruised and broken which "lets in" germs.
When Daughterly Care's private Carers assist our elderly clients to shower and dress, without making it obvious, we pro-actively assess the 'integrity' of their skin. We look for redness, breaks and tears in the skin and make sure if we find any that they are reported to the In Home Care Coordinator or High Care Case Manager so a care treatment strategy is put in place.
Older drier skin is easier to tear so we like to moisturise our Elderly client's skin after a shower. Moisturised skin is more supple and maintains its integrity better.
Conclusion
Proactive private in home Caregivers and Private Nurses work with your General Practitioner and Specialist Doctor(s) to assist with reducing hospitalisations and improve elders' well-being.
For a comprehensive list of the types of services our private Registered Nurses or Carers provide click here.