13. How do I start my Home Care Package with Daughterly Care?
Congratulations you have been assigned your Home Care Package and selected Daughterly Care Community Services (DCCS) as the best Approved Provider for you. Government funding starts from the date you sign our Home Care Agreement, so don't delay.
Step 1. Let's meet to explore the benefit of choosing Daughterly Care Community Services
We'll explain the financial aspects of Home Care Packages. We'll also talk about;
If you decide to proceed with us:
We will go through all the government mandated paperwork and discuss:
Your Home Care Provider Agreement;

Develop your Care Plan with you for your Home Care Package funding;

Select the first day of your government subsidised services.
Step 2. Checklist of paperwork
You will need to do the following:
Sign our Home Care Agreement ;

We will need to copy your My Aged Care letter and request they re-activate your referral code. This code is just for Daughterly Care Community Services to access your file on the Government Portal.;
Alternatively, you may have a copy of your Government Home Care Package letter that shows your Referral Number.
We use this number to look up your details on the My Aged Care's secure website and to ACCEPT YOU as a New Home Care Package client. The letter commonly looks like this.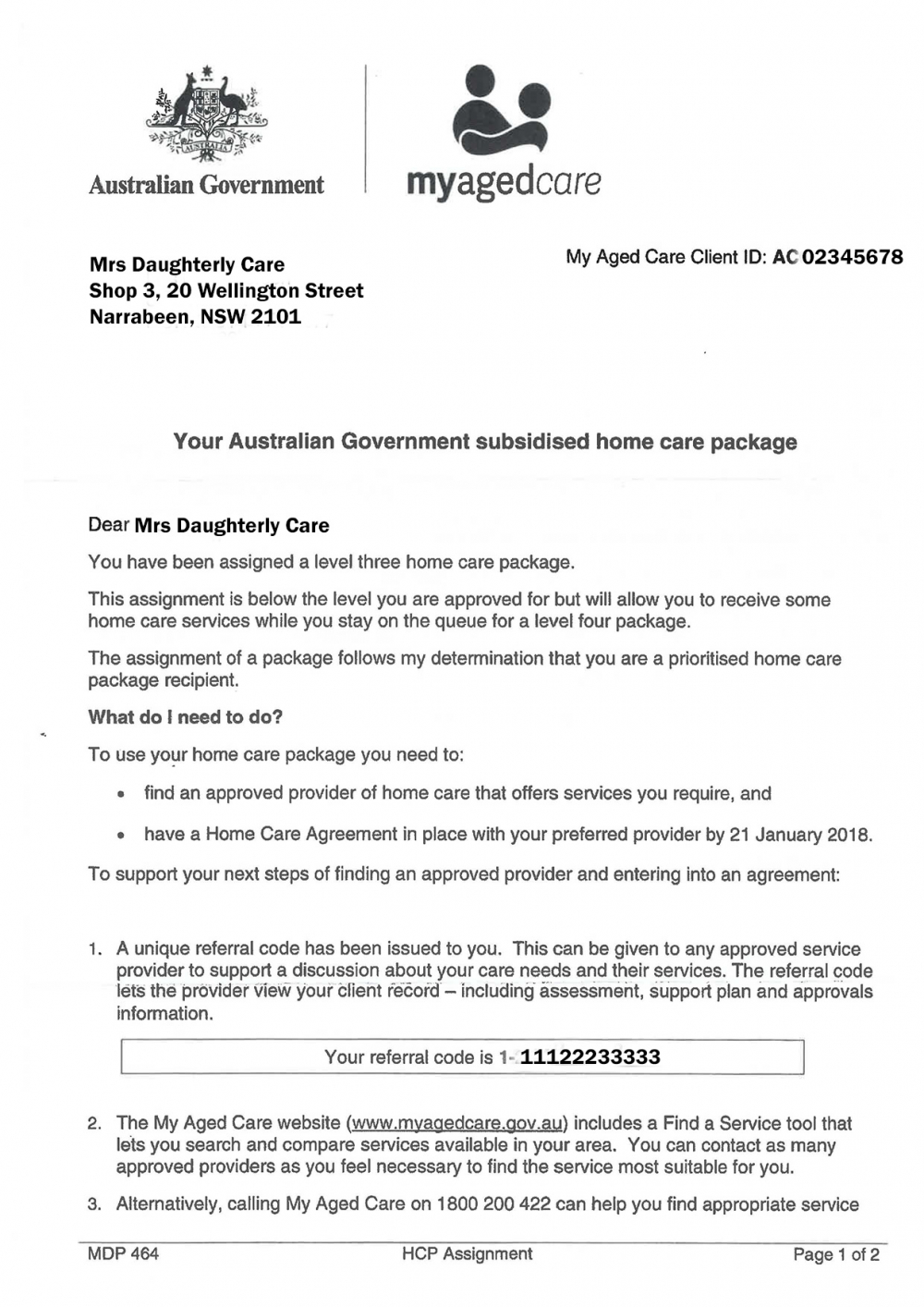 ▢
Medicare Details – please provide the following information:
The reference number (the number next to your name e.g. 3);
We use this to claim your Government Funding through Medicare. We like a copy/photo of your card, so there is no transposition errors in your Medicare number.
▢
Are you a Full Pensioner, Part Pensioner or Self-Funded?
Please email us a copy of your Fee Advice Letter for Home Care from the Department of Human Services (DHS) or Department of Veteran Affairs (DVA).
This letter advises us how much the Government requires you to contribute towards your Home Care Package.
The Fee Advice letter looks like this: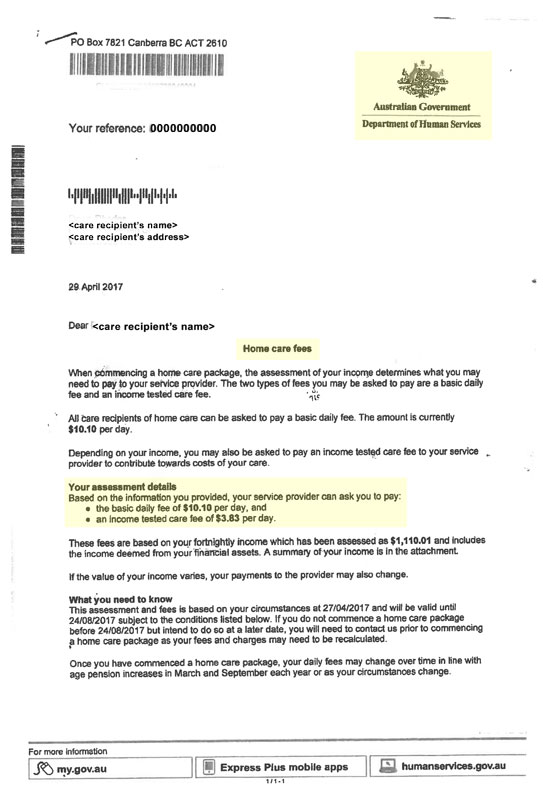 If you are a Pensioner or Part Pensioner then just ring the Department of Human Services (or DVA) and they will send this to you. They can also give you the Income Tested Care Fee Contribution over the phone.
Time Saving Tip: If you are 100% Self-funded, which is explained on this page you don't actually have to complete the whole 16 page SA456 form, you can just write "charge me the full income tested care fee" because you will be charged the same fee anyway.
ALERT: If you are close to the self-funded threshold or your income drops, it will be worth completing the form.
▢
If you are a Pensioner and you can't afford to pay the Basic Daily Care Fee of $10.10 per day then you can apply to the Government for a Hardship Supplement.
Click here for more information regarding the Hardship Supplement.
Click here for the Hardship Supplement Form (sa462)
▢
Do you receive a Department of Veterans' Affairs (DVA) pension?
Do you hold a DVA Gold, White or Orange card?
Please email us a photo of your DVA card.