Companion Card (NSW) Means Carers Attend Events for Free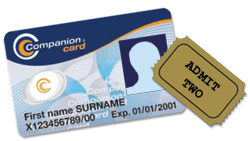 What is the Companion Card (NSW)?
The Companion Card (NSW) enables an elderly or disabled person's family carer or paid caregiver free entry into participating venues and events. This is fantastic for the carer and the cardholder because it means they are not paying for two people, at full price to attend an event. The NSW Government runs this scheme to better enable elders and disabled people to continue to participate in the community. Evidenced based research shows that inclusion and social participation are important components of mental well-being and Daughterly Care's Joyful Living Approach™
The Companion Card is one tool to enable our elders to continue to enjoy their lifelong passions for attending concerts and appreciation of recreational activities. Find more free activities for Elders.
Where is the Companion Card accepted?
Over 4,000 businesses, venues, facilities and organisations accept the Companion Card for their services and events, and are called affiliates. The card is also accepted at places where sporting events are held, such as Tennis Australia. These benefits also extend to art galleries, cinemas, theatres, ferries, trains and buses, and events held at the Sydney Opera House and the City Recital Hall.
As at November 2018 there are 50 website pages of participating venues or services on the official Companion Card website:
View the participating organisations here now:
https://www.companioncard.nsw.gov.au/where-can-i-use-my-card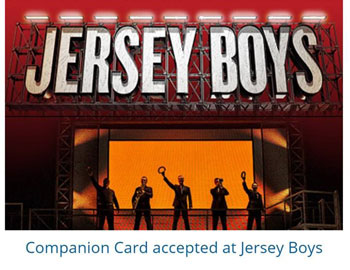 Jersey Boys
Being included in joyful social outings with friends or family members, like a musical, makes a great Christmas or Birthday present for your friend, spouse or parent, who already has everything they need.
Daughterly Care Joyful Living Approach™
Attending concerts certainly upholds the Daughterly Care Joyful Living Approach™.
https://daughterlycare.com.au/life-can-still-be-joyful-with-dementia
The event may be the focus but the joy and connections start before the event and continue well past the event.  There is the excitement of planning and preparing for the concert. For women, discussions on the best outfit to wear, how to style your hair and what make up to wear. Excitement increases as the anticipation builds and the joyful connections are made reminiscing after the concert.
Daughterly Care makes applying for a Companion Card (NSW) easy
If you are a Live in Care client, our Live in Carer can organise to get the application form and take you to the General Practitioner, then lodge the application form. There is no assets or income test – it is all care needs based.
Daughterly Care can drive you to the event
On the special day or night, we can make sure you are dressed beautifully and drive you to the drop off zone close to the event door. As you arrive, your daughter, son, grandchild or long standing friend can accompany you for the rest of the day or night. This will save your family or friend valuable time picking you up. They could drive you home, where our caregiver or live in carer will be waiting for you or we can return to pick you up. That way you and your family or friend can enjoy quality, private time together.
Alternatively, Daughterly Care Caregivers will be delighted to attend with you. Please let your High Care Case Manager know if you would like to gain a Companion Card and our Live in Carer can organise that.
Source: https://www.companioncard.nsw.gov.au/home