Guiding Dementia Care™ Gently Enables Elders with Mid to Advanced Dementia
Daughterly Care's Guiding Dementia Care™, like so many of our other methods of relating to and communicating with elders living with dementia, confirms that our caregiving practices have always been ahead of the curve. Guiding Dementia Care™ is just one of the tools in our dementia care tool kit available to ensure we provide the best in home care supporting our clients needing memory support.
Guiding Builds a Bridge
Guiding Dementia Care™ is fundamentally a way of bridging the communication gap that so often isolates elders living with mid to advanced dementia from their loved ones, carers and caregivers. It recognises that at times verbal exchanges are not always the best way to relate to and communicate with an elder. There are times when demonstrating and guiding the elder works better. Guiding Care adopts an essentially non-verbal communicative model.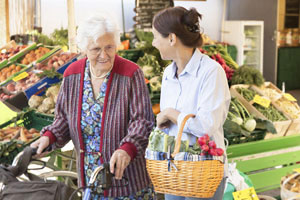 Why Words Sometimes Don't Work
The fact is that elders living with mid to advanced dementia forget and can quickly become confused and frustrated. Add to this, factors such as a hearing impairment or loss of self-confidence, and it's clear why verbal communication sometimes fails. A family carer who can't get a message across can easily become frustrated and annoyed, while the elder feels frustrated and more deeply misunderstood than ever.
The assumption that the elder is "refusing to cooperate" or "being difficult" and the use of negative and judgemental descriptions such as 'non-compliant', 'aggressive' or 'feisty', doesn't help the situation, and, in any case, misses the point completely. How is cooperation even possible when the person concerned struggles to comprehend and feels frustrated and perhaps afraid by the attempt to communicate.
Look, Listen and Lead
Daughterly Care's experienced dementia care Caregivers and Live in Carers are experts and are joyful when applying our unique Joyful Living Approach™ required for Guiding Dementia Care™. Quietly and calmly they introduce themselves by name, looking carefully for signs of what the elder might be feeling. They listen to their tone of voice, smiling all the while and keeping soft eye contact. They avoid delivering commands and prefer, instead, to make suggestions, but only when they know the elder is ready to be led.
Conscious of the need for exercise, for example, our Hourly Caregiver and Live in Carers may stand at the window looking out on the garden and comment on how beautiful it is and how well cared for. She might then suggest that it would be lovely to go for a walk in the garden and hold out her hand invitingly. If her hand is taken, she will lead.
Guiding Dementia Care™ is all about knowing what the client is interested in and extending a hand. It's about creating an open and positive, non-verbal communicative environment. It relies upon respect for personal rights, a willingness to listen to and learn the needs of the person, truly understanding the dementia disease and having the skill to communicate in action and gesture more than in word, because words can confuse.
Case Study – Leading with a smile and a touch of encouragement
David was at a complete loss.
He adored his wife Polly, but her advanced dementia had reached a stage where he couldn't even get her to do the simplest of tasks, like brush her teeth or take a shower. He had started to raise his voice and speak in a curt tone out of pure frustration with his wife. It seemed to him that the more he tried to reason, negotiate and plead with his wife, Polly willfully chose to ignore his requests and the more frustrated he became.
Eventually, recognising that he wasn't coping, David called Daughterly Care.
Words, words and more words!
Wendy, one of Daughterly Care Dementia Expert Caregivers, listened to David's frustration and then quietly entered their bedroom, where Polly had just woken up. She opened a window and took a big breath of fresh air, smiling at Polly as she slowly and clearly spoke:
"Good morning, Polly. What a beautiful day it is. I'm going to make you a nice hot cup of tea after your shower."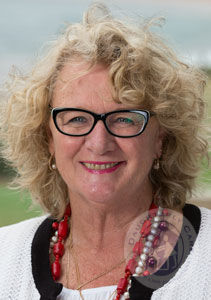 Click here to view Wendy's profile
Wendy turned the heating on in the ensuite and returned with a toothbrush in her hand—a clear visual cue that Polly could easily and willingly follow. "Yes," she repeated, "I'm going to make you a nice hot cup of tea after your shower." Polly smiled as she took Wendy's outstretched hand and allowed herself to be gently led to the bathroom.
Wendy had made sure the bathroom was warm, placed a fresh towel on the back of a chair and laid out toiletries on the vanity. She turned on the shower and without even needing to be asked, Polly undressed and quite happily and ably showered herself.
According to Wendy, the task of joyfully caring for elders living with a form of mid to advanced dementia requires understanding of their condition, their deficits and remaining strengths, respect for the person, emotional intelligence and creativity. Once a Caregiver has earned the elder's trust, taken great care to prepare the environment, and removed or reduced the potential for a negative reaction, the rest is easy. All it takes is a warm smile, a friendly tone and an encouraging gesture.
One of the great benefits of choosing Daughterly Care is that family can observe how we interact and enable your loved one and learn valuable care tips that makes supporting and caring easier. 
Key points to note:
Our Caregiver was calm and didn't overwhelm the client with lots of words, questions or instructions.
Our Caregiver used calm body language, a warm tone of voice and visual cues to indicate to the Elder what was happening. Opening the window indicates that it's morning and time to get up. The toothbrush in the Caregiver's hand says: "let's start your morning personal care routine".
Set yourself up for success. The bathroom was warm and inviting. We don't ask the client with advanced dementia if they want a shower, just turn the shower on so the client can hear and see what is happening and the Elder goes into "auto-pilot" and happily gets in and showers herself. Many of our clients really enjoy their warm showers at home.
Daughterly Care dementia expert Caregivers enable, support and care for elders with dementia beautifully in their own homes. We were Sydney's first and leading specialist Dementia Care provider. Book a free private in home care services consultation by calling us today on (02) 9970 7333.
Did you know your Government subsidised Home Care Package can even pay for our services? Since Consumer Directed Care started on July 1st, 2015, you have the legal RIGHT to request Daughterly Care to provide your care services.
Since July 1st, 2015 it's been your Government funding for your care and respite, your way.
Discover how we care for people living with dementia:
Beautiful examples of exceptional in home dementia care: