In Home Care Client Survey Results 2017
Daughterly Care is honoured to publish our 2017 Client Survey Results which show Daughterly Care provides the best premium quality in home aged care services in Sydney, NSW. All clients are surveyed and all their answers are published, just as they wrote them, negative and positive. So if you want to know what our clients really think of us, in their anonymous words, read on.
Our 2017 client survey results are absolutely brilliant and in line with our 2016 and 2015 results.
Registered Nurse and Co-founder, Verlie Hall and I were delighted that 100% of the clients who completed our 2017 survey stated:
✓ Daughterly Care's service was exceptional (44%), exceeded their expectations (40%) or met their expectations (16%); and
✓ Daughterly Care provided quality of care that was Exceptional (43%), Exceeds Expectations (35%) or Met Expectations (22%).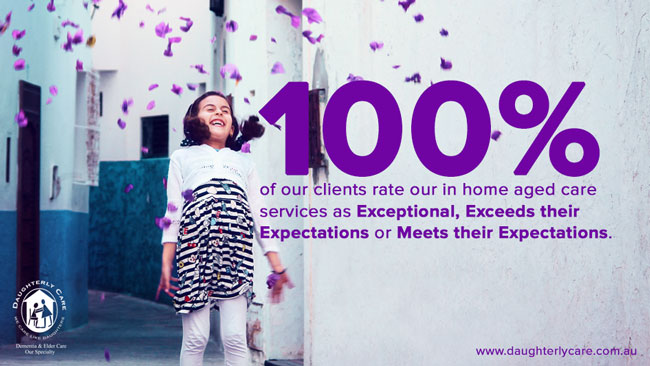 Our survey results illustrate why Daughterly Care has such a strong reputation for being Sydney's best in home care provider and that's why health professionals and families recommend us. Do Verlie and I believe that Daughterly Care provides 100% exceptional service all the time? We are humble and realistic enough to know we don't always get it right. However our service guarantee means we are working hard to meet our clients' high expectations.
Q1. Overall service rating of Daughterly Care Community Services
100% of Daughterly Care Community Services clients rated our service as either Exceptional, Exceeds Expectations or Meets Expectations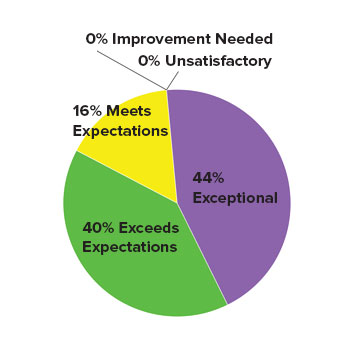 Q2. I would rate Daughterly Care Community Services Quality of Care
100% of Daughterly Care Community Services clients rated our quality of care as either Exceptional, Exceeds Expectations or Meets Expectations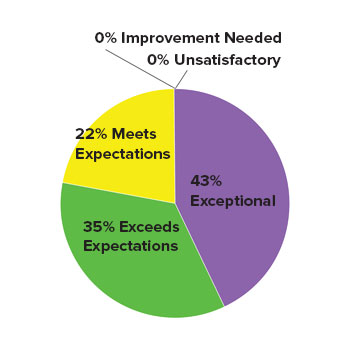 What exactly stood out as being exceptional about Daughterly Care Caregivers?
Cheryle G is exceptional. She is kind, empathetic and communicative. Cheryle loves her job and cares for my Dad. She thinks of extra things that will make Dad's life more comfortable and is focused on quality of life e.g. moisturising his skin, encouraging him to eat and taking him on outings as he likes to get out and about.
Caring, knowledgeable, wise, loving, happy, emphatic, kind, intelligent and witty.
Her general attitude is sensitive, always happy to do anything suggested and asking 'can I help with that?'.
Initially several organisations were invited to call. Daughterly Care was the only one to respond and sent an outstanding lady to outline your operation and ascertain our needs. We have been very pleased with the service subsequently provided.
Indviidualised approach and genuine interest.
Everything! The Daughterly Care Caregivers are always friendly, open and caring from the moment they arrive. They know how to establish a lovely rapport with my Mum and quickly fit into her home and routine. They show that they understand how to support her so that she is comfortable and confident in their care. The provision of one-to-one care, for the whole period the Caregivers are with my Mum, is the best care arrangement we could possible ask for. It is the best care that Mum could have and gives my family and I wonderful peace of mind. We are very grateful that Daughterly Care has such wonderful carers who provide such high quality care.
I am referring to 2 Daughterly Care Caregivers here. Very intelligent, attentive, reliable, predictable in making doctor's appointments, checking food supplies etc.
Excellent wonderful service – nice people.
Their total commitment to the job and understanding of the needs of our Mum – lots of patience.
They care and communicate well.
Sara does everything I ask. She takes me out shopping, fixes things in my house. Does my housework. She has become a friend in a very short time.
Empathy, sympathy, energy
Marlene is very caring, willing and works quickly.
Has the personal touch – a born carer.
Kim R really understands my Mother's likes and dislikes and works tirelessly to give my Mother enjoyable experiences. She takes note of her meals and has worked closely with staff to ensure Mum has appropriate and enjoyable meals.
Adaptability to my lifestyle.
Always cheerful and patient.
The majority of carers were very kind and attentive to Mum. Happy to work with her and what she wanted to do that day.
Fiona's helpfulness and capability always with a smile.
Always pleasant, very helpful and hardworking.
The thoughtful way they enhance my Mother's life and the skill with which they deal with her increasingly aggressive behaviour.
Your care, concern and compassion.
They all arrive on TIME and give help and care IMMEDIATELY.
They were friendly and helpful.
Consistence; reliability and interesting.
Their care and attention and understanding the needs of an elderly old man.
Your Caregiver is very considerate and a kind person.
A very pleasant disposition and wittiness in the work requested by client.
Sympathy and understanding.
Friendliness of the Caregivers.
Punctual, reliable, friendly but not intrusive. Competent, excellent chefs too. Please continue the excellent and friendly service as it is.
Some of your staff are fantastic and other is okay. We struggle to get 3 carers per week that are fantastic.
Both Tracey and Margaret are very patient and good humoured when things are difficult (as they often are) and take the stress out of having an elderly parent with dementia in the house.
Sara is friendly, kind, helpful, patient and good company.
After many years, Kathy has become a friend to me.
Always on time; can't do enough for you; always very caring.
Gentle, kindly friendly and most helpful – trustworthy women.
Innovative in her preparation.
They are always willing to help. Interactions are always positive.
Extremely helpful – very willing, well organised and good company.
Very pleasant personalities. Willing to help and to do anything even without being asked!
The help I received and could count on!!!
Always positively giving their best, putting the client's needs first, showing initiative.
Their special attention to my personal needs such as accompanying me on my outings is dealt with such care and compassion. They are always happy to help with a smile.
Beatriz and her warmth and genuine nature. Odile for her prompt reporting, interest and efforts to keep Mum out of her nursing home bedroom.
They are always helpful and keep coming back to care for my Mother, who is frequently very cranky.
Go the extra mile, caring and have client's best interest at heart.
Kind, very helpful, never complains and always a smile on their face.
I would not use the term 'exceptional' for every carer that has assisted me. When the care is easy, there are few demands. I do say the 4 Daughterly Care Community Services carers I have are EXCEPTIONAL. They have to deal with behaviour that is changeable, act as advocate, attend to personal care. They are 4 carers with experience and dedication and for them I am extremely grateful.
The one I have now – Gail surpasses many of the others.
In both cases we were able to create an understanding of my needs to my satisfaction resulting in an association providing the required results with humour and affection.
Mum's carers have been great. A regular one has become like family for Mum and I.
The carer that assisted my Mum was flexible and supportive. This was a short term arrangement with Daughterly Care, but it was great that the same carer attended each time.
Very prompt, very courteous, very efficient, very communicative and very compliant with our requests.
Receptive to reading my instructions, as a guide, as to how best to care for Dad.
Their willingness to be flexible and go with the flow of whatever is needed and their enthusiasm for their work and the genuine care they show for their clients.
The very professional and caring service that is provided.
Quality of efficient work, willingness to cooperate and undertake whatever is asked of her and indeed looks for what may be needed, very friendly manner and cheerful manner and outlook.
Care planning in difficult circumstances and communication.
They know my Mother's needs better than I do.
They way they relate to my Grandmother.
They treat my husband with respect and always go the extra mile.
They are kind and respectful and hard working.
Q3. Daughterly Care Community Services has 'quality' Caregivers
97% of Daughterly Care Community Services clients strongly agree or agree we have quality Caregivers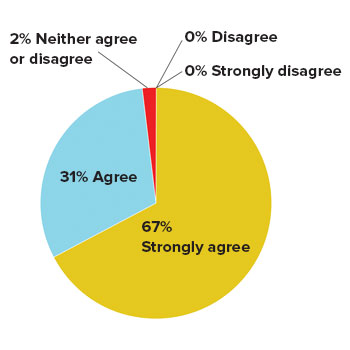 With reference to our 'service', what are you most satisfied with?
Your willingness to work with us to find the level of service needed at this stage and your capacity to grow with the client's needs and the understanding of that fine balance between independence for clients and their transition to interdependence as they require it.
Quality of the staff. The smoothness of dealings with you office staff – you are all very reliable.
Everything = NOT suggesting unless asked. Works quietly, always finishes any task.
Most pleasant service provider, ever willing to respond to our requirements. Energetic and competent worker. Nothing is a problem and  the quality of her work is excellent.
Reliability, punctuality, flexibility.
Desire to help, patient and reliable.
Everyone is so helpful and understands the situation.
I have peace of mind knowing my husband will always be happy with a carer.
My carer Sara. Thanks to you Daughterly Care Community Services for sending her to me.
Skills with idiosyncrasy or elderly / confused.
Marlene is always punctual and willing to do what I ask her to do – very competent.
Assistance that can be tailoredd to the needs of the loved one and can change with 'the journey'. Friendliness and carers are on time.
Personal attention Kim gives Mum. Her detailed notes in the communication book and her interactions with the family to raise concerns and ideas appropriately.
Kathy Green [High Care Case Manager], is smart, respectful, result orientated, warm. Replacement staff provided immediately. Super aware of client needs.
Always there to help excellent telephone conversations – works well.
Handling of security access.
All carers work hard and use their time here helpfully and diligently.
That they went along with what Mum wanted to do.
Friendliness and capability.
The kindly care and providing transport and support when needed. Thorough in performing household tasks.
All help with 'services' given with care and friendliness.
Friendly. The carers treat you as a person, not an aged person!
I would like weekly emails with updates on scheduling and feedback from the Carer on the day. I like knowing what's happening when I am not there to see and then I can talk about it. Extra pair of hands and eyes to do jobs for Dad, as I don't always have time. Cheryle notices things about Dad and caters to what his needs are – very personalised. [From Kate: Our lovely Cheryle is a bit slow with her Progress Notes. We are working to change that. We can send a weekly roster on Friday afternoon.]
Consistency and at the highest level.
Punctuality and willingness to help – e.g. carry loads of shopping, case of wine!
We only have had experience with one Caregiver – however she is exceptional.
The Caregivers use of her time in a systematic manner is very pleasing.
Your helps are pleasant, capable people.
Willing and helpful Caregivers.
Friendly, reliable, punctual,excellent chefs,good company but not intrusive.
Care and patience of most stuff, the ability to help Mum maintain her life independently. Some staff won't drive at night and don't like to go places they are familiar with.
Daughterly Care's patience in finding the right fit.
Friendly, caring and polite.
Regular service (every Thursday), without any complications.
They always do more than necessary.
Pleasant, cheerful personalities and patient.
The complete 'all round' care, gentle support.
Pleasing and self-motivated.
The help given. Flexibility – I can change care times / hours with relatively short notice.
Home help with housework etc.
Very efficient service,covering all aspects of care. Thank you all very much for the help you give to our family.
The care given generally.
Reliability, efficient response to enquiries, efforts to help with extra shifts.
Flexibility and efficiency.
Flexibility, fantastic carers.
They understand our needs and respond promptly when contacted.
The consistency of care has been marvellous.
The ability of the service to provide the blocks of 24 hour, one-to-one care that we require [This is Live in Care]. Reasonable cost. Communication – always timely, clear and positive. Ability to accommodate our changeable care needs. The service makes me feel incredibly 'supported'. The service makes it possible for me to continue to to care for my Mum in my home. If we could not access the services we do, I would (mentally, physically and emotionally) find it very difficult to continue to care for my Mum. Once again, we are very grateful for Daughterly Care and the services provided to us.
Helpful suggestions, sharing their knowledge, keeping the two way communication active.
Quality of staff, nothing is ever a problem and always handled in a very professional manner.
The ability to understand what I believe I need and to discuss this and with their experience to reach an acceptable program.
The high standard of carers.
The flexibility of the arrangements. Capacity to meet short term need.
The kindness and thoughtfulness of the carers who have been provided for our disabled daughter.
The efficient putting into place of the service and then the quality and commitment of the staff.
Friendly manner, anxious to assist, busy approach to allocated tasks and looks for additional duties, nothing is a problem.
Daughterly Care knowing the client's needs and knowing your staff and being so flexible with matching the staff to the changing circumstances. The ease of communication with the service in and out of hours.
Q4. I would recommend Daughterly Care Community Services to a friend or colleague
96% of Daughterly Care Community Services clients strongly agree or agree they would recommend us to their friends or colleagues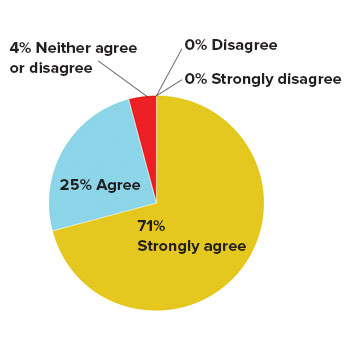 We always want to improve. If any, what areas would you suggest?
Continue – NO CHANGES NEEDED. Always pleasant and 100%.
Difficult to answer – we are very well satisfied with Daughterly Care Community Services.
No improvement required. I have wonderful neighbours, although it is wonderful to have some independence.
Trust me to leave Marlene here and to go home when she finishes, even if I am not here all the time. [From Kate: We can do that with your written permission.]
The ability to provide backup / replacement for a carer on holiday, sick, leaving.
Kathy G [High Care Case Manager], Lynda and Glea have been exceptional. They have made our families transition into the world of dementia so much easier.
Can carers be better briefed about their clients BEFORE their first engagement. [From Kate: Thank you for this feedback. Caregivers are given a Care Plan to read before their first service and we often also verbally update them too. Sometimes when we do work for other organisations, the details we are given are less than optimal. Caregiving is a very personal service and we find that it gets better with each service because we get to know the client better.]
I am very happy with everything.
It was very difficult when the carer doesn't turn up – for administration reasons. I think admin let me down and therefore I was always on edge if someone had turned up. Maybe when a person is working and leaves before the carer arrives, there should be a phone call to let one know there is someone there. It was very unsettling. [From Kate: Good suggestion and we have now implemented that policy. Sincere apologies for our mix up.]
I can't think of anything.
Not at this stage, thank you.
In Dad's case, probably scanning the monthly newsletters for any activities you feel would be good for Dad to take part in, then communicating with us. We could arrange extra care if it falls outside of current hours.
Your carers are so good, I can't think of any improvement. I enjoy their company.
Maybe three hours is too long for the carer. Two would be better.
Can't think of anything as yet.
Continue the service as it is. Friendly, reliable, excellent chefs. They do not intrude.
With continuing care arrangements like we have, 3 carers cover 7 days. A roster for cleaning all areas of the house, not just bathrooms and carers room. Mum's study and patio areas always look a bit sad (mould on furniture and dusty).
Finding the right fit is difficult and it might be easier if an interview process was possible.
We are new to your service and so far are very happy.
Cannot think of any. For me, the great advantage is to always have the same carer. Kathy is great, she sees my problems before I mention them.
I am sure now I do have quality of life.
More that I can think of.
More than happy with existing service.
Not in my situation – all my requirements are met.
My area is assistance with shopping which is excellent. I have no suggestions regarding other activities.
As far as I am concerned, everything is perfect.
Have more information for clients.
We are very happy in all aspects of your care and organisation.
We have not noticed any areas that need improvement. I would have to try very hard to think of anything.
Maybe, always phoning me beforehand if my carer cannot keep her appointment with me – I am sure it will not happen again.
Perhaps the Home Care Package statements could be clearer and remittance slip provided for those wanting to pay by cheque instead of direct debit. [From Kate: Our Home Care Package fees are one of the lowest in the market so we prefer to direct debt to keep our admin costs low.]
No reason to suggest any so far.
Encourage all carers to provide feedback to us on the time they spend with our daughter. [From Kate: Will do.]
Didn't like the Caregiver so we moved companies. [Kate: That's a shame. We have a service guarantee where if we had known the client was unhappy, we don't charge for the service. Caring and supporting a person in their own home is very personalised. We try our best but don't always get the match right, that's why we have our service guarantee.]
Please do ask carers to text me when they visit Dad so we can be communicating about Dad's care. [From Kate: Will do]
I can't think of any areas for improvement.
At present, happy with all areas.
Q5. I would recommend Daughterly Care Community Services to Loved Ones
98% of Daughterly Care Community Services clients would recommend us as a company who would care exceptionally well for you or your Loved One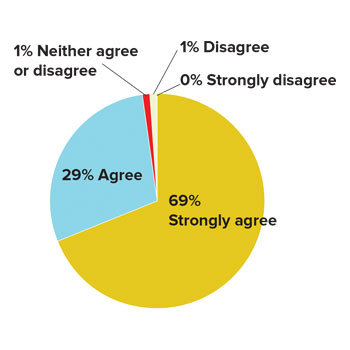 Q6. I plan to keep using Daughterly Care Community Services in the foreseeable
93% of Daughterly Care Community Services clients strongly agree or agree they will be using Daughterly Care Community Services in the future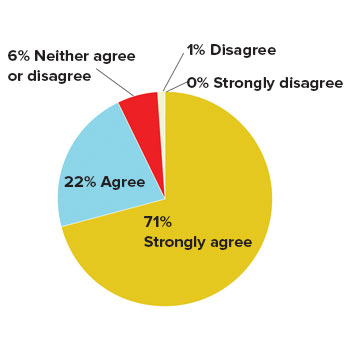 If you answered improvements needed; unsatisfactory; disagree or strongly disagree, please provide your reasons.
Maggie makes my life happier and calm.
7 / 8 years ago I was relived to have peace of mind that Bob was cared for. Now I worry that if one of his carers has time off, they can't be replaced. Recently I have picked up shifts that could not be filled. Bob needs care more than ever.
Mum is now in permanent care.
Thank you Verlie and team. We are very happy with your loving care for Dad. It means a lot to us and gives us peace of mind when carers are there.
Please continue the excellent and friendly service as it is.
No – they are great help for me.
Betty is waiting for assignment to a Level 2 Government Funded Home Care Package, which will come through any day. She is also approved for Level 3 Home Care Package and Residential Care. In these circumstances she is unlikely to need a private service again.
Choose Daughterly Care to bring our Joyful Living Approach™ into the life of someone you love. Ring us today on (02) 99707333.