Elders, Get Out and Garden to Your Heart's Content
Gardening is an activity that many elders have enjoyed for much of their adult lives. The good news is that, even after a diagnosis of dementia, elders can carry on gardening to their heart's content.
Daughterly Care's Hourly Caregivers and Live in Carers encourage gardening as an activity that brings joy, a sense of achievement and an increase in wellbeing. Gardening also gets elders out into the sunlight, which stimulates vitamin D production and is conducive to a more restful night's sleep.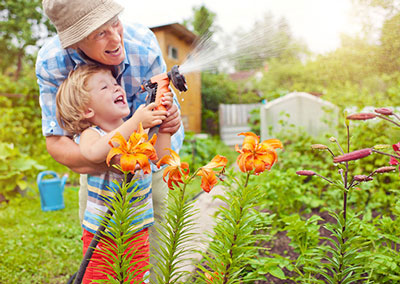 A 2010 review of research into 'The Health Benefits of Contact with Nature' commissioned by the Beyond Blue organisation concludes that:
"The plethora of findings on the benefits of green spaces and outdoor activity on psychological wellbeing in the elderly should provide the momentum for a shift in conceptualising health as more than a matter of providing aged care services."*
Go Green…and Beat the Blues
It's not just flowers, plants and trees that grow in gardens. People grow there too. They grow in joy, in health, in skills and confidence. Their attention stays focused and their sense of self-worth is fed by the tasks they accomplish. Daughterly Care's Live in Carers and Hourly Caregivers often witness elders with dementia falling in love again with a backyard treasure they had forgotten.
"Since the early 1980s, environmental psychologists have studied the health effects of contact with nature and concluded that humans depend on nature not simply for material requirements – such as water, food and shelter but also for emotional, psychological and spiritual needs."*
Daughterly Care and the Search for Sources of Joy
Our Hourly Caregivers and Live in Carers have been known to arrive with seeds and seedlings to plant together with elders. They may even drive our elderly client to a nearby nursery or together browse the plant stall at a local charity event. They are also diligent in ferreting out gardening utensils that haven't seen the light of day for years, and are more than prepared to get their hands dirty. As with all the activities Daughterly Care undertakes, we have absolute regard for clients' health, safety and best interests at all times.
Elders living with a form of dementia such as Alzheimer's Disease, Fronto Temporal Lobar Degeneration (FTLD), Lewy Body, Huntington's disease, alcohol related dementia (Korsakoff's syndrome), Creutsfeldt-Jacob disease and vascular dementia demonstrate clear, immediate benefits from our "Get out and Garden" approach, including:
lower levels of depression, and

increased physical activity, which assists in the prevention of diseases like osteoporosis (discover more about the value of exercise and a healthy diet in combating osteoporosis here
Here are some recent gardening activities set up by our Hourly Caregivers and live in Carers with their in home care clients:
Joyful Living Blossoms Red Mandevilla

I visit a wonderful elderly man living with a form of dementia, still living at home who, when I first started to visit him, had a Mandevilla on his balcony that was on its last legs. He told me he couldn't figure out why it was that way so together we made it a mission to bring it back. During the past 9 months we've nursed it through white wax ball bug, enjoyed a trip to the garden centre to buy a taller trellis and sat back for the last 5 months enjoying the now lush plant full of vibrant red flowers. Some days when I would arrive, I could see the flowers here and there in his home sitting in little saucers of water. Just last week, we got out there and gave it a good cutting back which he thoroughly enjoyed. This also meant he was having to be quite physical.

The Best Compost on Sydney's North Shore

Caregiver Danielle shares:

For 7 years I looked after Dr. B in his home. He'd just had a triple by-pass at age 82 and was diagnosed with Alzheimer's Disease (late diagnosis). He stayed in his own home for the 7 years, sweeping the grounds of his park-like garden in which he had two huge trees which were forever shedding leaves. He kept the pool clean, fed numerous wild birds, trimmed rose bushes and orchids and made and turned over the best compost on Sydney's North Shore.

All that fresh air and exercise – as well as keeping two cats: Cuddle and Snuggle – kept Dr B in his own home longer than expected.

Great Rehabilitation Exercise, No Wonder They Say People Heal Better at Home

Live in Carer Lynne shares:

I recently spent a week providing Convalescent Live in Care for a man who was just home from hospital. Before his admission, his daily interest was his garden.

The afternoon he came home, while sitting in his sunroom he kept looking out the window. As he did not have many words I played a hunch and asked if he would like to go outside. Once there he started raking up leaves with a bucket nearby to put them in. Over the next week we would go into the garden with a sun hat and sunscreen. We kept his walker near him in case he wanted to sit for a break. The weather was quite warm so we had a cool drink every twenty minutes and picked shady areas to work in. My job was to empty the leaves into the trailer and prune the shrubs.

We both enjoyed working in the garden and we were very pleased with what we achieved. It was a great rehabilitation exercise, no wonder they say people heal better at home. They heal even faster in the garden.
Discover more about Daughterly Care's dementia care services and therapies like "Get Out and Garden" or book an in home care free consultation by calling us today on (02) 9970 7333.
* Source:
Discover how we care for people living with dementia:
Beautiful examples of exceptional in home dementia care: