In Home Care Client Survey Results 2016
Daughterly Care are very honoured to receive our 2016 Client Survey results which shows Daughterly Care provides premium quality in home aged care services:
Overall rating of Daughterly Care's service
97% of Daughterly Care clients rated our services as either exceptional, exceeds expectations or meets expectations.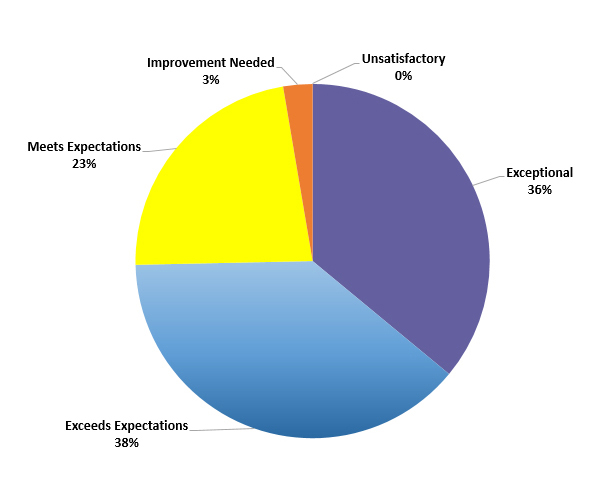 I would rate Daughterly Care's Quality of Care
99% of Daughterly Care clients rated our Quality of Care as either exceptional, exceeds expectations or meets expectations.
Daughterly Care has 'quality' Caregivers
99% of Daughterly Care clients strongly agree or agree we have quality Caregivers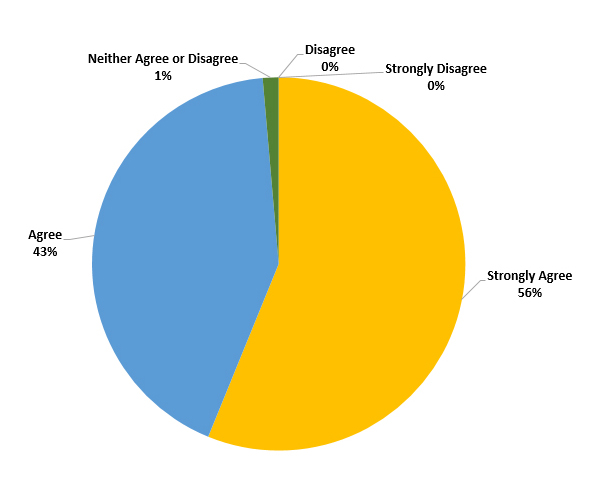 I would recommend Daughterly Care to a friend or colleague
99% of Daughterly care clients strongly agree or agree for recommending us to their friends or colleagues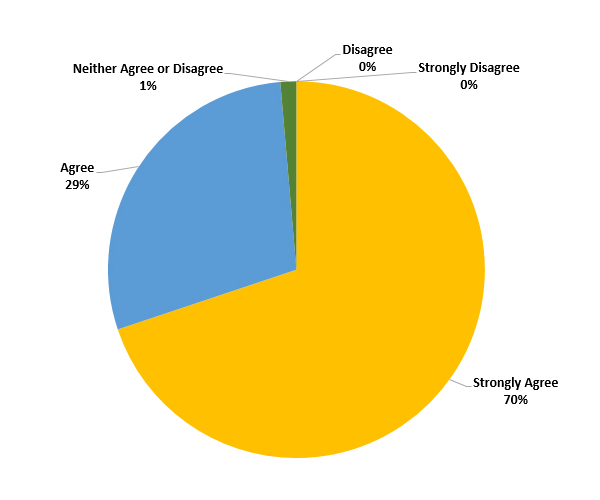 I would recommend Daughterly Care to Loved Ones
100% of Daughterly Care clients recommend us as a company, who would care exceptionally well for you or your Loved One.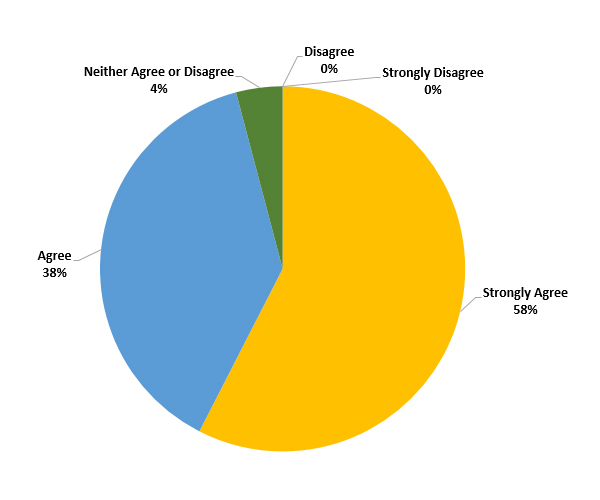 I plan to keep using Daughterly Care in the foreseeable future
99% of Daughterly Care clients strongly agree or agree they will be using Daughterly Care in the future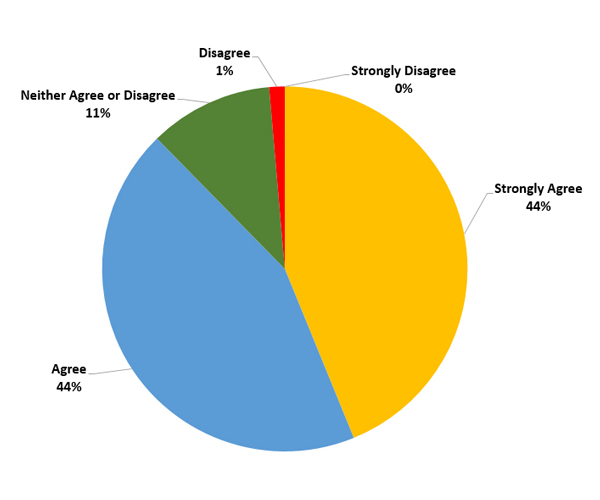 To read some of the unsolicited feedback we constantly receive, take a look at our Live In Care feedback, our Pay-By-The-Hour, Health Professionals and our most recent general feedback. Compare these results to our 2015 Client Survey results.
Compare these results to our 2015 Client Survey results.
What exactly stood out as being exceptional about our Caregivers?
"We have engaged two carers for residential care in the last few years. In both cases, my husband has enjoyed their companionship of these ladies."
Carers always appear to be friendly, punctual, well presented and caring.
Phyllis was my only experience so I have nothing with which to compare.
Polite, helpful, go out of their way to please and always respectful.
Very well trained, caring, thoughtful and cheerful.
Kathy, Kay and Tammy are loving and caring and have Joan's best interest at heart.
Responsible and caring staff.
The Carers are ready to help you with any requirements you need.
Well matched to clients & dementia trained.
"Our in Home carers – Michele & Eleanor cared for our Mother, Ursula with the kind of patience, compassion and dignity that none of us children could have undertaken, given the circumstances of mum's Alzheimer's. They are gorgeous, patient, calm and had an amazing effect and were creative with mum.  They added to mum's quality of life, without a doubt."
Glea is very gentle, attentive, caring, compassionate, clean and most patient.
I was very happy to meet someone friendly, helpful and chatty.
Personalised relationship. Caring, thoughtful, generous, warm and fun!  Excellent communication skills.
Always ready to help me – all very professional.
She's wonderful with all areas of care.
The willing friendly approach and response to whatever we request. Nothing appears to be a problem and willingness to cooperate is obvious as well as a very friendly nature.
Their understanding of my mother – quirks and all – and proactive response to appropriate care.
"Each carer was caring and responsive to Susan's needs and understood her mood swings. The offer to do ironing, washing etc was appreciated"
Understanding of requirements for my husband who has Parkinson's disease.
Both my mother's carers listen to her and do things she likes.
Our carers genuinely care for my husband and go an extra mile in supporting me.
Able to be organised at short notice. Prompt and caring.
They were very considerate and caring.
They all seem to have a lot of patience and act kindly.
How comfortable my dad feels around his carer.
Understanding client needs and providing to meet these.
Caregivers understanding my needs.
"Their sincerity and empathy in understanding. Dad's needs and their patience and understanding and great communication in keeping the family informed and offering helpful suggestions and advice."
I only had one carer, Tammy who is such a kind and caring caregiver.  She is exceptional!
She is happy and always obligating.
Bronwyn was my Aunt Joan's primary carer when she was living at Killara. From the onset, Joan proved a challenge with her worsening dementia and her inability to make rational decisions.  Bronwyn stepped in and assisted Joan as only a daughter could. She faced challenges from the beginning with Joan's lack of acceptance of her condition and the loss of her car and hence independence.  Bronwyn very quietly and kindly persevered with Joan, providing her with activities and assistance that provided a direction and practical help.  Bronwyn gained Joan's trust which continued until Joan's recent passing.
To my understanding they all handle various circumstances calmly and efficiently. All three ladies endeavour to keep my Mother moving as much as they can and entertain her as best they can, which I believe would not be easy.  They assist with her day to do tasks (such as bill paying) and always seem to be kind and caring.
The Caregivers go beyond the care I feel they should. They seem to care about my mum and her comfort.
Punctuality and willingness.
Compassionate, very willing Caregivers having the necessary experience and expertise.
Kindness, hardworking, efficiency, charm.
"Having the experience and judgement and empathy to read situations well and adjust as required for the best interests of the care receiver. Daughterly Care carers show excellent judgement and have known when to push, when to back off and how to subtly influence in tricky situations.  We've been highly impressed."
Warmth and care, and always on time.
Matched personalities. Good feedback I receive including any concerns. Reliability of visits.
The interest overall care companionship, affection & consideration of clients' needs.
Jennifer's company and companionship, her cheerful help at all times is always much appreciated.
They are compassionate, caring, and they proactively engage with the care recipient to provide emotional support, as well as invaluable practical support. In my dad's case, it is the walks in the park, the sitting down and going through photos together, doing puzzles together and singing and dancing along to music in the lounge room – the 'reaching out' and connecting on an emotional level, which makes the Daughterly Care carers exceptional.
Warm engaging respectful.
The experience and real interest that Pamela brought to her care of my wife, Diane was exceptional. Pamela cannot be faulted.
Their continuity of care.
This only applies to some carers. Some have taken exceptional care with detail of cleanliness, anticipating needs in meal preparation, level of hygiene and undressing and transfers.
"Their friendliness and confidence to handle my husband, so I can go out without any concerns."
Mum likes when the carer helps her organise a get together with one of her friends who lives in another village in Baulkham Hills, they go out of their way to make this possible.
Ability to connect with my mum without being patronising.
Willingness to keep going when things are difficult.
Australian born – with good English!
Willingness, adaptability, congeniality
I am very happy, my Caregiver is always on time.
Personal care and involvement. They become part of your family
Caring & able to assess the needs of my mother
Most of the carers are very kind and patient and willing to go the extra mile.
They've showed that they are very happy to do anything I wanted.
Their warmth, their patience, their compassion.
With reference to our 'service', what are you most satisfied with?
"My dealings with Kathy. Kathy is responsive, caring, understanding and professional."
Customer service is EXCELLENT with a friendly, caring phone manner and prompt service.
Phyllis was always on time and willing to do what I asked.
I am totally satisfied with the weekly care that Kathy offers us. We always look forward to her visit.
All the service that I have is helping with shopping and that is very satisfactory.
You were able to fit my needs at short notice.
Punctuality and professionalism.
Friendly, capable, punctual and caring staff.
The carer's are ready to help you with any requirements you need. I have found them very helpful and good company.
"We are very pleased with the lady you have sent us because of her friendly approach and willingness to cooperate and assist in whatever we need."
In-Home care – we TRUSTED our Carers IMPLICITLY. It was such a relief to know that mum's days were full and whatever pleasure they could inject into it.
Providing competent caregivers
Personal, reliable. Providing variety each week.  Interesting and varied information and topics.
She always helps me when i need help.
Promptness and help required.
Quality and reliability of the careers.
Speed of response and quality of care.
That I can ring and expect 'someone' to help me – transport is hard for me.
Follow up emails are fantastic.
"Very prompt service, nothing was too much trouble. Excellent service. No hesitation in recommending Daughterly Care services."
Timely arrival, Susan was the focus of their attention, when able they addressed Susan's needs.
Caregivers arrive on time. It is important as I often need to leave early.
Quality of carers. Friendly and helpful office staff and flexibility in adjusting to our needs.
Reliable, punctual, good listener, cooking and cleaning – no job is a problem!
When Joan moved to Avalon House, Bronwyn managed the process through many difficult and challenging times. Everything Bronwyn did for Joan was a daughter, not a carer and her insight, her love and her caring, was without falter. There are so many examples of times when Bronwyn went above and beyond what would be expected. One example was the total surprise and thrill she gave our daughter Zara last Christmas when she arranged a beautiful gift for an 8 year old girl, and Zara treasures her 'furry Smiggle pencil case from Great Aunt Joan to this day. During Joan's final days Bronwyn arranged photos and treasures in Joan's room so that she was surrounded by the loving faces of her family. Words cannot express what an important part of Joan's life Bronwyn was. She always had Joan's best interests at heart and made her final years so much more comfortable and fulfilling. Her diplomacy and professionalism, dealing with not only a large family but also with Avalon House and Medical Professionals, made our regular contact with Bronwyn incredibly reassuring that Joan was in the best of hands.
Nothing stands out. I am a very great distance away.  I am very happy with the "service" as a whole.
The caregivers are responsive to my mother's needs and are vigilant about following up on issues especially with her Registered Nurse at the village.
"The quality of the care and the carers, and the little extra things they do like give feedback, make suggestions, add variety to diet, take Dad to different places, and calmly deal with Dad being difficult."
The whole package of Fiona.
The quality of the carers.
The way that all requests for help are dealt with promptly and with every attempt to answer all questions.
The level of care provided – both in terms of practical and emotional support. The carers arrive on time and if any changes to rosters are necessary, they are communicated in advance by the roster manager. The communication is excellent – progress reports are emailed regularly. I found this invaluable as I am interstate and because of the progress notes I was able to be kept fully informed of any issues and developments involving my dad, every step of the way….
Their communication, care and patience.
Some of your carers are excellent.  2. Punctuality.  3. Service availability at relatively short notice.
24 hour cover & knowing that someone is with mum & she's not at home alone.
A good response in helping me attend any special appointments.
The way the Caregiver helps me feel, it allows me to relax. I am more confident, especially if any problems happen.
"Always being able to provide suitable carers and fitting in with our requirements. I think that you had made improvements to your accounts department which is long overdue."
Yes – Admin were efficient & professional.
Their happy dispositions and anxious to help.
Communication is VERY good.
Daughterly Care staff appeared to me to be doing what they really wanted to do – caring for those who needed it.
We always want to improve. If any, what areas would you suggest?
"A computerised booking system where clients could log in requirements and view real time what is booked in and which carer is covering would be great."
We do not want to arrange DIRECT DEBIT from our bank. On the other hand, your financial agreement is less than satisfactory.
NO improvement needed on my behalf.
I am still learning about the assistance your Caregivers provide. This seems to cover a great variety of support for needy people.
Emails containing brief summary to family after each service
Can't think of any at the moment.
Can she come twice a week????
Very difficult to say at this stage as we have had instant cooperation with anything we have requested.
Suggesting some home-based activities to share with my mother.
Perhaps a service for 1 hour a day instead of a minimum of 2 hours, if the service is required over an extended period, say 2 weeks or more.
Susan was a high needs Alzheimer's patient, and her needs/wants varied from minute to minute hour to hour etc. Knowing how to react is only developed through exposure to such a patient.
You are just about perfect!
Having some back up arrangement to ensure can always provide a carer on each day requested.
I am not close enough to comment.
Sometimes a bit more care is needed with things, such as where the Webster Pack is put. Confusion is caused by it not being put in the correct place.
Possibly information about shifts.
"Ensure that the carers have a genuine interest in the client's needs. Aptitude rather than experience counts."
While Daughterly Care has gone out of their way to find a carer on days when the regular carer is unable to make it, there was once when unable to provide a carer on a scheduled day and Dad had to cope on his own. My recollection was that I was told earlier that Daughterly Care could arrange an agency carer if ever unable to provide one of their own but more recently I was told Daughterly Care do not do this. We coped with the no carer day by regular phone calls to Dad but it was not ideal and I think it would be better, a la "the show must go on", if Daughterly Care could ensure that there was always a carer provided.  It would be a better / more complete service.  I wondered what we would have done if Dad was unable to cope on his own with family phone support?
Keep doing what you're doing!
Not using computer sent texts but using one consistent number – often computer sent texts are cut between multiple numbers.
Consistency of carers, seem to be a bit transient at times especially weekends.
If you want feedback you should provide a stamped envelope!
Ensuring your staff are appropriate for the care of the client.
Ensuring that the care manager is open and tells the client the truth about any changes or absence of a carer rather than what they think the client would like to hear.
Just continue to carefully match client and carer which from my experience you're already pretty good at doing.
If you answered Improvements needed; Unsatisfactory; Disagree or Strongly Disagree please provide your reasons.
Parent no longer needs home care.
The only reason for not continuing with the service is the regrettable need to place my Mother in a care home.
You have some very good carers who I'd be very happy to have here again. But come carers allocated here struggle with basic concepts of hygiene, hoist transfers and kitchen logistics. By contrast, one carer recently who was doing overnights for the first time was exceptional.
Just had frustration at the consistency of carers & finding the weekend position difficult to fill, maybe the weekends need to be paid a bit more to encourage consistent & reliable care.
Lindy & Diane are both very good. I only changed because I needed someone to take me for a good long walk – and Maureen is able to do this very well.
Let us bring our Joyful Living Approach™ into the life of someone you love. Ring us today on (02) 99707333.