Scientists are discovering that many long term memories are stored as images and aren't destroyed by dementia or Alzheimer's.
Doctors have noted that the big bad four A's of Alzheimer's is:
anxiety;
aggression;
agitation; and
apathy.
These characteristics often go away when they see or experience creative art. Their so-called "emotional memories" awaken and they seem to relate better to people and their surroundings.
Art therapist, Ruth Abraham is author of the book, When Words Have Lost Their Meaning: Alzheimer's Patients Communicate Through Art (Praeger Publishers, 2004). She is a big proponent of using art therapy, saying that:
"it has been shown to be a powerful tool for people living with Alzheimer's; it helps them to express their feelings when they can no longer do so with words. This use of art helps people with Alzheimer's disease feel less lonely and isolated. It can also calm their restlessness."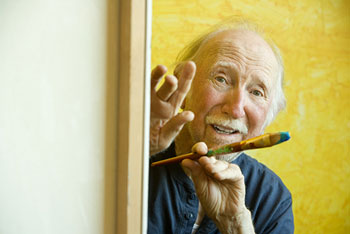 6 Tips for applying art therapy in a dementia care program
Here are 6 tips from the Alzheimer's Association. (These ideas are for someone with middle to late stage Alzheimer's)
1. Construct the project at an adult level, this will keep people interested and engaged.
2. Allow communication and conversation during the art activity. It provides a healthy and positive means for expression and gives staff the chance to encourage and praise the person creating the art.
3. Ask about the art being created and try to understand what it means to that person.
4. Assist the person with dementia to begin the activity, perhaps by doing the first brushstrokes or the first application of pastels. Don't rush the session because this can lead to agitation and undermine the whole idea of art therapy.
5. Try scrapbooking as a fun and relatively easy activity. Provide colourful cut-outs from magazines and add some photographs from that person's life – family members can be a big help for this kind of project.
6. Use safe, non-toxic glues and don't provide sharp tools such as scissors.
Art for people living with dementia and their carers
This exhibition is part of the NSW Gallery's program and they hold a regular art and dementia tour on the third Thursday of the month.
If you would like to engage us to take your Loved One to the Art Gallery, please give us a ring so we can arrange a Caregiver and / or transport for you or your Loved One: 9970 7333.