Daughterly Care – a better alternative to a Nursing Home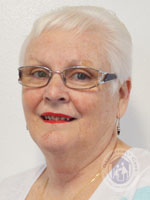 Daughterly Care provides a wide range of private in home care, Government subsidised in home care services and nursing services ranging from 2 hours to 24 hours in your own home. Research shows in home care is a far better alternative to the nursing home.
Whether you need in home nursing care or general assistance, our very experienced and highly trained Caregivers and Registered Nurses, as well as our professional and expert Case Managers and Coordinators continually aim to provide first class service.
Plus, our consumer directed, relationship-based and flexible at home care enables us to provide exactly the right support for your care goals, needs and wants, when you need us, for as long as you need us. Simply put, our superior in home care is a far better alternative to any nursing home.
With our help you and/or your Loved One can stay at home for life.
Feedback from a happy client says it all …
"Penny is wonderful. Mum is looking forward to Penny's visit again. She couldn't express how relieved she was. Mum was so happy and impressed she referred to Penny as "Penny from Heaven" She said we had hit the jackpot." – Jo from Killara on Sydney's North Shore. 
What sort of in home care and nursing service do you need?
Daughterly Care provides 'enabling care' that helps increase your confidence and overall wellness. Instead of just doing tasks for you, we can assist you to do them.
We provide guidance, encouragement and assistance to regain physical abilities and re-learn daily living skills. Our guidance is kind, encouraging and delivered in an 'error free learning' environment.
Of course, for our clients who prefer that we just 'get on with the job' – we can do just that. Our approach and care delivery is driven by what you want to achieve.
Daughterly Care

is Sydney's leading private care homecare provider offering:
The options of full-time, part-time or casual care are all here for you and your family to choose from. We take pressure off caring for your elders, knowing that your loved one will be lovingly cared for, nursed, enabled and supported.
Remaining independent and able to live with dignity in your own home are important concerns as you age.
Daughterly Care's trained aged care specialist nurses and caregivers design a package of services tailored to your specific needs so you can remain in your home for life. We can even help you negotiate better value from your Government Subsidised In Home Care Package.
8 Ways we can help:
Respite for carers

All family carers need time out for a break on a regular basis so they can continue to offer the best possible care. We can take care of your loved one while the main family carer enjoys a game of golf, a movie, lunch with friends, shopping or goes to medical appointments.

Personal Hygiene Assistance

Whether you have just returned from hospital and need short term assistance with toileting, showering or dressing or you have become frail and need regular assistance, we can help.

Meal Preparation

Meals on Wheels are great, however, it is nice to have your favourite meal, home cooked just the way you like it. Our experienced at home Nurses and Caregivers can help prepare a meal with you or cook something delicious and nutritious for you.

It's been proven that good nutrition aids in faster healing.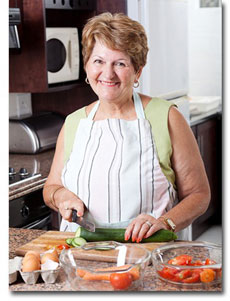 Daughterly Care can prepare deliciously nutritious meals for you in your own home
Drive to appointments

We can drive you to visit family or friends, take you for a stroll or take you shopping.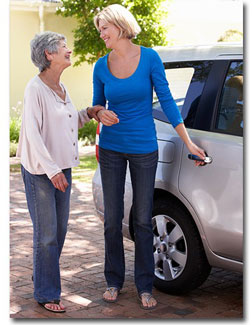 Daughterly Care can provide transportation to medical appointments or to see family and friends
Passive and Active Exercises

Keeping mobile not only aids in joint and muscular health, it also has great benefits emotionally and is a component of increased quality of life.

Home Tasks

We have a minimum of 2 hour services so during that time we can also assist with other tasks such as making the bed, light cleaning, washing, ironing etc.

Nursing Home Visits

We can provide one-on-one assistance during meal times, provide companionship, diversional therapy, assisted walks, transport and accompany on medical appointments and take your loved one on special outings outside the Nursing Home.

Dementia Care

Our Private Nurses and Caregivers are specially trained in helping people who have difficulty in expressing themselves and are living with short term memory loss, confusion or Dementia. What others describe as 'challenging behaviours' is not a problem for us… we know the person diagnosed with dementia is just expressing him or herself. We know it's reactive behaviour from 'unmet needs' and we look for the cause and the solution.
Don't take our word…check out our 2020 Client Survey