24 Hour Private Nurses for Home
Daughterly Care offers the convenience of an In Home 24 Hour Private Nurse Care. Evidence shows that attentive and exceptional Caregivers and Care Workers plus Registered Nurses working together equates to a healthier, happier life at home. This means Elders are less likely to be hospitalised and there is a reduced need for them to be placed in a Nursing Home.
Daughterly Care's In Home Nurse Care Services:
Comprehensive nursing assessment
Observation and ongoing health management
Proactive diabetes education and management
Wound care – wound dressing and management of complex wounds such as  burns, cellulitis and leg ulcers
Medication administration including schedule 8 drugs and injections, such as morphine
Pre and post-acute hospital care – medical and surgical
Blood glucose monitoring, administration of insulin and diabetic monitoring
Nasogastric and gastrostomy feeding
Catheter irrigation & care, urine testing and continence management
Oxygen, nebuliser, tracheostomy and other respiratory care
Administration of suppositories, enemas & peccaries
Stoma & Colostomy care
Product selection and provision
Ongoing support, counselling, education & referral
Liaison with Doctors and Community Palliative care Doctors and Nurses
Case Management of client's health care needs
Documentation of an individual Care Plan for Government Funded Home Care Packages and for private In-Home Care including clinical reviews of existing care plans
Patient Advocating Services – such as attending hospital meetings, Guardian Tribunal Hearings & family meetings to whether an Elder is placed into a Nursing Home or can return home with private care or extra assistance, liaising with the Aged Care Assessment Team (ACAT) and attendance at ACAT assessments.
Our 24 Hour Registered Nurses can also perform the following assessments for Approved Providers or for our clients:
Barthel Index of Activities of Daily Living
Geriatric Depression Scale (GDS)
Mini Nutritional Assessment (MNA)
Mobility Assessment
Falls Risk Assessment Tool (FRAT)
Braden Scale Pressure Area Risk Assessment Tool
Abbey Pain Scale
Document a Pain Assessment and Care Plan
Document an Exceptional Pain Care Plan
Psychogeriatric Assessment Scales (PAS) for the 11.5% supplement for Government Funded Home Care Package
Rowland Universal Dementia Assessment Scale. (RUDAS) A multicultural Cognitive Assessment Scale
McCaffrey Initial Pain Assessment Tool
Wound Assessment and Treatment Plan
The Abbreviated Mental Test Score (AMTS)
Mini Mental State Examination (MMSE)
Our private in-home nursing service is available throughout Sydney's Northern Beaches, North Shore and Eastern Suburbs. We are able to service areas such as Manly, Dee Why, Avalon, Double bay and Bellevue Hill.
Daughterly Care's wonderful nurses for home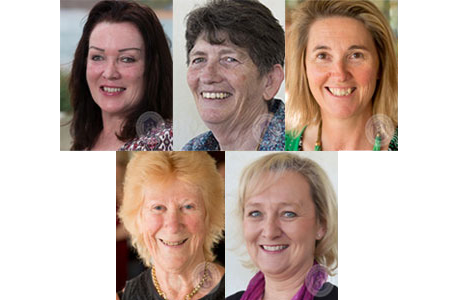 Left to right, top to bottom:
Jennifer (Jenny), Charmayne, Verlie,
Jean & Suzanne
10 July 2018 – Thank you from client, Mrs R who lives in North Willoughby on Sydney Lower North Shore
"Nurse Helen is always efficient and cheerful and ready to be helpful."
10 July 2018  – Thank you from client, Mr G who lives in Pyrmont, in Sydney's inner city
"I would like to recognise Nurse Jenny Smith for her heartfelt nursing care and maintenance on our age-related health problems."
Our Private Nurses can also provide:
Written observation reports for Guardian Tribunals or family members to document the Elderly client's health and in home care.
Written observation reports for insurance companies on the private care needs of the Elder.
At the core of the Daughterly Care's Joyful Living Approach™ is our person-centred elder care model. We look at each Elderly client's individual needs and create an individualised in home care plan that meets those needs.
Do you need a private 24 Hour Registered Nurse for home or a live in Professional Carer?
Often when people inquire about private in home care services they state they need a 'Nurse'. When in fact, after we talk about the home nursing care needs and their goals we determine that what they really need is a professional, highly trained, experienced Caregiver or carer, who is backed up by a team of trained private Registered Nurses who can visit the client in their home when clinical nurse care is needed.
Registered Private Nurses and professional Carers or Care Workers have complementary roles and skill sets. During the in home care services we provide, our private in home Registered Nurses work together with our Caregivers as a united team to provide the best in home care for our clients. For example, if our Hourly Caregiver or live-in Carer observes a new skin tear from a fall the client had, before we arrive for the service they can get advice from our Registered Private Nurse. The Private Nurse can determine whether they need to visit that day to dress the wound or the wound is sufficiently complex that we recommend our elderly client see a Doctor.
As you can see from the list above, our Private Nurses tend to have a more short term clinical intervention role with an Elderly client or an ongoing role overseeing the chronic clinical nursing care needs of a client. Caregivers and Carers, on the other hand have an ongoing observational enabling and supportive role.
So when you tell us you need "a Nurse for home"…you can rest assured that we'll ask you about your personal in home care needs and goals and then recommend the most appropriate and cost effective level of in home nursing care.
Of course, some clients prefer Private Nurses for home, even if they technically don't need one and we are very happy to provide a Registered Nurse in that case too.
We have over 200 wonderful Caregivers and when you are in need of a Private Nurse, Daughterly Care's Nurses will be there for you too.
More information about our private in home care nurse services:
Case Study: private in home nursing care – injured legs
A day in the life of a Daughterly Care Registered Nurse
92% of Australians aged 14 and over (unchanged from 2015) have rated Nurses as the most ethical and honest professionals. This has been the case for 22 years in a row, ever since Registered Nurses were first included in the survey.
Daughterly Care is a member of the Association of Private Nursing Services, and Kate Lambert, our CEO was on the Board in 2015 and 2016.

To ensure that you are engaging the right type of home nursing care with a Private Nurse or a Hourly Caregiver or Live in Carer in place, ring us today on (02) 9970 7333.