The best in home aged care provider for Sydney's Northern Beaches elders
Award winning and the best in home aged care provider, Daughterly Care has provided over 76,560+ in home care services1 to enable, support and care for elders just on the Northern Beaches of Sydney alone.
Additionally, we have provided more than 71,405+ in home care services just in the suburb of Mosman and 111,484+ services on Sydney's North Shore.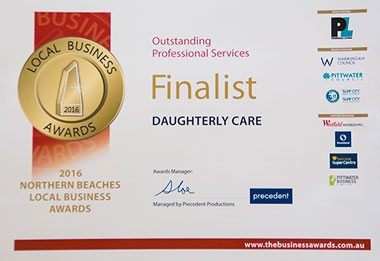 Daughterly Care is very proud to be the only in home care provider awarded finalist status in the Northern Beaches Business Awards for 2016.
This award along the fact that 73% of all our new private clients are recommended to Daughterly Care by clients, their families and health professionals – you can't buy recommendations and referrals like that, proves that Daughterly Care is the best in home aged care provider for discerning elders and seniors on Sydney's Northern Beaches.
Does Daughterly Care only provide services on Sydney's Northern Beaches?
We specialise in providing premium private and Government subsidised in home care to Sydney's Northern Beaches discerning elders and seniors. Most of our enabling and re-enabling home dementia care support, restorative elder care and palliative live-in care is provided in the following areas:
North Shore of Sydney such as Cremorne, Balmoral Beach, and Hunters Hill
Mosman and surrounding areas
Sydney's Northern Beaches i.e. from Manly to Palm Beach and all the suburbs in-between such as Seaforth, Balgowlah, Manly, Dee Why etc.
in the Eastern Suburbs of Sydney, for instance Rose bay, Paddington and Double bay.
In fact, Daughterly Care provides Live in Care anywhere in New South Wales (NSW) and South East Queensland. We provide pay-by-the-hour in home care within Northern Beaches and North Shore areas.
We started Daughterly Care 21 years ago in North Ryde, just around the corner from the North Ryde Lady Fairfax Alzheimer's Association (also known as Dementia Australia), however as the business grew we chose to relocate our head office on Collaroy Beach and finally by Narrabeen Lake, next to Woolworths.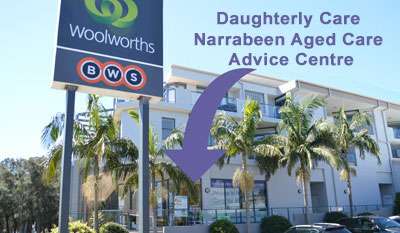 Narrabeen lake is a lovely and beautiful place to work within, particularly for our highly experienced High Care Case Managers, Hourly in home care Coordinators and private 24 hour Registered Nurses. Daughterly Care employs staff who live on Sydney's Northern Beaches and whose quality of life is greatly improved by working close to home.
With over 76,560 services delivered to elders on Sydney's Northern Beaches, why haven't you seen Daughterly Care?
Our clients are discerning elders and our invisibility is just one of the 14 reasons elders and their families choose Daughterly Care. Our aged care hourly carers and Live in Carers don't wear branded uniforms like other aged care providers, nor do they drive branded cars advertising our business name and the presence of in home care.
Our Live in Carers and Hourly Caregivers do carry a photo identity badge to prove they work for Daughterly Care.
Sure, we would love to be seen everywhere we go assisting our elderly clients but that's not what our high profile clients want. We understand they don't want to be seen with uniformed live in care workers and Hourly Caregivers whose branded shirt or car advertises to the world their vulnerability. They prefer to move through life with our well dressed, high-quality and exquisite in home carers, who are easy to talk with and relate to.
Daughterly Care in home carers and live in carers present as a helpful engaging friend, rather than paid help advertising their employer.
Narrabeen Aged Care Advice Centre
The founders and owners of Daughterly Care, and all of the team plus the live in carers and aged care workers are passionate about advocating for and supporting elders and seniors to live their best life, their way in their home.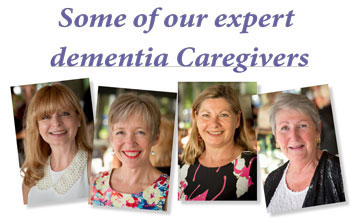 Daughterly Care co-founder, Kate Lambert is a passionate advocate for elders. She is enthusiastic about informing elders and their families about The Productivity Commission review of the in home aged care industry and The Living Longer, Living Better reforms. These reforms turned the power structure of the in home aged care industry upside down, effectively stripped power away from the Existing Old School Approved Providers and handed massive power directly to elders, seniors, their families, their Enduring Guardians and Enduring Powers of Attorneys.
It effectively stripped away power from the Existing Approved Providers and handed massive power directly to elders and seniors, their families, their Enduring Guardians and Enduring Powers of Attorneys.
…but …that power transfer only

effectively

happens if:
you know about the power change…
you know what your 9 New Rights are…
you understand how the financials work and …
you choose to be an empowered consumer and negotiate better outcomes.
Better outcomes such as:
your Government funded Home Care Package paying for double or triple the hours of in home care you are first offered;
your right to choose better quality carers – the type that Daughterly Care carefully selects to employ; and
choosing the right type of in home care that suits your health needs and enables you to stay at home for life.
To help guide elders as well as seniors and their families living on Sydney's Northern Beaches with these huge changes, Daughterly Care's head office in Narrabeen (next to Woolworths) presents free information seminars to inform and empower elders and their adult children and guardians of their 9 new legal rights regarding Government subsidised Home Care Packages.
Click here for more details
Read reviews from Daughterly Care's Northern Beaches in home care clients.
[1] Source: Daughterly Care's Rostering Database