Live in Care for Elders who love their pet
Daughterly Care recognises that, for many the family or personal pet is a vital and much-loved member of the household. Pets, especially dogs are unconditionally affectionate, protective, loyal and a source of joy and great comfort.
This tends especially to be the case with the Elderly, whose lives and daily routine often revolve around an inseparable four-legged friend. Just another reason why our Live in Care for Elders is the best in home care and a far better alternative to a Nursing Home.
Benefits of Our Pet Care Service
Elders across a variety of Livein Care settings including Elders living with Dementia, derive impressive therapeutic value from their interaction with pets because that's just the nature of the beast (or bird). Nick Trout, animal surgeon and author confirms the real-world benefits of our Live in Care service for pet owners:
"Pets devour the loneliness. They give us purpose, responsibility, a reason for getting up in the morning and a reason to look to the future. They ground us, help us escape the grief, [and] make us laugh… Pets are our seat belts on the emotional roller coaster of life -they can be trusted, they keep us safe and they sure do smooth out the ride."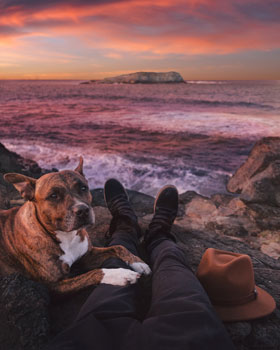 The Nuts and Bolts and Doggy Biscuits of Live in Care for pet owners
Pets are part and parcel of our Joyful Living Approach™. It's part of our Live in Care service, which we are happy to provide at no extra cost. Our live in carers will assist you to attend to all your pet's needs — from feeding, grooming and exercising — as diligently as you would yourself.
We have even been known to provide 'pet company' when a pet-loving Elder no longer has a pet of their own to love. Now that's creative!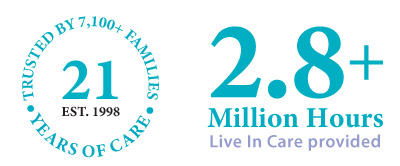 Daughterly Care has provided over 2.8+ million hours

 

of Live in Care over the last 21 years, which means we are the experts in Live in Care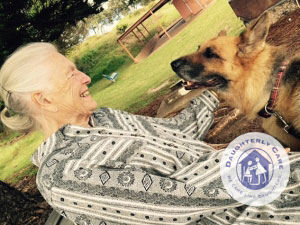 Joy is a German Shepherd
As told by Kate, Daughterly Care's CEO
A client's daughter asked Daughterly Care to take her Mum for a walk around Long Reef Headland because her Mother really enjoyed walking by the ocean. Our live in carer knew that the Mother in question had always loved dogs, but no longer had one of her own. To demonstrate our livein carer's compassionate nature, we organised the following for our lovely in home care client:
While out walking on Long Reef Headland, my dog walker—under no instructions from me, of course—just happened to run into the aforementioned live in carer and dog-loving companion. What a coincidence! Naturally, she took the opportunity to introduce my German Shepherd, Hillary to the client.
You can see the result for yourself in this photo. See how joyful these two Elders are as they really look into each other's eyes and smile.
If you want to know how much joy a pet can generate, it's in our elderly client's smile and eyes. Daughterly Care and Joyful Living go hand in hand.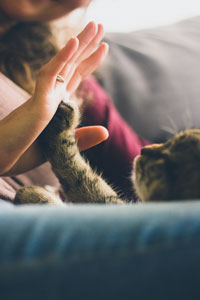 Billy the Cat Helps to Dispel Dementia Fog
"Pets …are such wonderful company; they don't judge, they just make you feel happy." – Wendy
Wendy, a 58 years young woman with dementia has some days which are fine and wonderful. But there are days too, when she struggles to raise herself out of a persistent fog.
On such days, Wendy turns to Billy, her Burmese cat for the love, support and innocent enjoyment of life only four-legged or feathered friends can engender.
Her highly readable blog is a window on a world shared by many but misunderstood by even more.
There is no doubting the joy a pet can bring to an Elder's heart. For this wonderful in home care example and a 100 other joyful reasons you should get serious and discover in home care delivered the Daughterly Care way.
Call us today on (02) 9970 7333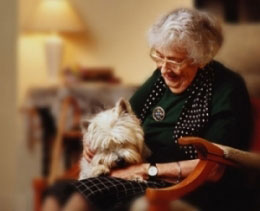 How people use Live in Care: