Live In Care for Palliative Care and End of Life Care
When a cure is not possible and the illness is progressive, a special kind of care is required to ensure an attentive and comprehensive in home care environment that supports living well all your days. An improved quality end of life can be achieved for the dying Elder and their family with a team of exceptional Caregivers and private nurses.
Daughterly Care's Live in Care offers Palliative Care and End of Life Care as an exquisite equivalent for 24 hour, around-the-clock care. Palliative and End of life in home care services:
provide relief from pain and reduce the stress of associated symptoms;
ensure the dignity of the person dying by supporting their emotional, social and cultural values;
provide care management and collaboration with the Community Palliative Doctor and private Registered Nurses, the client and the client's family;
provide experienced, highly personalised attentive care; and
enable the person to pass over pain-free and peacefully.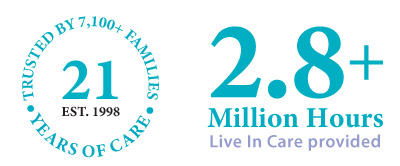 Daughterly Care has provided over 2.8+ million hours

 

of Live in Care over the last 21 years, which means we are the experts in Live in Care
Live in Care enables the Elder to live the last years, months, weeks and days in the comfort of their home. The Elder can remain in-charge of their life with peace including the company of their pets, family and friends. Daughterly Care supports all involved in the palliative journey so it is less stressful and pain-free.
To discuss your Palliative Care and End of Life Care needs call Daughterly Care on 02 9970 7333.
16 May 2018 – Daughter's appreciative words whose Mother lived in Allambie Heights on Sydney's Northern Beaches
Dear Penny,
I wanted to let you know that Mum passed away peacefully last Friday. We were all there with her which was what she wanted.
I wanted to thank you and your team of live-in carers who helped her with so much compassion in her last months of life, particularly Marilyn.
Kindest,
L
3 January 2018 – Daughter's feedback about her Mother's final weeks of live in palliative care
It is a wonderful service Daughterly Care offers. I was sceptical when I read the website because it seemed too good to be true but Daughterly Care really delivered everything they promised. I would recommend Daughterly Care's service to anyone. Thank you to the wonderful live in carers who looked after my mother in her last few weeks. Your live in carer, Vera in particular was wonderful.
Mum came alive again, when she got home from hospital. She was so happy to be at home. Thank you for making my Mother so happy in her last few weeks.
3 January 2018 –  Feedback from a Palliative Live in Care client's brother
Your Live in Carer, Yvonne made the last 5 weeks of Helen's life really lovely. Yvonne was a perfect match for Helen and Yvonne looked after Helen so well. 
I am so pleased that I used Daughterly Care to care for my sister. I would also like to thank, Marga who started the service as she was wonderful to Helen too.
Even though Helen was prepared to go to Greenwich Hospital for the last few days of her life Yvonne was able to be with Helen the whole time and was with my Sister when she passed away, unlike Greenwich staff who were coming and going.
With Yvonne's constant attention and care, Helen's passing was so much more peaceful and she had no anxiety. Yvonne was able to do so much more for Helen than Greenwich Hospital alone could have done.
Helen received total one on one live in care and slipped away very peacefully and with no pain.
Thank you Daughterly Care for providing such wonderful palliative live in care for my Sister.
A much beloved Mother who lives in Turramurra on Sydney's North Shore was diagnosed with Leukaemia on Monday, 29th May 2017.
Our High Care Case Manager, Suzie met with our new client, her family and the Community Palliative Care Team at their home the next day, and our live-in Carer, Pamela arrived that night. Our role was to assist the Daughter to care for her Mother, who passed away at home on Saturday, 3rd of June 2017.
The Daughter of the client said,
"Daughterly Care's live in carer, Pamela was like Mary Poppins to our family. She was a wonderful support to myself as I cared for my Mum as she was dying. Pamela's support, reassurance and kindness changed our family forever."
14 September 2016 – Praise for Live in Carers providing Palliative Live in Care for 93 year old gentleman at Collaroy, Northern Beaches
"Kate, I am completely, completely impressed by your two exemplary Live in Carers, Katherine and Cheryl. Your 2 live-in carers are so lovely in the way they care for John.
They have been brilliant at liaising with our family. Their advice has been invaluable, telling me when I needed to organise aids that made caring for John more comfortable for John, like a slide sheet. I am so impressed.
There was none of this advice and guidance when my Mother died 21 years ago."
Comment from Kate: The gentleman had his family with him for much of his final days and passed away pain-free and peacefully when his family went for a quick coffee. John died in our Caregiver, Katherine's arms.
18 November 2015  Good Care. Appreciative letter from a client's friends.
"The Manager,
We have been regularly visiting The S home [family name withheld] in Cremorne Point, and we would now like to compliment your two Live In Caregivers Michelle and Michelle who have been caring so diligently for James and helping Mary.
Each time I have phoned or arrived on the doorstep, they have been welcoming and efficient. Between them we believe that they have assisted James in his desire to die gently in his own home. As friends, we would like to thank them both, most sincerely. Please pass this on to Michelle (3 days) and Michelle (4 days).
Thank you,
Mr and Mrs D [name withheld]"
Comment from Kate: When we finish providing Live in Care, including the palliative care for a client, we often receive letters of appreciation for our live in carers' exceptional care, not just family but also long-standing friends and neighbours who have known and loved the client, and who were in their own quiet way, keeping an eye on the care being given to their dear friend.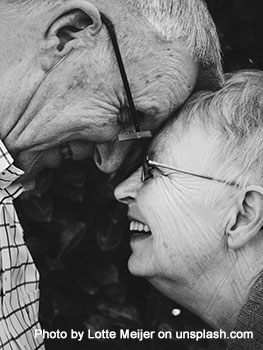 Geoff and Helen's children buy them last 4 weeks together at home:
A social worker from the local hospital spoke to Daughterly Care about one of its Palliative Care patients. Geoff is an 87 year old gentleman with an aggressive Glioblastoma Multiforme brain tumour. He had just completed 6 weeks in rehab.
He and Helen, his bride of 59 years had been planning one last big holiday together. Their "22nd honeymoon", as Geoff called it, was now under a cloud.
Following a meeting with doctors and the social worker, family members decided that if their parents couldn't have their holiday, so they would gift them the next best thing — an opportunity to be together at home, made possible through Daughterly Care's 24 hour Palliative live in care service.
On the first day, Geoff took Sue, Daughterly Care's Caregiver aside and showed her how to bake bread and make fresh yogurt, a ritual he had followed for much of his life. Sue is an exceptional live in carer, always thoughtful and reassuring, ever alert and never intrusive.
Due to her nature she was a willing and attentive learner and keen to provide the food Geoff and Helen enjoyed.
For four irreplaceable weeks, Geoff and Helen enjoyed their 22nd honeymoon in the sanctuary of their own home supported by Daughterly Care's discreet and expertly-managed live in care. With all the necessary supports in place and no physical discomfort, Geoff and Helen lived life joyfully for their last 4 weeks together. It was indeed a wonderful holiday.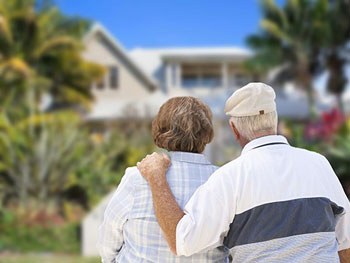 How people use Live in Care: