Elsie loved living on her 5 acres on the outskirts of Sydney
She loved to walk through her garden that she had created and tendered to, for decades. She had always loved her dogs, though she no longer had any.
Plus, she loved driving her tractor
Elsie was a strong willed, determined, intelligent woman and, a much loved Mother and wife.
Despite Elsie's declining cognitive ability from dementia, Elsie was still enjoying life on her acreage. One of her children lived very close-by and would check on her daily.
That is, until Elsie drove the tractor into the dam 
That was the watershed moment for Elsie's adult children – not for Elsie – she wasn't concerned at all. But for the children, they questioned:
Is Mum still safe to stay at home?
Is this the start of Mum's more serious decline?
Is this the point at which, we consider placing Mum into a Nursing Home?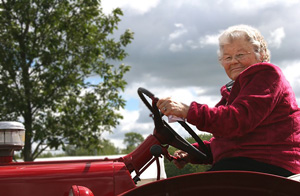 Elsie's story is true. Her name and identifying details have been changed to protect her privacy.
Image Source
Elsie's adult children wanted to maintain Elsie's love of her rural lifestyle with the outlook for her to enjoy her life ahead on her land. With this in mind, her adult children decided to engage Daughterly Care's most popular service – our unique Live in Care service to keep Elsie living joyfully in her own home.
For the first couple of years, we chose Live in Carers who were highly social and, could enable and support Elsie to live her way, safely on her farm land. The Daughterly Care Live in Carer and Elise gardened together and given Elsie's love of dogs, her children gave permission for our Live in Carer to bring her dog to work. This brought a new energy to the home and another connection that Elsie truly enjoyed with her new "man's best-friend".
Yes, live in care was enabling Elsie to continue living her joyful life.
What is truly exceptional was the Live in Carer's response to Elsie before she died, in 6 months time…
When Elsie had become too unsteady on her feet while walking, our Caregiver arranged for a wheelchair to get Elsie around. Elsie would not have a bar of that wheelchair. She knew her mind and she was NOT going to be wheeled passively around her home so…
…much to our initial surprise Elsie started crawling on all fours on the ground. 
Try as our Caregivers did, there was no way Elsie was getting in that wheelchair. She knew where she wanted to go and she would get there herself, under her own efforts.
In our 21 years of care we had never experienced this before…
Our Live in Carer rang our High Care Case Managers and explained what was happening. In return, our High Care Case Manager provided advice and direction. We had visited prospective clients who would go down their stairs safely on their bottom, one step at a time to eliminate their risk of falling down stairs but we never had a client crawling around the house.
Our High Care Case Managers (each with 30+ years' experience) got together:
Should we cajole Elsie into the wheelchair or let her carry on under her own free will and crawl around her home?
We went around the circle sharing our thoughts:
"It's not a 'good look' when the family or friends come to visit and see Elsie crawling on the floor".
"But Elsie is exercising her free will".
"It's very confronting to see an Elder crawling on the floor."
"But this is Elsie's preferred way of getting around and physically, she's still using her muscles and brain, and that is better for her than sitting in a wheelchair."
"Elsie knows she is at risk of falling and she has eliminated her risk of falling, Elsie is being clever and solution orientated."
"Country people are known for their practical problem solving skills, their resilience and their determination."
How many Live in Carers would do this?
Our Live in Carers took Elsie's mattress off her bed and put it on the floor so that Elsie could get into and out of her bed herself.
Elsie was still in control of her life…going exactly where she wanted to go, doing what she wanted to do.
6 months later Elsie died at home in our loving care. Her palliative and end of life care was provided by her familiar Live in Carers who had such admiration for Elsie. With the direction of her children and her Community Palliative Care Doctor plus a Registered Nurse, Elsie was able to continue living her life, her way.
A week after Elsie's funeral we received a card from Elsie's neighbour and dear friend.

Elsie's friend wrote that she had visited Elsie weekly for many, many years including through the years Daughterly Care provided Live in Care. She admired the way our Caregivers had taken such beautiful care of Elsie and she hoped to be fortunate enough to have Daughterly Care's support, enable and care for her in her final years.

I often remember Elsie's determination. It was an honour to have shared the final years of her life's journey.
Postscript:
Let's look at the money…
Elsie did NOT receive any Government Funding to help her stay at home.
The Government Reform of Consumer Directed Care started 1 July 2015, therefore Elderly clients like Elsie are now eligible for a Level 4 Home Care Package.
In addition, Elsie had a dementia so she is entitled to a 10% extra dementia supplement i.e. $55,315.75 each year to remain at home.
Daughterly Care can negotiate on your behalf so the Approved Provider pays for some of your Live in Care. Consumer Directed Care has given Elders 9 new rights including the ability to choose the TYPE of care (Live in care) and WHO provides the care (Daughterly Care).
I'm passionate about Consumer Directed Care because it will enable more Elders to stay at home for life, which is what they want. Nobody wants to be placed in a Nursing Home.
There are 4 levels of Government subsidised Consumer Directed Care (CDC) Home Care Packages. 
(Valid from 1 July 2018 to 30 June 2019)
| | | | |
| --- | --- | --- | --- |
| Consumer Directed Care Package | Home Care Package Per annum  p/person | 10% Supplement* Per annum p/person | Total Govt. Subsidy Per annum p/person |
| Level 1 | $8,270.90 | $828.55 | $9,099.45 |
| Level 2 | $15,045.30 | $1,503.80 | $16,549.10 |
| Level 3 | $33,076.30 | $3,306.90 | $36,383.20 |
| Level 4 | $50,286.05 | $5,029.70 | $55,315.75 |
*A 10% pa supplement is payable for the following conditions:
1. Cognition supplement or
2. Veterans' mental health supplement
3. Oxygen supplement
4. Enteral Feeding supplement.
There are also Viability and Hardship supplements.
Eligibility for a Government Subsidised Home Care Package (HCP) is determined by your local Aged Care Assessment Team (commonly known as ACAT).  ACAT Teams currently operate out of your local public hospital. They assess your loved one based on their care needs.
Educated consumers negotiate superior solutions…
Educate yourself, read more about Consumer Directed Care so you can maximise your aged care options and lifestyle.
Research shows people with dementia can live a contented life at home with appropriate support…
Daughterly Care's Live in Carers are exceptional at enabling, supporting and caring for people with a dementia as well as Elders who don't have dementia. We have specialised in supporting people with memory loss, confusion and a dementia for 21 years. It has been our specialisation from the very beginning – it's our calling.
Along our journey, our clients asked for a Live in Care solution and so we became the leading provider of Live in Care. Our Live in Care service is available anywhere in the ACT and New South Wales.
If you have family, friends, and colleagues who could benefit from receiving Government Funding to stay at home then please feel free to send them a link to this page.
Your recommendation of Daughterly Care would be most appreciated.
Warmly,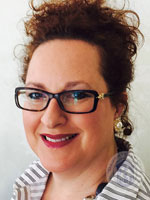 Kylie Lambert
B.Ec  F Fin
(known to her friends for 25 years as Kate)
Daughterly Care CEO, Co-Founder & Owner