The Joyful Singers for people living with dementia
It is my pleasure to invite clients of Daughterly Care, particularly those living with a diagnosis of dementia or Parkinson's condition, their family carer or their Daughterly Care Caregiver or Live in Carer to join our new 'The Joyful Singers' held at our new Joyful Living Group Home in Mona Vale. We currently have around 15 in our Joyful Singing Group and we invite another 10 clients and their carers to join us.

Q: Why sing in a group?
A: Did you know researchers tested the happiness hormones of a group of people after they sang in a group versus after having lunch with their friends? The blood results showed that people's happiness hormones were higher after singing in a group, than after sharing a meal with their friends. The special human connection of singing in a group is especially uplifting and joyful.
Music is well-known for being an enjoyable activity for people living with a dementia or Parkinson's diagnosis because music is rewarding in its own right, but more importantly, music can access memories by bypassing damaged parts of the brain and tap into memories that are not usually accessible to the person. I heard music described as "the side door to the brain". Also music can make movement easier. This can make the person feel "more themselves" and happier.
Even when communication is reduced, elders can still connect with and through music. Listening to music and singing together creates opportunities for connection between clients, their family and carers.
Music becomes even more powerful when it is sung or shared in a group. There has been extensive research into the benefits of singing in a group.
Be warned, some of the Joyful Singers enjoy their music so much they love to dance while singing!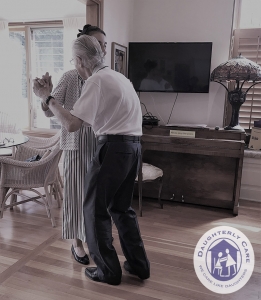 Here are some of the songs we sing
A Bicycle Built for Two
All I Have to Do is Dream
Always
Autumn Leaves
Blowin In the Wind
Blue Moon
Botany Bay
By the Light of the Silvery Moon
Bye Bye Blackbird
Can't Help Falling in Love – Elvis
Cheek to Cheek
Danny Boy
Edelweiss
Georgy Girl
I am Australian – The Seekers
I Still Call Australia Home
I'm a Believer – The Monkees
Imagine
Island In the Sun
It's a Long Way to Tipperary
Jamaica Farewell
Let it Be
Love Me Tender
Molly Malone
Music Music Music
My Favourite things
My Girl
Oh What a Beautiful Morning
Only You
Over the Rainbow
Pack Up Your Troubles
Que Sera Sera – Doris Day
The Lion Sleeps Tonight
The Tennessee Waltz
The Way You Look Tonight
The White Cliffs of Dover
Waltzing Matilda
We'll Meet Again
What a Wonderful World
Will You Love Me Tomorrow
With a Little Help from my Friends
Wouldn't It Be Lovely
Zip–A–Dee-Do–Da – Disney
Various Christmas carols
Q: Who is the Joyful Singers for?
A: Any Daughterly Care client who enjoys music and singing, will enjoy singing with us for 1 hour each week. After singing for an hour, stay for a cup of tea, coffee, cake, fruit or and biscuits. Morning tea presents a valuable opportunity to connect with peers and make new friendships.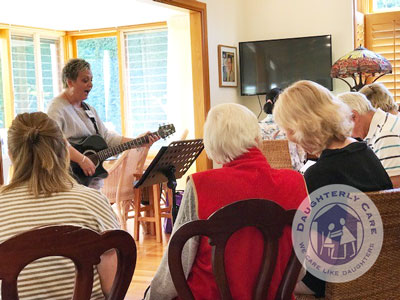 Q: What day and time is it held?
A: Every Wednesday at 10.30-11.30am. Please arrive from 10.15am.
Q: Where is it held?
A: In the Joyful Living Home, our dementia specific boutique nursing home for just 10 people at Mona Vale. We will have staff waiting at the front of the house so that you can drop your family member at the front of the house and then you can park your car in the closest side street called Minmai Road. If both people have poor mobility then please park in our drive way.
Q: Do I need to attend each week?
A: Yes, it is preferable to attend each week because that will maximise the benefit to your family member / your client. Of course, if you are not well or too tired, we understand and in that case, please call the office on 9970-7333.
Q: Do I need to be able to read music to join?
A: Absolutely not. You just need to have a desire to join others in singing. We have a folder for you with the lyrics.
Q: Do I need to be a good singer?
A: No. You just have to enjoy singing – that is all that is required to come along! The best singing voices are the 'singing in the shower voices'!!!
Q: What will we sing?
A: We will sing songs that are appropriate for seniors living with a dementia, so we will be singing songs that will be familiar to our group. Songs that our elders would have listened to when they were younger. The music will come from the 30's, 40's and 50's, and a few rock'n'roll songs from the 60's as well. Leading up to Christmas we sing Christmas carols too.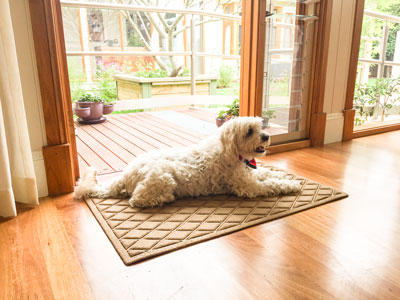 Joyful Singers had an audience to sing to this week (26/10/2018)
which made us even more joyful.
Q: Can I drop my spouse and go?
A: No, it is best that the family carer or Daughterly Care carer attend and stay to join in the singing group. This will create the very best environment for the Joyful Singers to thrive.
Q: Is there a cost?
A: Yes $10 per week (That covers our client. Their family carer or Daughterly Care carer is free). The cost is a small contribution towards the venue, insurance, the cost of the piano or guitar player, and morning tea after the singing. This is a great opportunity for private care clients and their carer to come together on a weekly basis, to meet and socialise. Who knows what friendships will form! The $10 can be deducted from our client's Home Care Package or you can sign a Direct Debit form for this activity. Our live in care clients don't pay any fee.
Q: Is there disabled access and a disabled toilet?
A: Absolutely there is. We have a ramp for easy access and we have disabled toilets.
Letter of appreciation from client's friend
Wednesday. 31 October 2018
Dear Kate,
I wanted to write and say just how much I enjoyed The Joyful Singers, last week.
Every few weeks I spend a few days with my dear friend Betty and was so happy that I was able to come.  It was wonderful to see the smiles on everyone's faces and for me I certainly shed a few tears with a few of those wonderful old chestnuts! And to hear everyone singing and even dancing!
For Betty it was particularly moving as I could hear her singing and for a short while afterwards she was able to speak.
The effort that you and your girls put into looking after dear people who have succumbed to sometimes horrid afflictions in old age is wonderful to see and your live in Carer, Wendy, is no exception.  She anticipates constantly Betty's every movement and works so hard to improve her life.  Betty is as game as Ned Kelly, so it is not always easy.
I have been to a number of gatherings initiated by Daughterly Care and just wanted to say thank you and well done !
Best wishes, Jan
Rushcutters Bay, 2011
NSW  Australia.
What I observed at Joyful Singers last week
Most weeks I  attend the Joyful Singers because it's good for my happiness hormone production and my brain. Here is what I observed late October 2018:
A packed room full of joyful people, despite their age related health conditions;
A husband who has had dementia for over 10 years flirting, giving affectionate pats and smiling at his wife during and in between songs;
A lady with Parkinson's who speaks very quietly, such that it's difficult to hear her, singing and then talking audibly to her friend after the singing;
A North Shore lady diagnosed with dementia, who started with our Live in Palliative Care service 2 years ago, walk in, sing and tell me after "how good it is to be able to come to a place where we all have the same condition so we understand each other";
A Northern Beaches lady with no dementia singing. Afterwards, one of our Caregivers  kindly gave her a German Newspaper to take home and read. This lady told Nurse Verlie that the first week she didn't sing but the second week she did sing and she has returned every week since;
A lady with advanced dementia get up from her seat and dance through 4 songs with her Live in Carer, much to the delight of us all. (I wish I had the confidence to get up and dance!);
A gentleman who loved his wife, who has passed away, complimenting and joking with a beautifully presented Mosman lady whose husband has passed away;
A loving husband singing with his wife who has dementia;
A client's beautiful dog getting lots of pats and causing lots of smiles;
A lot of joy;
I heard great singing and sometimes foot stomping!  We even sang different parts in two groups!; and
Lots of chatting and laughing over a cup of tea after the singing.
Come and join us!
Warmest regards,
Kate Lambert
Daughterly Care CEO & Co-Founder
Want more information about dementia care at home and music?
1. "The Amazing Power of Music" and how Daughterly Care carer use music when caring for our clients.
2. Quick 3-minute video: 'Singing with dementia' with music therapist Dr. Jeanette Tamplin.
3. "Dementia Care Music and Memory with Daughterly Care".
4. "ABC Catalyst program reports the Music and Memory Program aids people living with dementia"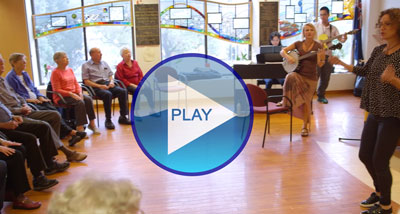 Our goal at
Joyful Singers
is to enjoy, have fun through music and meet new friends.
Warm regards,
Kate Lambert
Co-Founder & CEO