Dementia Care Activities – Reminiscence Therapy
Daughterly Care's creative approach to dementia care includes the use of tools such as Reminiscence Therapy, which enables clients to access their rich store of life memories. Our aim in using Dementia Care activities such as Reminiscence Therapy, is to create – for Elders living with mid and late stage dementia – little islands of lucidity and happiness within an often grey world of progressive memory loss, anxiety and frustration that frequently accompanies it.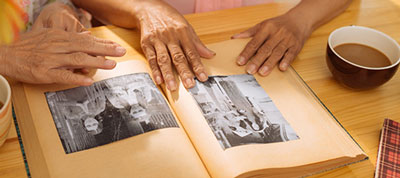 The Australian Alzheimer's Association defines Reminiscence as: "a way of reviewing past events that is usually a very positive and rewarding dementia care activity."
A Joyful Living Approach™ to Dementia Care
Daughterly Care understands that the experience of living with a form of dementia is deeply personal, profoundly touching an Elder's quality of life. In line with our Joyful Living Approach™ to dementia care, our Caregivers take every opportunity to encourage clients to tell their unique life story. The benefits of Reminiscence Therapy are immediately apparent, as Elders rediscover the joys of knowing and being themselves and enhance their ability to connect with others.
Excerpt from a study on Reminiscence Therapy reported in the International Journal of Geriatric Psychiatry (April, 2010)

In the elderly, reminiscence therapy directly correlates with improvement in life-satisfaction and self-esteem, increase in social involvement and ability to deal with social situations, reduced loneliness and alienation. It also enhances coping skills and minimises symptoms of depression and dementia.
Reminiscence Therapy – A Doorway to their Secret Garden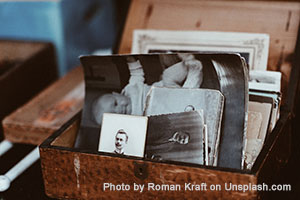 Our In Home Care Caregivers have the privilege of  supporting Elders in their own home. This provides them with an abundance of immediately available stimulii—such as photos, postcards, objects, sounds or even the local geography—which they can use to open up a client's Secret Garden of treasured and joyful memories.
In the hands of a Daughterly Care Caregiver, a wedding photo on the  Elder's mantlepiece, for example, can be used as Reminiscence Therapy to generate an hour-long conversation as they prepare a delicious meal together. The previously restless and agitated 86 year-old 'bride' describes the dress she was wearing on the day, who made it, how much it cost and how long it took to make; she then speaks joyfully about each member of the wedding party in intimate detail. Afterwards, she is completely relaxed and the bond between Caregiver and client is stronger.
On a short walk to a neighbourhood park, another Caregiver and her elderly male client pass by a noisy primary-school playground. A question about his own schooling prompts the client to revive the 'old days' of tram travel, ink pens and copperplate printing, and the strictness of Mr Flynn his third-grade teacher.
The simple things we all take for granted, such as recalling  joyful memories from the distant past, are amazingly pleasurable for Elders diagnosed with dementia.
The Daughterly Care Caregiver advantage
Using judiciously selected memory triggers, a Daughterly Care Caregiver will steer a client away from a present in which anxiety, frustration and confusion dominate, into a world that is a joy for the Elder to rediscover. Medical science currently has no cure for dementia, but right now, the pleasures of fond memories and real companionship – that can be accessed by quality dementia care activities such as Reminiscence Therapy – are a joyful alternative.
Discover more about the expressive benefits of Daughterly Care's Reminiscence Therapy or book a free consultation for In Home Care by calling us today on (02) 9970 7333.
Discover how we care for people living with dementia:
Beautiful examples of exceptional in home dementia care: