Dementia Care Support Services – Montessori Method
Daughterly Care, Sydney's first and leading dementia care specialist, in home care provider, incorporates the core principles of the Montessori Method in our Joyful Living Approach™ to dementia support care. Our person-centred in home care services – are a far superior alternative to a nursing home and is designed to engage elders living with a dementia in a richer, more joyful and rewarding life.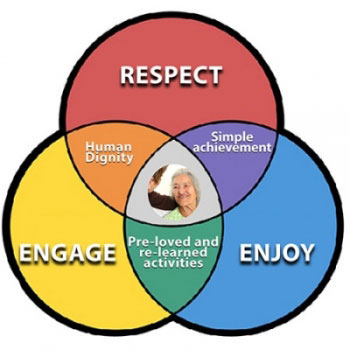 RESPECT
At Daughterly Care the Caregiver-Client relationship is based on absolute respect for human dignity. We mirror Montessori principles in recognising that every elder living with a dementia deserves to be respected and cared for as the human being they are, and treated with genuine respect and kindness.
ENGAGE
Medical science reveals that the memory loss associated with dementia usually has little impact on procedural memory. So, while a dementia condition can profoundly affect cognitive and communicative functioning, Elders living with a dementia can still do many of the things they have always enjoyed doing. Now, however, they may no longer do them automatically and need to be encouraged or prompted.
Damage to neural pathways requires prompting to start a task or even re-learn how to perform and sequence even simple tasks. For a task to be meaningful, it has to engage clients fully in activities that are purposeful and meaningful to them. Daughterly Care Caregivers are trained in Montessori principles to improve their support to clients.
ENJOY
Simple gestures, such as holding hands or linking arms, are a perfectly natural way of expressing connection with those we love and care for. For the person with a dementia, however, these actions are often neither easy to perform nor spontaneously motivated. Our Hourly Caregivers and Live in Carers create opportunities to rehearse the gesture so that elders can once again experience the warmth and reassurance of being personally connected. In time they will move to more complex tasks, such as modelling how to pick flowers from the garden and arrange them in a vase, or any activity that our client has a real interest in and makes their lives so much more meaningful and enjoyable.
"The Montessori Training was a real benefit and shines a light on how to better and more effectively assist and care for clients living with a dementia diagnosis."
Lynne, Daughterly Care Live-in Caregiver
The Montessori Method and 12 Principles of Engagement
Elders living with an advanced form of dementia come face to face daily with an unfamiliar world that is increasingly beyond the reach of their capabilities. Many experience helplessness, frustration and, often, acute alienation.
Using a combination of the Montessori Method and the memory-rich resources of the elder's own home environment, Daughterly Care Caregivers turn routine interactions into stimulating activities with achievable tasks and goals that are meaningful to our client.
The Montessori principles of engagement we follow include:
1. The activity should have a sense of purpose and capture the person's interest.
2. Always invite the person to participate.
3. Offer choice whenever possible.
4. Talk less. Demonstrate more.
5. Physical skills: focus on what the person can do.
6. Match your speed with the person you are caring for. Slow down!
7. Use visual hints, cues or templates to support the client's memory.
8. Give the person something to hold.
9. Go from simple tasks to more complex ones.
10. Break a task down into steps; make it easier to follow.
11. To end, ask: "Did you enjoy doing this?" and "Would you like to do this again?"
12. There is no right or wrong. Think engagement.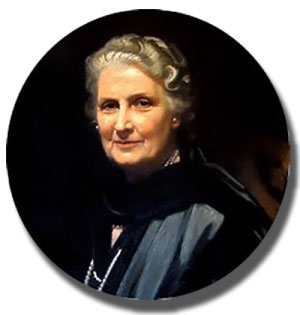 Doctor Maria Montessori
Maria Montessori was born of educated parents on August 31, 1870 in the town of Chiaravalle, Italy. An avid learner from an early age, Maria challenged female stereotyping by becoming the first Italian woman to study engineering and then enter medical school. In 1896, she graduated as Italy's first woman doctor.
After her appointment as a surgical assistant at Rome's Santo Spirito Hospital, Dr Montessori worked almost exclusively with the urban poor, and particularly with their children. She quickly gained a reputation as a doctor who took exceptional care of her patients, not only insisting that they be properly diagnosed and treated, but also ensuring that they had adequate food and clothing. This same concern for people on the margins of society led to her deep involvement in psychiatric research.
In time, Dr Montessori came to trace the source of many physical and social ills back to certain fundamental defects in the way we, as a society, educate our children. As a result she moved away from medical practice and threw herself heart and soul into pioneering an educational method that meets children on their own terms. The goal of discovering and developing the whole person, and formalising this into a coherent educational practice became the focus of her life's work.
The Montessori Method provides opportunities for the child to accomplish simple but meaningful tasks in a properly prepared environment. Success in learning and accomplishing tasks breeds confidence and self-esteem, and out of this comes contentment, increased self esteem and joy. Now those same principles of educating children are being applied by a growing number of leading dementia care professionals, including Daughterly Care Caregivers, when caring for elders living with dementia.
Dr Montessori herself best summarised her extraordinary contribution to human society when she observed in 1914: "I did not invent a method of education, I simply gave some little children [and now an increasing number of Elders] a chance to live."
Dr Maria Montessori vastly understated her achievement in our humble opinion.  Dr Montessori's principles, when applied to aged care, have vastly improved the lives of Elders who are often defined by what they can't do, whereas Dr Montessori always looked to encourage humans to reach their full potential based on what they can do, when properly supported. There is much focus today on providing enabling, re-enabling, restorative and a wellness model of care. The Montessori way is all about supporting Elders adequately and focusing on enabling, for older people, the support that leads to greater accomplishment, inclusion, self-esteem and well-being.
Daughterly Care uses the Montessori Method in our Joyful Living Approach™ to ensure the best dementia care possible. Daughterly Care has 6 Accredited Montessori Teachers guiding and teaching our Caregivers. Daughterly Care is the first community in home care organisation in Australia to offer its Caregivers to become Accredited Montessori Aged Carers. Book a free home care services consultation by calling us today on (02) 9970 7333.
Discover how we care for people living with dementia:
Beautiful examples of exceptional in home dementia care: