Live in respite care keeps you refreshed
Daughterly Care's Live in respite care service is an essential in home care service, especially if you are caring for someone living with a chronic ongoing condition like Parkinson's Disease, Multiple Sclerosis (MS), Motor

Neuron

 Disease or a Dementia i.e. Lewy Body, Frontotemporal, Vascular.
As the main carer, you simply can't afford to compromise your own health and happiness. You need to take proper respite breaks away from your caring role to re-invigorate your energy and soul, and Daughterly Care's live-in respite care enables you to do just that without disrupting your loved one's life.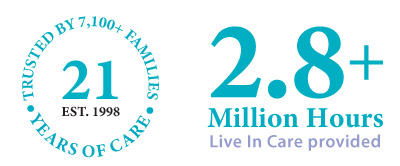 Daughterly Care has provided over 2.8+ million hours

 

of Live in Care over the last 21 years, which means we are the experts in Live in Care
How can you enjoy a getaway down the coast, interstate or overseas knowing your loved one is on their own and fretting among strangers in the unfamiliar environment of a nursing home?
Did you know that most falls in a nursing home happen on the first day?
It's because residents are in a new and unfamiliar environment. With live-in respite care comes the peace of mind that your loved one is in safe hands and in the best possible place – their own familiar comfortable home.
Our experienced and fully-qualified private nurses and live-in carers, each trained to be exceptionally skillful, thoughtful and helpful, provide an in home care respite service which is totally tailored to your unique life and values.
And the best news is that you know we have been providing private in home care services for 21 years so you can have complete confidence that we know how to provide exceptional in home care.
And that means you can enjoy a guilt free break knowing that your loved one is receiving the absolute best aged care… that is safe and happy in their own home.
While you are away, our focus is to care your way. We can maintain your regular care routine so that daily living skills are not lost.
We can do tasks the way you like them done. We can improve health, strength and balance through our proven LiFE Exercise Program done multiple times a day during activities of daily living activities. Together we can prepare nutritious meals.
Call Daughterly Care as Alice and Frank (see below) did and we'll take care of the rest, (02) 9970 7333 
Frank is from Sydney's North Shore and takes a 3 week respite break interstate, while Alice makes a friend
Care Needs
The stroke Alice suffered in her early seventies left her reliant on a wheelchair for mobility. What's more, while Alice could understand everything said to her, she had lost the power of speech. For an intelligent woman accustomed to being physically active and socially involved, this sudden loss of independence came as a major blow, and not only for herself.
Frank, Alice's husband of fifty years, now found himself house-bound. Even with the best will in the world, the load of providing 24 hr care became too much for him to sustain without respite. He found himself tiring more quickly and that just made him impatient and snappy. He needed a break, it was as simple as that.
Whenever it was suggested to Frank that he place Alice in respite care in a nursing home, he refused. Then a friend told him about live-in care and spoke highly of Daughterly Care's Live in Home Care services. It would be fair to say that he was still reluctant to "abandon" Alice but it felt far better than placing Alice into a nursing home so he agreed to give it a try.
One of Daughterly Care's High Care Case Managers came to meet Alice and Frank in their home on Sydney's north shore and the meeting couldn't have gone better. Not only did Alice approve the new home care assistance, she was actually excited at the prospect of having another woman in the house for a change.
What most impressed Frank about Daughterly Care's Live-in Care Respite services was that Alice's livein carers were hand-picked to match her care needs and personality.
Frank's Feedback
"When I return from a break I feel refreshed and Alice is always so happy and the house is just sparkling. Daughterly Care even helped our daughter to negotiate our in home care Government funding fees to less than a third of what they were previously charging. We can now afford for me to have 10 days Live in Care respite every 4 months. It's brilliant!"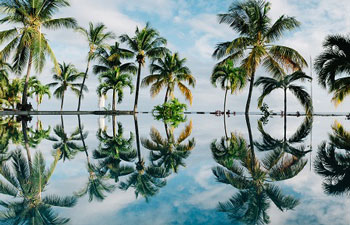 Case Study: Monthly respite care is a win-win for Central Coast daughter and mother
After a fall Phyllis, aged in her 80s and living with dementia moved into her daughter's home on the Central Coast.
Once a month Daughterly Care's live in carer, Fiona meets Phyllis with her daughter at Phyllis' own home at Bateau Bay on New South Wales, Central Coast. This live-in respite care is a win – win. Phyllis' Daughter enjoys a 3 day break from her caring role and Phyllis enjoys the rare treat of her own home for a long weekend each month.
At her home, Phyllis is 'the boss' and is enabled and supported by her live-in carer, Fiona. Phyllis really enjoys pottering around her house and garden and at this stage of her dementia she copes well when at home, despite only being there once a month.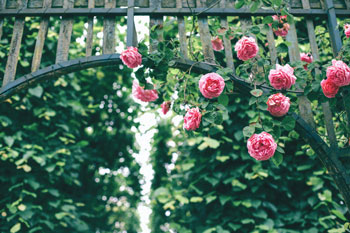 Why did our High Care Case Manager recommend Live in Care rather than 24 hour care?
Phyllis needs around the clock 24 hour care due to her dementia and her reduced mobility as well as confidence from her recent fall but she sleeps through the night and still knows her way around the her house. She can still go to the toilet on her own. Phyllis doesn't need care every minute of the 24 hours.
So rather than staff the respite break on an hourly basis with overnight care, which to meet the award requires 3 staff each 24 hours. Our High Care Case Manager recommended live in respite care as providing the optimum care solution for Phyllis, also it is cheaper than 24 hour care.
It's not often in life you get a better solution for less cost!!!
Live in Care is a much better in home care option given Phyllis' care needs than 24 hour care because with live in respite care, one Daughterly Care Carer, Fiona provides the support and enabling care for the whole 3 days, every month. Fiona particularly enjoys this role enabling Phyllis to 'return home' each month because she sees the joy Phyllis feels when at home.
The consistency of one known dedicated live-in carer each month is ideal for Phyllis. Fiona can enable and provide optimum support to Phyllis because she knows her well. Phyllis copes really well having one live in carer for the entire 3 days. She feels settled and comfortable with one person. Given her short term memory loss she wouldn't cope well with 3 changes of different live-in carers each day.
Fiona, knowing Phyllis better and better over time is able to give Phyllis space and independence after she has set her up for activities plus they enjoy doing tasks together.
Phyllis' home and its contents, collected over a life time prompt Phyllis to talk about her life – re-living past happy memories as they polish silver, pick flowers and arrange them in a vase, trim the hedge and complete other activities that interest Phyllis, suit her house proud personality and build her self-esteem as Fiona constantly praises Phyllis on what she does achieve, rather than focus on what she can't do.
Feedback from Phyllis' daughter
Phyllis' daughter said, "Fiona focused on Mum from the first moment which was excellent. Fiona and Mum had an instant connection. I had not seen my Mother so happy for a long time, it has given her a new lease of life and it is well worth the money. My Mother opened up to Fiona which I had never seen before."
Appreciation from daughter of client, Mrs S who lives in Bateau Bay on the New South Wales Central Coast.

Mum came home bright and bubbly after her weekend with Fiona! I think Fiona is a wonderful match for Mum and she brings out Mum's brighter side. We are very appreciative of the great care Mum is receiving through Daughterly Care.
Advocacy service to gain in home care Government funding
Phyllis' daughter currently uses her Enduring Power of Attorney to use her mother's money to pay for this private in home care. Her Daughterly Care High Care Case Manager is now assisting Phyllis and her daughter to get a level 4 high care Home Care Package paid by the Government to pay for this and other in home aged care services as she can see Phyllis has high care needs and her daughter needs more than one respite care break a month.
Phyllis' daughter didn't know about Government funded Home Care Packages, worth up to $56,067.65 a year so she really appreciates her Daughterly Care High Care Case Manager assisting her to navigate the aged care system and giving her advice each step of the way.
Thank You from wife of client who lives in Beecroft within Sydney's Northern Suburbs. The wife and daughters went away on a short break.
Dear Penny,
Thank you so much for arranging Brady to look after my husband. She was marvellous. Everything was done when I arrived home so I did not have to do anything. I would highly recommend Brady and Daughterly Care to anyone.
Regards,
H

How people use Live in Care: