Live happier at home with Long Term Live In Care
The one wish most of us cherish as the years advance is simply to stay in our home where we have complete certainty that we belong. There really is no place quite like your own home.
With Daughterly Care's Long Term Live in Home Care services, Elders can enjoy a practical and a better alternative to a Nursing Home.
Our skilled and highly qualified Live in Carers are very professional and reliable but also warm and always ready to help or share a laugh. Their care enables your Loved One to continue living in the one place that feels more comfortable, more safe and more "me" than anywhere else – their own home.
Live longer, stronger and happier when you live at home with Daughterly Care's Long Term Live in Care. Ring us today on 02 9970 7333 to discuss your Live in Care needs.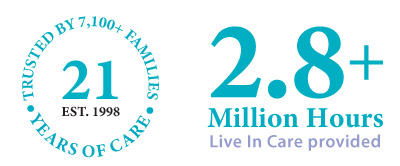 Daughterly Care has provided over 2.8+ million hours

 

of Live in Care over the last 21 years, which means we are the experts in Live in Care
Grateful Daughter from Kiama Downs
"Daughterly Care is a God-send. Katherine [Daughterly Care Live in Carer] is amazing!!! Our family will be forever indebted to her. She was calm and strong in the most difficult times of caring for our Mother and Father. Our family cannot thank her enough. We want to keep Daughterly Care for as long as we can so Mum can be stable at home for as long as possible"
Rona lived joyfully at home in Mosman with support and enabling care for 15 years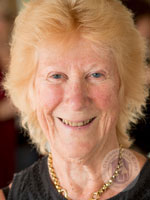 (Right: High Care Case Manager, Jean worked with Rona's family for 15 years)
About 15 years ago I took a phone call from a Daughter whose Mother, Rona lived in Mosman. Her Daughter was residing in America and her only other Daughter lived in England.
As Rona had a form of early-onset dementia (now known as Younger Onset Dementia), she was still young.
So her Daughters were looking for someone to live with their Mother at home to enable and support her, and fill in the gaps Rona was unable to perform herself so she could continue to live a joyful quality of life.
I went out to assess Rona and discovered that she was an exceptionally social woman, well-connected with her community and well-known and loved by many around Mosman.
She was still able to do most of her shopping, go out with friends, give lunches and frequent the theatre.
Daughterly Care began providing Live in Care, enabling Rona to do all the things she loved to do.
Both Daughters flew back to Australia once a year to visit their Mum and were thrilled with the care she was receiving.
Over the next 13 years, Rona's form of dementia progressed and she became less and less able to do things for herself. Rona also developed aphasia – an impairment of language, affecting the production or comprehension of speech and the ability to read or write.
So our level and type of care was adapted accordingly as different skills were required.
Rona completely lost the ability to speak but was absolutely present in every other way, and continued to enjoy her regular outings to cafes. So our live in carers continued to enable this activity, making sure Rona was dressed beautifully, as always, and facilitated her communication to fulfil her social nature and ensure a joyful experience.
It is wise to note that at this point in her progressing condition, if Rona was in a Nursing Home she would most likely have been described as 'gone' or 'lost' because of her aphasia – but she was able to understand everything that was going on around her.
About 15 years after her dementia diagnosis, Rona eventually required palliative care from Daughterly Care, and when she passed away she did so surrounded by family and friends and the Live in Carers to whom she had grown so close.
Her known Doctor assured the family Rona was not in pain and that she passed on at a time that was right for her.
It was a great consolation for Rona's Daughters that they had been able to give their Mother the one thing she had wanted more than anything else, to remain at home to the very end while being looked after beautifully and supported with the best type of in home care for her. Our passionate livein carers felt blessed to have known Rona and they all adored her.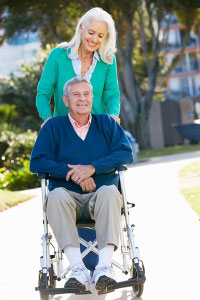 How people use Live in Care: