Daughterly Care has the best in home care Caregivers
Daughterly Care is a boutique provider of the very best in home care in Sydney because we employ only the very best in home care Caregivers. Our Caregivers provide private care and Government subsidised care via your Consumer Directed Home Care Package.  We are very careful who we employ because we offer a service guarantee that if you are not satisfied with them, we will not charge for that service.
We set 7 hurdles for potential Caregivers to pass. Less than 1 in 10 applicants pass our first two hurdles.  (By the way, most of the Caregivers who don't pass do have a Certificate III in Home and Community Care or Certificate III in Aged Care – but they have nowhere near the right home care experience, attitude and communication skills Daughterly Care requires).
It takes a very special type of person to be a skilled and emotionally intelligent Caregiver, that's why we select only the best to join our Daughterly Care team.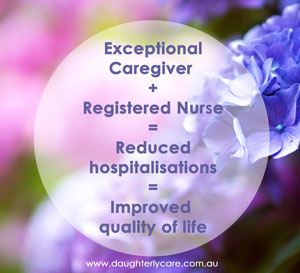 With Daughterly Care you don't just benefit from the attentive care of our exceptional Caregivers, you also benefit from an experienced team of professional and experienced Registered Nurses; Co-Ordinators and High Care Case Managers, who coach, advise, train and supervise our Caregivers.
We know from evidence from international best practice in home care models and our own 19 years of experience that Experienced Caregivers + Registered Nurses working closely together with your doctor results in less hospitalisations and less nursing home placements.  This means better quality of life and health for Elders as they remain at home for longer.
We employ mature women, who are blessed with uncommon common sense, compassion and experience to care for the needs of older people.
In addition to meeting our stringent experience, reference and police check criteria, our Caregivers have to be gifted with a genuine regard for the needs of our Senior Citizens.
We care for you as if we were your Daughter.
Daughterly Care's Live in Caregivers
Our Live in Care team are the crème de la crème when it comes to providing quality in home care. They have a wealth of knowledge, experience and are truly passionate about delivering the best Elder care.
Wendy and Margaret are only a couple of our exceptional Live in Caregivers. Not only are they knowledgeable and have been long-standing Daughterly Care Caregivers, they have an invested interest in being qualified Care Workers. Experience combined with valuable training enables our Caregivers to be equipped with the right skills for exquisite care of elders.
Meet more Daughterly Care Caregivers below our service guarantee.
Service guarantee 
We take a lot of care matching our clients with the right Caregivers. If you are not delighted with the Caregiver we choose, we will provide a replacement and refund the cost of the service in full.
The ability to select exceptional Caregivers is a skill that comes over time and we have developed our expertise over 19 years. It's the ability to find mature people with valuable life experience, common sense, compassion, empathy, patience, emotional intelligence, the ability to relate to people from all walks of life with all manner of differing abilities, resilience and finally a positive outlook, energy and joy of living.
A quick review of the recent unprompted feedback from clients and their families as well as the results of our 2017 Client Survey is third party confirmation that Daughterly Care Caregivers really are exceptional.
An Approved Provider Co-Ordinator was praising one of our Caregivers and she said, "the client was really happy with Toni, she is just so you guys" I asked what that meant and she answered "so like a Daughter".
Meet more of our Caregivers: