How to Avoid the Nursing Home with Government Funding up to

$56,856.05

pa pp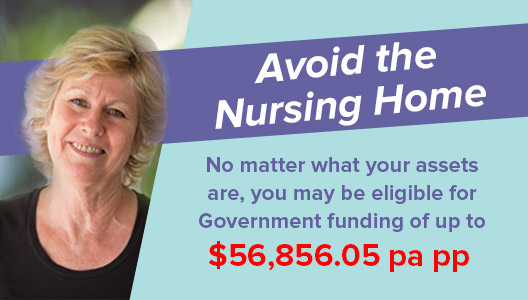 Daughterly Care's FREE In Home Care Information Sessions are held at Mosman and Narrabeen. Our seminar explains how Government Subsidised In Home Care Packages help you avoid the Nursing Home and stay at home for life.

Self-funded retirees are eligible regardless of income and assets.
The Government knows you want to stay in the comfort of your own home and they want to help you do just that.
Come along and learn about your 9 new rights under Consumer Directed Care reforms. Informed consumers are empowered consumers.
I want to personally invite you to attend my FREE Information Session.
I explain how the Government provides funding to help Elders avoid the Nursing Home and instead, stay at home for life…
… irrespective of your assets or income.
That's right, the In Home Care Government funding is care needs based, irrespective of your assets and income, self-funded Elders are entitled to a Home Care Package, just as Pensioners are.
Few people are aware of this fact, so come along and find out how the aged care system really works.
Most financial planners, accountants and even doctors don't know that there are 4 levels of Government Subsidised Home Care Packages, nor can they tell you how much Government Funding each package provides.
How do we know that?
Simple.
Kate Lambert asked them and they told her they didn't know. So Kate has started teaching financial planners who "specialise in Aged Care advice" about In Home Aged Care.
What will you learn at our valuable seminar?
1. The 4 levels of In Home Care Government funding.
2. An aged care industry insider's tips on how to apply for a Home Care Package and to be correctly assessed "Approved" versus "Assigned" and wait times explained.
3. How the Government funding works for self-funded Elders, part-pensioners and full pensioners.
4. Your 9 NEW RIGHTS as a Consumer under the Living Longer, Living Better reforms called Consumer Directed Care.
5. How you use your rights to negotiate better Aged Care solutions that enable you to stay at home for life and avoid the Nursing Home altogether.
6. I will also give you a copy of our 60 page Definitive Guide to Home Care Packages booklet.
Who will immediately benefit by attending this seminar?
Any Elder (or Enduring Power of Attorney or their Enduring Guardian) who:
is already approved for a HIGH CARE (3-4) Package and who has not been "assigned" a Level 3 or 4 Home Care Package.
already receives Government Funded In Home Care from an Approved Provider for a level 3 or 4 Package and you are

not happy with the quality of Caregivers or the number of hours of care per week the Government pays for;
has no ACAT [Aged Care Assessment Team] assessment and

you do not want to be placed into a Nursing Home

and would prefer to stay at home for life;
believes we all have to go to a Nursing Home "in the end".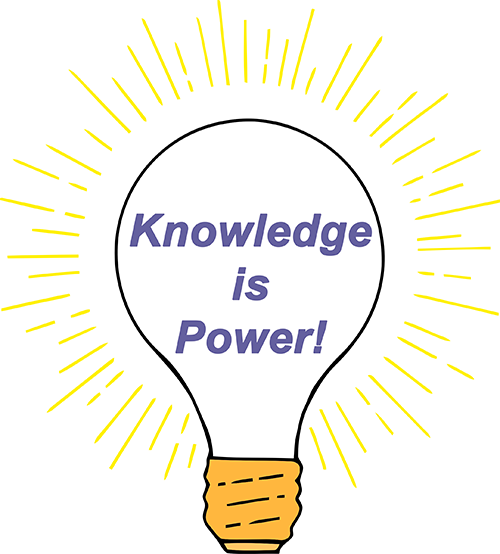 The son of a self-funded client emailed his siblings this:
"We should consider ourselves fortunate to have Daughterly Care looking after Mum, their CEO Kate Lambert has been tireless in championing the Home Care Package cause and informing us as to what is available."
He also emailed Daughterly Care:
"Thanks so much for your time today and of course, for your efforts that have resulted in Mum being offered a level 3 Home Care Package. I'm still gobsmacked that this has happened!"
Your carer Kathy was instrumental in introducing this concept to us and we are grateful for that. Had it not been for her perseverance we could have easily dismissed it as something that Mum would never have qualified for! I would be happy if you would acknowledge her effort in some way!
It is reassuring that we are able to continue using Daughterly Care as we are so happy with the service and friendship your ladies provide, Mum enjoys them all!
Thanks from us all"
Son of Northern Beaches Elder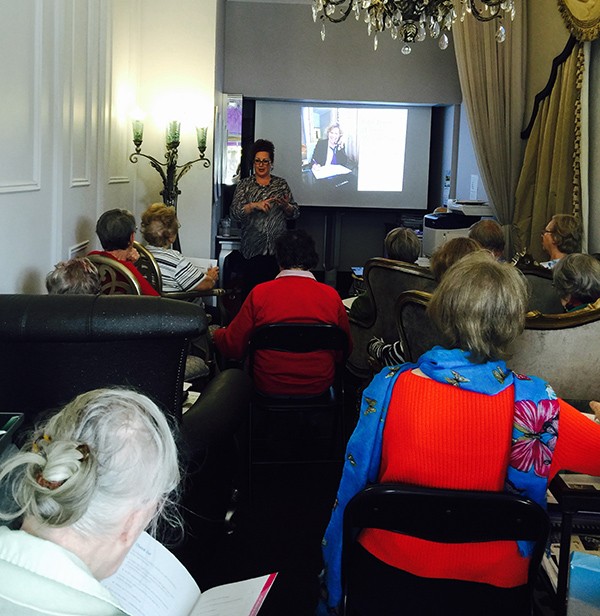 If you have been "approved" for a High Care, level 3 or 4 Government Subsidised Home Care Package but you haven't been "assigned" your Home Care Package yet, you absolutely MUST attend our Free Information Session. Knowledge is power!
We are passionate about enabling older adults to stay at home, living their way for life – but it doesn't happen unless you know HOW to MAKE it happen.
Don't go to a Nursing Home because you or your children / Guardian didn't know your options

All too often people wait until a health crisis hits before they enquire about In Home Care. Know your options before the crisis hits so you can be proactive and make a fully informed decision in advance. Come along and discover what In Home Care is and how this funding and the 9 new rights the Government has given to Elders so they can receive the support and care they deserve to remain at home, for life.
Seminar specific to Elders who are

Full and Part Pensioners:
Time: 10:00am to 12:00pm
Presenter: Kate Lambert
Where: Narrabeen Head Office
For Full and Part Pensioners
---
Seminar specific to

Self-Funded

Elders:
Thursday, 3 October 2019
Time: 10:00am to 12:00pm
Presenter: Kate Lambert
Where: Narrabeen Head Office
For Self Funded Elders
Call 02 9970 7333 to reserve your spot
Can't make our scheduled seminars? You can book a cost and obligation free meeting with Robin Bower at Daughterly Care's Mosman Aged Care Advice Centre or with one of our Aged Care Co-ordinators, High Care Case Managers or Registered Nurses at our Head office in Narrabeen. Email Robin directly on robinb@daughterlycare.com.au or give her a ring on (02) 9969 5954 to book a meeting, at a convenient time for you. Our Mosman Shop telephone diverts to our Narrabeen office when Robin is in a meeting or presenting a seminar.
Feedback from people who have attended…
1 August 2019
"Attending Kate's seminar made me realise I need a change in my attitude".
27 July 2019 Appreciative email from self-funded 90 and 95 year old couple:
"I missed the opportunity of thanking Kate for the most informative couple of hours. When we accepted your invitation we had no idea how helpful your talk would be and certainly no idea how to become part of the in home care System. We are both feeling more secure about our future (short though it may be) and your seminar has helped us to make the decision to approach Self-Funded aged care at home with the help of Daughterly Care and DVA."
16 May 2018 – Appreciative words from Mosman Elder: "It was lovely to hear everyone else's questions and the answers because they were my questions too".
"Robin's Information Session was first class.  I learnt an awful lot and realised I have more to learn. I talked to my neighbour and told her that she really needs to attend".
Frank, Narrabeen
"Thank you Robin, you have bought me out of the darkness into the light. "
– Patrick, Mosman
"Hi Robyn,
I just want to thank you SO much for yesterday's seminar. We have been struggling as a family with my mum's degenerating health for the past 5 years. I have never known that we could get any kind of help from the government. We were considering putting her in a Nursing Home as it is impossible for me to do all the caring on my own. She went into depression about the fact that we considered putting her in a home that she forces herself to do everything and refuses to bother me.
She has had 4 falls in the past month. The seminar yesterday gave me so much hope. I was starting to get a little depressed myself as I really cannot keep my job as well as look after Mum and we cannot afford private In Home Care at the moment without any government support!
What you are doing for the elderly is so amazing! Please do not stop informing people of their options, my GP didn't even tell me about any of the help I can get. They even suggested I go on anti-depressants myself.. What a joke!
You have helped my family SO much! Thank you to Daughterly Care for doing this. I wish you serviced the Bankstown area. I would request your services immediately!
I am getting an assessment done ASAP. You have changed our lives with the information you have provided.
May you continue to change the lives of the elderly and their carers!"
– Victoria (Works in Mosman. Mother lives in Bankstown.)
"Kate, this is the second time my husband and I have attended your seminar and we bought friends from the Eastern Suburbs with us this time.
When we came last year one of your tips was REALLY helpful in helping me gain a High Care ACAT Assessment and I know I wouldn't have gained that without your advice because I am very stoic and a proud person who under-plays my care needs. We have come back a second time to clarify what the next step is and once again you have given me really good sound advice that has made me realise I can't delay in getting a Home Care Package.
I am very reliant on my husband for 24 hour care and that's not fair nor sustainable on him. Recently I considered putting myself into a Nursing Home for respite so my husband can have a proper break from my care needs. I have decided that respite around the clock care in my own home would be far superior to going into a Nursing Home." Resident of Kirribilli, Sydney's Lower North Shore
"I didn't like the thought of sitting for one and half hours listening to someone but I wanted to know more about how I could stay at home as I age.  I was pleasantly surprised at how much I enjoyed Robin Bower's seminar. It was very informative and interesting." Pat of Mosman
"The presentation is extremely informative. I consider Kate a terrific interpreter of the In Home Care industry." Mosman retiree
"Hello Kate,
It was very generous of you to spend so much time with us to satisfy our queries. I am most grateful to you for this meeting. A very useful eye opener. I would like to thank you most sincerely for your generosity and goodwill for the benefit of consumers. Wishing you and your family the very best."
"I would definitely recommend anyone wanting to avoid a Nursing Home and stay at home instead attend. I learnt a lot." Mosman resident
Many thanks indeed for the very interesting and informative seminar. It has opened our eyes to many aspects of In Home Care and we will be giving the whole issue great thought. Thank you all and I hope, down the track, we will be able to use your services.
Kind regards,
Mr and Mrs M