Pay by the hour In Home Care services for the elderly
Our pay-by-the-hour In-Home Care service is a wonderful way to care for your loved one as it offers great flexibility to suit your loved one's changing needs.
Do you need In Home Care assistance to care for your loved one through the day while you are at work, or to give you a break?
Do you or your loved one need an In Home Care service in the morning to assist with toileting, showering and dressing or to ensure your loved one enjoys a healthy breakfast and takes their medication?
Do you need In Home Care during lunchtime? Our Caregivers can shop for food, cook a hot homemade, main meal for the day, offer medication reminders or assistance to go for a walk?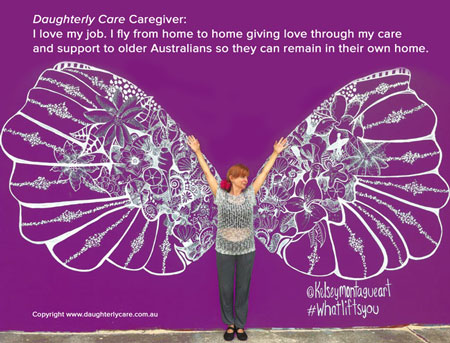 In addition to providing caring companionship for your loved one, we can provide services such as:
1. Home tasks (shopping, cleaning, washing and ironing),
2. Personal hygiene assistance (prompting and assistance with toileting, shower and dress),
3. Respite for the main carer,
4. Preparing delicious and nutritious home cooked meals – the way you or they like them, plus assisting with feeding when needed,
5. Drive and accompany to appointments,
6. Drive to outings, to social activities and, to visit family and friends,
7. Encourage passive and / or active exercises,
8. Palliative Care at home working with the Community Palliative Care Doctor and Registered Nurses,
Hourly In Home Care Caregivers provide assistance for short periods of time throughout the day. By providing a range of home care services, Daughterly Care supports our elderly clients and their families so they can enjoy their life at home and in their community.
Our pay by the hour In Home Care service has a minimum of two hours for each booking. Daughterly Care is flexible and can provide a wide range of re-enabling or enabling support and private care during that time.
Pay by the hour In Home Care is available on Sydney's North Shore and Northern Beaches.
If you or your Elder's care needs are more intense or complex, you may need around the clock care. Our Live in Care or 24 Hour care service is a wonderfully suited service, providing the Elder with assistance when they need.
At Daughterly Care, we are extremely proud of the quality of service and care our in-home carers provide. Each private carer has an excellent command of the English language, they are thoroughly trained in caring for older people and are Australian or a permanent resident. They are also reference and police checked, and go through our very stringent employment criteria.