1. What is a Consumer Directed Care (CDC) in Home Care Package?
A Home Care Package is Government funding to pay for in home care services for elderly Australians to enable them to stay at home for longer and delay moving into a nursing home prematurely, or at all. A Consumer Directed Care (CDC) Home Care Package is one where the consumer has the power to make decisions about care and support.
We all know the Government subsidises aged care in nursing homes but unfortunately a staggering number of elderly Australians and their families don't know that the Government also provides 4 levels of funding (see below for amounts), or Home Care Packages (HCP) to help elderly Australians pay for their home nursing support and care in their own home – this is called the Home Care Package program.
On the 27th of February 2017, the Government funding for each elder's Home Care Package became truly 'Consumer Directed Care (CDC)'  because elders and their family or Enduring Guardians now have the power to transfer their Government funding away from their Current Approved Provider who doesn't listen and doesn't provide good service at fair value or enough hours of in home care and support, and transfer to a New Breed of Approved Provider who does… like Daughterly Care Community Services.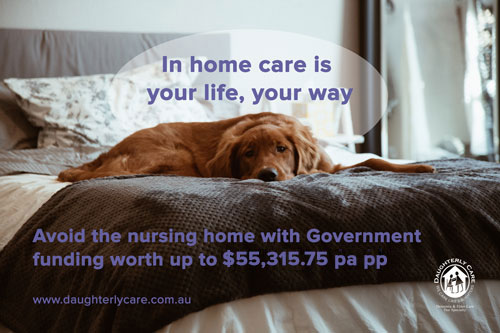 There are 4 levels of Government subsidised Consumer Directed Care (CDC) Home Care Packages. 
(Valid from 1 July 2018 to 30 June 2019)
| | | | |
| --- | --- | --- | --- |
| Consumer Directed Care Package | Home Care Package Per annum  p/person | 10% Supplement* Per annum p/person | Total Govt. Subsidy Per annum p/person |
| Level 1 | $8,270.90 | $828.55 | $9,099.45 |
| Level 2 | $15,045.30 | $1,503.80 | $16,549.10 |
| Level 3 | $33,076.30 | $3,306.90 | $36,383.20 |
| Level 4 | $50,286.05 | $5,029.70 | $55,315.75 |
*A 10% pa supplement is payable for the following conditions:
1. Cognition supplement or
2. Veterans' mental health supplement
3. Oxygen supplement
4. Enteral Feeding supplement.
There are also Viability and Hardship supplements.
Am I eligible for a Government subsidised Home Care Package?
Eligibility for a Government subsidised Home Care Package (HCP) is determined by your in home care needs which are assessed by your local Aged Care Assessment Team (commonly known as ACAT).
ACAT operate out of your local public hospital. They visit your loved one and assess their in home care needs within their home and decide which of the 4 levels of Home Care Package they should receive and what priority they will have on the waiting list called the National Queue, managed by My Aged Care.
How could your quality of life be improved by the Government making up to $55,315.75 per person, per annum available for your in home aged care?
You don't need to read the FULL-Government-Guidelines-for-In-Home_care_packages_guidelines_2014 issued by the Australian Government, Department of Social Services under 3.1 under eligibility criteria. Here is an excerpt:
'for a person to be eligible for a Home Care Package, the person must:
be assessed as having needs that can only be met by a co-ordinated Home Care Package of home nursing services;
be assessed as requiring a low level of home care (for home care levels 1 or 2) or a high level of home care (for home care levels 3 or 4);
have

expressed a preference to live at home

(includes as a resident in independent living and assisted living (hostel) in a retirement village);
be able to remain living at home with the support of a Home Care Package;
for a person who is not an aged person – have no other care facilities or care services more appropriate to meet the person's needs.'
Are self-funded elders eligible for a Government funded Home Care Package?
Yes, they are.
Home Care Packages are a universal health care benefit available to all elders whose care needs require the need for co-ordinated assistance. The evidence is that when in home care is professional and of a good quality then in home care:
✓ prevents hospitalisations by getting health issues sorted earlier by your caregiver observing changes and taking you to the doctors proactively;
✓ delays nursing home placement (often for years);
✓ it can help many elders avoid the nursing home altogether;
✓ retain their family and social connections;
✓ assist elders to maximise their health, well and independence for as long as possible; and
✓ enable more joy living (which reduces depression rates).
There is specific financial information for self-funded elders in our section "what are the costs of a Home Care Package".
Who gets priority access to a Government subsidised Consumer Directed Care (CDC) Home Care Package?
From the 27th of February 2017, the ACAT (Aged Care Assessment Team) decides the priority allocation of Home Care Packages (HCPs). Elders on the National Queue do not necessarily access a Home Care Package purely on a "first come, first served" basis, though notice is taken as to how long an elder has been waiting for their Home Care Package.
Under the Aged Care Act 1997, elders who identify with or belong to one or more of the following 9 groups receive priority allocation of a Government funded Home Care Package because the evidence demonstrates they have special needs:
Aboriginal and Torres Strait Islander communities;
non-English speaking (culturally and linguistically diverse [CALD]) backgrounds;
live in rural or remote areas;
who are financially or socially disadvantaged;
who are veterans, including the spouse, widow or widower of a veteran;
homeless, or at risk of becoming homeless;
parents separated from their children by forced adoption or removal;
There are other factors that affect your priority status such as age, existence of support or care already in place and ability to cope.
What can a Government subsidised Home Care Package pay for?
Here is a list from the Government's Home Care Package Guidelines of the type of home nursing assistance, support and care a Government funded Consumer Directed Care Home Care Package can and can't pay for.
Click here to discover what Rogue Approved Providers don't want you to know… What is Consumer Directed Care (CDC)?