At our Mosman Aged Care Advice Centre we look forward to being of service. (Please note: Our Head Office is our Narrabeen office).
Extended conversations / advice is available by appointment at Mosman
If 'passing by' please feel free to 'pop in' and ask any question about Mosman aged care, such as:
My relative is in hospital & they want to come home – what do I need to know?
How to talk to your parent about putting in home care help in place
How does in home aged care work?
What is the difference between private care and Government funded in home care?
What equipment can make it easier to stay at home?
How to avoid a nursing home
Advice if you or your loved one has been newly diagnosed with a dementia.
I'm going on holidays, can you visit my parent while I'm away and do what I normally do?
If you would like to have an extended or private conversation please make a booking and we can shut the front door and pull the curtains so that we can talk privately without interruption.
Mosman Telephone: (02) 9969 5954
Mosman Open Hours:
Tuesday to Friday 9.30am – 4.30pm
Please note our Head office number (02) 9970 7333 at Narrabeen is answered from 7.30am to 6pm and after hours our number diverts to our High Care Case Manager who listens to your message as soon as you leave it, so leave a detailed message and we will get straight back to you. We welcome enquiries from new clients after hours, just leave a message and we will call you straight back.

  Email: claireg@daughterlycare.com.au
Mosman Address:  Shop 3, 836 Military Rd, Mosman NSW 2088
Opposite Belmont Road and Westpac Bank.
On street parking is available in Raglan Street, Muston Street or Belmont Rd and behind or under Mosman RSL.
Postal Address: PO Box 670, Narrabeen NSW 2101
Catching the bus? These buses stop right outside our Mosman shop.
230         Milsons Point to Mosman Wharf
236         Spit Junction to Musgrave St Wharf
244         City to Chowder Bay
245         Balmoral to City
247         City to Taronga
257         Chatswood to Balmoral Beach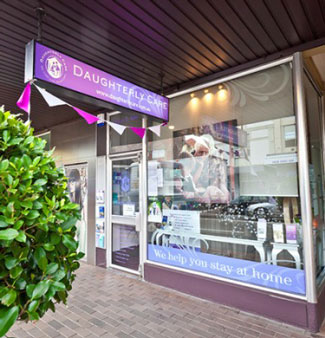 Narrabeen is our head office where all rostering is done and Case Managers and Co-Ordinators work.