Live in Care for Couples Keeps the Life-Long Love Alive
Live-in care for couples ensures that loving, long-time partners can continue to enjoy a full life together in their own homes, supported by family, friends, their local community and existing GP and specialist doctors who know them well.
With our in home care services, whether it be 2 hours a day or 24 hour live in care, the deep bond of love between couples continues unbroken, as we enable loving couples to remain in charge of their life and live happily, their way, in their home, together.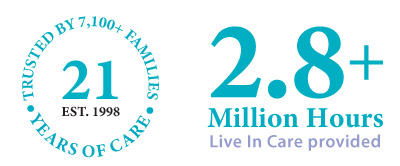 Daughterly Care has provided over 2.8+ million hours

 

of Live in Care over the last 21 years, which means we are the experts in Live in Care
At Daughterly Care, we don't just care for Elders; we care about them.
We are passionate about guiding Elders to be healthy, active and emotionally fulfilled as humanly possible.
We understand that after 50, 60 or 70 years of loving each other, it is a luxury to continue staying together and be loving as well as caring for each other for all your days, until death do us part. To achieve this goal, we've put together a very special team of live in carers and private Registered Nurses selected for their maturity and warmth as much as for their professional excellence.
Whatever our Live in Carers can do to increase the joy for your Loved Ones' experience in their daily living, they very willing to assist. And they do it joyfully because that is our commitment.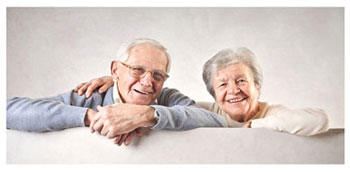 Standard practice for most aged care services dictates that, when one or the other of the elder contracts a sickness or injury, or develops an on-going condition such as Parkinson's disease, Multiple Sclerosis (MS), Motor Neuron Disease or dementia i.e. lewy body, vascular, frontotemporal or Alzheimer's disease, the person is removed to a Nursing Home.
The resulting forced separation is often permanent and always traumatic. This is something Daughterly Care does everything possible to avoid.
With over 21 years' experience providing livein care, Daughterly Care carries out a comprehensive client assessment and with you, we co-design an In Home Care Plan to meet your specific needs. We can use your Government Subsidised Home Care Package to pay for part of the inhome care.
If an Elder's medical condition requires more specialised care, we do not hesitate to call on our experienced private Registered Nurses, your Doctors or recommend hospitalisation. In the majority of cases, however our Live-in care for couples is not just a better alternative to a Nursing Home, it is far and away the best available solution for loving couples.
Our Live in Care for couples provides:
Personal care and medical assistance, as well as help with domestic chores, such as preparing meals, cleaning and vacuuming and collecting prescriptions from the pharmacy;
Help with feeding and personal hygiene as required (no ringing the bell and waiting for an hour to have someone help you to the toilet);
Specialised enabling elder care programs that can draw on the abilities and support the deficits of Elders living with dementia;
Genuine companionship and emotional support
Continuity in live in carer allocation to maximise the benefits of a long-term, personal relationship with individual clients
Minimal disruption to the couple's lifestyle and routine, including round-the-clock welcoming of family and friends
Daughterly Care's flexible and tailored 24 hour Live in home Care services are designed to accommodate a range of conditions and a wide variety of needs. Services include:
What our clients say:
"Without Daughterly Care, my parents would not have been able to stay in their own home. I would highly recommend Daughterly Care and my family are very grateful for their assistance." – Accountant daughter of a Live in Care client in Bellevue Hill [See full reference on this page]
"Gwyneth [Daughterly Care live in carer] always ensured that the house remained Sue and Bob's home – using the things they liked, in a way they enjoyed! She even made sure the planter boxes got replanted with flowers for a very garden-proud Bob." – Mrs B., North Balgowlah
There is every reason why you or the person you love should expect to receive genuine, dedicated, fully-professional live in, home nursing care.
Experience the joy of Daughterly Care's live in care for couples today. Ring us on (02) 9970 7333 to book a free consultation.
How people use Live in Care: