Free Private In Home Aged Care Consultation
Worrying about what type of in home aged care you need to arrange for your loved one?
Wondering if your loved one really needs to go to a nursing home when they don't want to, but they are being told they need to?
Wondering if your loved one really can stay at home when the doctor said "your Dad is high care and has to go to a nursing home"?
We make it easy for you …
Daughterly Care is a leading premium private care provider of in home aged care services. You've only got to quickly look around our website to realise:
Take a look around our website to see what type of in home care services we offer. Plus, read what our in home care clients and health professionals say about us. Then give us a call on 02 9970 7333.
Step 2 – Arrange a no cost, obligation free, in home consultation
One of our Private Nurses or highly experienced 24hr Live in Care Case Managers will visit you to explain how we can provide the home care services you need.
During your free confidential consultation we can discuss:
Your individual care needs, lifestyle aspirations and care goals;
The options available to you;
Government funding options to reduce your ongoing costs;
Our full range of in home care services;
Our references and experience; plus
Any other questions you may have, no matter how big or small.
Step 3 – Put us in your circle of care team
We don't require an ACAT assessment so once you put us in your 'Circle of Care™', we write a bespoke care plan tailored to your individual care needs and match you with the most suitable Hourly Caregiver or Live in Carer or 24hr Private Nurse to provide your service.
There are many types of private in home aged care services available and Government funding issues to consider.
Don't let yourself or your loved one worry about care options.
During our visit we'll explain how our role can be:
proactively case managing your care requirements; or
you and your family can case manage your care, in which case we are just part of your care team.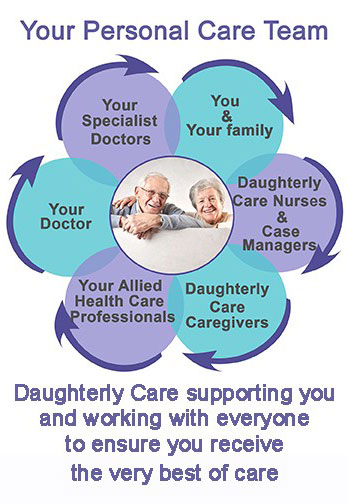 Exercise your rights
Now, thanks to the power of Consumer Directed Care, you have the right, to request Daughterly Care provide your Government Subsidised in home care services. If you have High Care needs, our Live in Care service (charged on a daily rate rather than by the hour) is often better quality care and a better value solution as your Government subsidised Home Care Package pays for a portion of the care.
We offer a full suite of private in home care services, which means our clients never need to go to a nursing home.
That means we are able to provide the type of private aged care you want, when you want it,  from the type of Pay by the hour Caregiver or 24 hour Private Nurse you prefer.
Give us a ring on (02) 9970 7333 
We care like Daughters.
"Thank you again for your amazing care of our Aunty for so, so many years. What would we have done without your angelic ladies? Knowing that Aunty's week was divided into little interludes of chatter, outings and eating treats helped ease the pain for not only Aunty but also Chris and I.
Thanks to all the Daughterly Care team for the loving waves of kindness, dependability, laughter, jokes and fun that were bestowed on your twice weekly visits to our Aunty. "
– Carolyn