Frailty and Decreased Mobility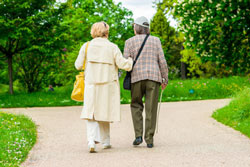 Frailty is something that most people who live to old age will probably face. Frailty can strongly affect a person's quality of life as well as how long they will live. Although, there is no specific definition of frailty, gerontologists (doctors who specialise in the elderly) have put together 5 common factors and suggest that if someone has three or more than five factors, then that person should be considered frail. These factors are:
Unintentional weight loss (10 pounds or more in a year);
General feeling of exhaustion;
Weakness (as measured by grip strength);
Low levels of physical activity.
Frailty is not considered to be a disease, but there is no question that certain diseases and medical problems play a large role in it. These include:
Anorexia, or loss of appetite;
loss of body mass (Sarcopenia);
Immobility or decreased physical activity;
Atherosclerosis (clogging of the arteries);
Anorexia, or loss of appetite
Elders often develop anorexia or loss of appetite as a natural part of the aging process. Add this to eating problems caused by certain diseases and the result is chronic undernutrition and, eventually, fatigue, weakness and cachexia (general wasting away).
Immobility
Immobility can be caused by illnesses such as arthritis, which decreases the ability to move a joint, by pain or breathlessness. Illness can also cause fatigue. Osteoporosis can set the stage for hip fracture which initiates a cycle of immobility whose endpoint is frailty.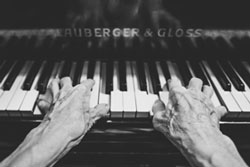 Atherosclerosis
Atherosclerosis, or clogging of the arteries, produces frailty as less oxygen reaches the tissues and organs. Clogging of the arteries can also cause small strokes, which in turn can lead to cognitive impairment (problems with thinking and piecing information together).  In the legs, vascular disease caused by atherosclerosis can result in nutrient deprivation of the muscles, slowed walking speed and ultimately, sarcopenia.
Balance Impairment
Balance deteriorates naturally over a person's lifetime. Decreased balance can initiate a vicious cycle in which accidental falls lead to a fear of falling, therefore leading to a decreased in mobility. The good news is that studies have shown that regular strength and balance exercise can reverse the cycle, and help restore balance, confidence and improve mobility.
The Daughterly Care Joyful Living Approach™
Getting older does not have to mean loss of independence, mobility, or a major change in lifestyle. At Daughterly Care our home nursing support, services any condition that is impacting your ability to live well.
A comprehensive assessment will often identify areas where some extra support could really make a difference. For example, ensuring eye and dental visits are up to date, putting a management plan in place to reduce the risk of falls without compromising independence, making sure medication is administered exactly as prescribed, and help with choosing the correct mobility devices.
Our professional Pay by the hour Caregivers or Live in Carers complete our comprehensive training program (some examples listed below) to ensure they have the expertise to deliver high quality care to those whose independence is impacted by old age.
Mobility issues and Falls Prevention
At Daughterly Care, we support our clients with private nursing care at home. Our Pay by the hour Caregivers and Live in Carers, and clients are supported by a team of 24hr Private Nurses who are available for advice and to assist with more complex clinical care if needed.
We adopt a holistic approach to care and develop our care plans to suit individual care needs. Care plans can be adapted or changed (in consultation with the private care client) at any stage of the service. Daughterly Care provides Pay by the hour services, respite services, 24 hour care, overnight care and Live in Care.