In Home Care enables joyful living
Nurse Verlie and I started Daughterly Care 21 years ago because we knew that in home care enables more joyful living in your own home and now there is Australian evidence based research that shows in home care enables you to stay out of the Nursing Home for longer. One of the ways we assist our Elders living in their own home to get out into nature and live more joyfully is to take them on an adventure ride around Narrabeen Lagoon, with their family member or their Daughterly Care Caregiver on our Joyful Living Trio-Bike Adventure.
As seen on Old People's Homes for 4 Year Olds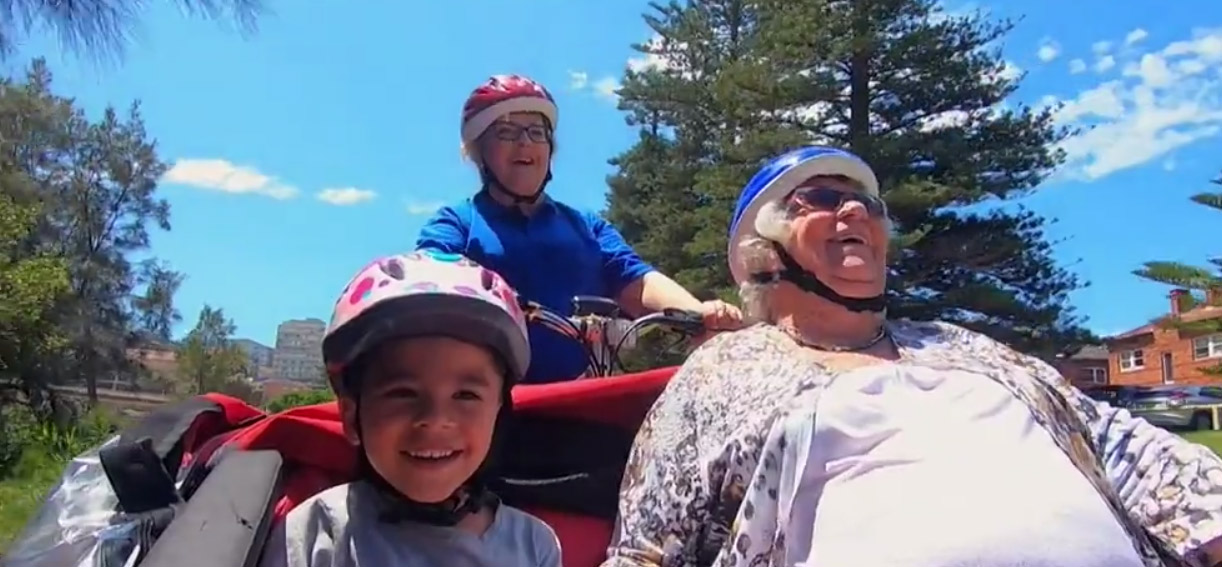 As part of our Charity work Daughterly Care's CEO, Kate Lambert, spent a day riding the Elders and their 4-year-old friends on our Joyful Living Trio-Bike along Manly Lagoon in the ABC's show Old People's Home for 4 Year Olds. If you have been watching the series you can see Kate in episode 4 airing live on ABC, Tuesday 17/9/2019 at 8:30pm or on ABC iview.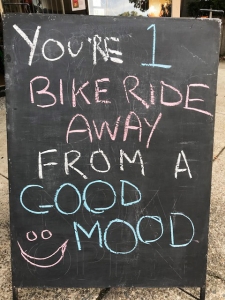 It's a couch on wheels
Our Joyful Living Trio-Bike carries three people i.e. yourself and your Carergiver, friend or family member sitting at the front on the very comfortable 2-seater 'couch on wheels', with one of our team peddling at the back. We safely peddle you with the assistance of the most powerful mid drive system motor on the market that you can't hear.
You're one bike ride away from a good mood!
Just imagine breathing the fresh air and the breeze blowing gently on your face and hair. You're taking in the serene views of Narrabeen Lagoon, listening to and viewing all the birdlife – you can hear the Whip Birds calling and see the Black Swans feeding with their life-long partner. You can smell the amazing diversity of trees and the undergrowth home to native animals.  "I have even had a Wallaby jump across the track on one of my rides" said Kate.
Best of all, are the many smiles and waves hello from the dog walkers.  Often they like to stop us for a chat.  All the walkers love to see older people outside having fun!
Our Joyful Living Lagoon Adventure is especially good for older people who have poor mobility
Older people with poor mobility find it difficult to get into nature.  This is our way of assisting them to spend quality time in nature where they can enjoy the natural beauty of Sydney's coast on the Northern Beaches.  "It's uplifting because you feel part of the natural world.  You're part of life." says Kate.  "We have noticed that clients talk more easily during and after the ride and we believe the changing scenery stimulates their brain" said Kate.
Nature heals
Research shows that a 15 minute bike ride each week is beneficial for people who are living with depression.  Older people often struggle to accept massive losses. Spending time in nature, riding a bike, especially when it involves water views and a breeze in your hair, lifts our spirits and in turn can improve our health, appetite and general well-being.
Sun, Safety and Sense-ability!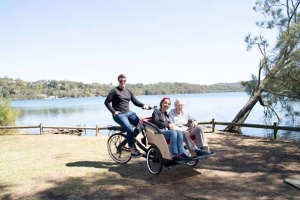 Once you're seated, safety is key so there is a seat belt for each passenger. It also has a retractable hood for windy, rainy or super sunny weather, with windows which ensure a superb all-round view. And just to top it off, there's a warm, waterproof blanket plus a handy storage unit for your valuables.
You're invited
If this sounds like an experience you would like to have, these rides are available on weekdays from our Sydney Head Office at Narrabeen for Daughterly Care clients.  There is no cost for the ride if your family accompany you, otherwise it's just included as part of your booked service with a Daughterly Care Caregiver, who will bring you to the office and ride with you in the front.
Upcoming school holidays make it possible for grandchildren or great grandchildren to ride with their Grand or great Grandparent!
Please call Daughterly Care on 02 9970 7333 to book a ride, alternatively ask your Caregiver to ring from your home to book a time that suits you.
We look forward to taking you on our Joyful Living Trio-Bike Adventure.
Kate Lambert
B.Ec F.Fin
Daughterly Care CEO & Co-Founder