Mosman Home Care
Most elders choose Daughterly Care as their Mosman home care provider because we are known as the best in home care provider throughout Mosman for 5 reasons:
1. We're Local
The advantage of being local is that if a Mosman elder has a sudden and urgent requirement for our home care services chances are we have a home care worker we can divert to you quickly or we can shut our Mosman shop and be with you in just 10 minutes.
Whilst our Head Office is located in Narrabeen on Sydney's Northern Beaches, our Mosman Aged Care Advice Centre is opposite Westpac Bank on the corner of Belmont Rd and Military Rd and next door to the French Patisserie.
We are very much part of the Mosman community, which has earned us Gold Member status with the Mosman Chamber of Commerce.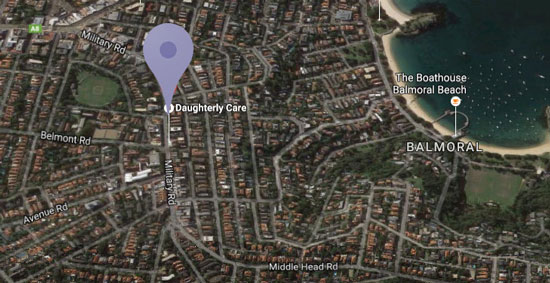 2. We're Premium Quality
The reason that we are the best home care provider in Mosman is that we provide quality Hourly Caregivers and Live in Carers. We are very particular on who we employ. It's difficult to gain employment with Daughterly Care because we recruit only the best Caregivers. To gain employment with us, our Caregivers must be highy experienced, professionally trained, mature and the type of mature women you can relate to, trust and communicate well with.  You'll enjoy their company and that's what you want….to look forward to your in home Caregiver coming to visit, support, enable, re-enable and care for you.
3. We're Proven
Daughterly Care has provided home care services to Mosman elders for 21 years.  We are not newcomers, we're proven providers of high quality home care services in Mosman and the surrounding suburbs on the lower North Shore in Sydney for almost 2 decades.
4. We're Highly Recommended
Don't want to take our word that Daughterly Care is the best Mosman home care provider.  Read the feedback that Mosman clients have given us about our service. Read the results of our private care client survey.
5. We're Discreet
We understand Mosman elders don't want to walk down Military road or along Balmoral Beach with a in home aged care worker in a branded uniform.
Read 14 reasons why elders choose Daughterly Care as their Mosman home care provider.  The businessman mentioned at the top of that page is a Mosman resident.  We look forward to re-enabling, enabling, supporting or caring for you.
Daughterly Care is number 1 for Mosman home care support.