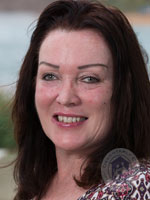 Some of the Completed Training:
Certificate of Achievement in Nursing/Midwifery Staff Hand Hygiene Online Learning (2016), Hand Hygiene Australia
Certificate of Completion Module 2: Planning and Assessment in Palliative Care (2015), Silver Chain Training
Certificate of Completion Module 3: Providing Care to Clients and Carers in Palliative Care (2015), Silver Chain Training
Certificate of Completion Module 4: Delivering a Palliative Approach for Aged Care in the Community Setting (2015), Silver Chain Training
Certificate of Completion in Lifestyle Integrated Functional Exercise "LiFE" Program to Prevent Falls (2015), Daughterly Care
Certificate of Completion in Lesbian, Gay, Bisexual, Transgender and Intersex (LGBTI) Aged Care (2015), ACON
Jenny has been a Daughterly Care Registered Nurse for 4 years
What our clients say about Jenny
16 July 2018 – Compliments from prospective client's son
He commended Jenny on her great personal skills and explanations of how inhome care works. He said, the family where very impressed and would definitely have taken up our services if his mother did not pass away.
6 November 2015 – A call of appreciation for care provided to client in Woollahra in Sydney's Eastern suburbs.
"Jenny, [Daughterly Care's Registered Nurse Case Manager] I just want you to know I am more than thrilled with your company".  She said "the communication/support from management, the girls, the professionalism all around is second to none". She said both ladies (Jenny and Penny) had only been there a week and picked up marks which are potential pressure sores on her Mum's bottom. They then put a cover over the area and suggested an air flow mattress.
Mrs W of Woollahra is 99.
10 October 2015 – An appreciative email for a quality care plan
Dear Jamie-Lee,
Thanks for the service schedule and for the excellent notes that Jenny wrote. I was delighted to see how many of the small but essential points Jenny has noted! Mum is very happy with her.
Kind regards,
Daughter M of a client at Woollahra on Sydney's Eastern suburbs
13 July 2015 
Hi Jamie-Lee,
I must tell you that it was a pleasure meeting Jenny on Saturday. I am very happy that she and Fairy are caring for Mum when I can't be there. Mum had a wonderful day and was very happy on her birthday. Needless to say, it was a big day for her and when I took her back up to her room after everyone had gone, I laid her on her bed and she promptly fell asleep with a smile on her face.
God bless you all,
J
Jenny's comments
I came from the hospital/ward environment, where I felt rushed and overworked. I just love the freedom of working with the elderly on a one to one basis and spending time really getting to know them. I love the little stories, hearing about the past and most of all, doing all I can to help them stay at home.
I love working for a company whose first and foremost priority is Aged Care and helping the elderly stay out of "the nursing home". The staff at Daughterly Care are all committed to quality Aged Care and work as one team, to provide the best holistic service possible.
As with any other Registered Nurse, my job is very busy and requires a lot of physical and mental stamina. As a consequence, in my free time I like to relax and unwind.
Interests
My hobbies include: reading, going for nice long walks, movies, knitting (in winter) and spending time with my family.