Private Care for Elders in their own Sydney home
Do you live a long distance away from your parent who needs support, assistance and care? Over the last 21 years, 82% of the private care we have provided to Elders living in their own Sydney homes has been high care or complex care.  It's good to know that fact especially if you live a long distance away from your parent who needs support, assistance and care.
Perhaps you are living in the country, interstate or overseas, and you're worried about how you can best support your dearly loved parent or elderly relative, when neither party wants to move.
Relax. Long distance Private In Home Care isn't an issue when the solution is as simple as a single phone call to Daughterly Care.
Our In Home Aged Care services are everything you'll ever need and better than anything you could reasonably expect. We take your Loved One's personal health and lifestyle requirements and shape these into an individualised care plan. We keep you informed of our activities and your Elder's progress every step of the way, with regular progress notes after each service.
We're not only caring, clinical and highly professional; we're also joyful. In fact, our Joyful Living Approach™ is the heart and soul of everything we do.
What makes us an exceptional private in home Care Service for Elders?
Our highly experienced Care managers and Co-ordinators provide regular updates to keep you feeling like you're close by, via Face-Time, Skype and Progress Notes sent to your inbox.
We employ Caregivers rated the best in the business, and who are supported by trained nurses who manage all medical requirements.
A stringent client-Caregiver matching process, backed by a guarantee to replace any Caregiver you are not delighted with and a refund of the cost of the service in full.
The combination of Registered Nurses plus Caregivers results in less hospitalisations and better health care.
What do our Clients say about us? The 2016 client survey evidence is in:
The 97%* of clients rated our services as either exceptional or exceeded their expectations.
100%* of clients would recommend us as a company that provides an exceptional level of Aged Care.
99%* of clients strongly agree, or agree, we have quality Caregivers.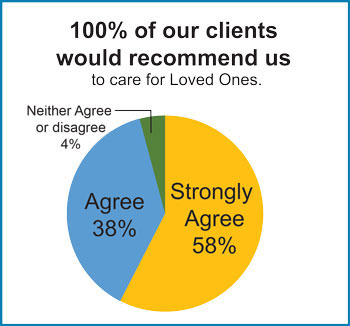 What Value do we Add to the Quality Care we Provide?
Daughterly Care's full range of In Home Care services comes with no hidden fees, complicated fee structures or lock in contracts.
We attract and retain clients by being open and transparent and providing exceptional service for good value. Healthcare professionals, such as Doctors, Nurses and Social Workers, frequently recommend us.
We'll guide you through the whole process of understanding and applying for a Government Funded Package; and when you get it, we'll help you negotiate a reasonable fee and 100% of what the Approved Provider pays Daughterly Care we deduct from your private care invoice.
If you want your elderly parents to receive the quality of care they would receive from you, then call Daughterly Care. We do everything we can to make life easier and more joyful for all concerned. We care like daughters. Call Daughterly Care today on (02) 9970 7333.
Carmen is a GP in rural NSW but her mother lived on Sydney's North Shore. After Daughterly Care cared for her mother for almost five years, we received the following letter:
"To all the Daughterly Care Office and Caregiver Team
Thank you for your professional efficiency, caring attitude and attention to detail when providing In Home Care for Mum for nearly 5 years.
It was a relief to know Mum was so well looked after and was therefore able to stay at home much healthier, happier than she had previously been for years. Your Case Management was outstanding and nothing that I asked for was ever too much trouble.
Mum has moved into a more placid stage of her Dementia now, possibly more accepting of the changes that are occurring than she would have been before. If you ever need a reference for your In Home Care services, I would be happy to provide it. Please all take care. You are wonderful people!
All the best
Dr Carmen (name provided)"