What does a Live in Carer do?
Page 3 of 11
A Live in Carer re-enables, enables, supports and cares for Elders so that they can continue to live joyfully in their comfortable and familiar home. Each private care client is unique therefore, our Live In Carer's role is different with each Live in Care client. Our role can even change from day to day, and week to week. This is the great advantage of live in care – it's one-on-one personal private care, completely tailored to your in home care needs and preferences.

Daughterly Care has provided over 2.8+ million hours

 

of Live in Care over the last 22 years, which means we are the experts in Live in Care
A Live in Carer provides one-on-one individualised person-centred, relationship-based aged care in your own home. Our Live in Carer attends to a multitude of helpful duties to improve your quality of life. We can:
Assist with your personal care and activities of daily life.
Encourage and guide you through exercises set by your Physio or Occupational Therapist to improve your strength and balance;
Make appointments, transport and accompany you to medical appointments. Be a note taker and relay information to family or Enduring Guardian and seek their direction.
Shop – either with or for you.
Transport and accompany you to appointments and social gatherings with friends and family. (Once at your destination we can step out of the room to give you private time together).
Transport and accompany you to social gatherings that keep you connected with your community and life outside your home such as The Joyful Singers, Art Gallery Visits, Club Connect or any club or group you belong to.
Observe closely and identify when the elderly client's medical condition changes (e.g. pain, infections).
Prepare delicious, nutritious home cooked meals. Good nutrition improves health and healing.
Prepare regular drinks to ensure hydration. Elders who are not hydrated have increased falls, infections and confusion.
Prompt and/or supervise medication to ensure a speedy recovery and optimal health. Collect scripts and take blood sugar levels.
Provide quality socialisation and companionship to enhance overall quality of life.
Be a personal assistant.
Provide light housekeeping, to keep your home running smoothly.
Be a travel companion; and
Provide palliative and end of life care.
Our Live in Carers are highly experienced, well trained, compassionate Live in Carers and 24 hour Private Nurses.
They usually provide the palliative and end of life care for our elderly clients, which is perfect because having built up a deep relationship with the private care client they are very attentive to the needs of the elderly client and really do care.
Additionally, our Live in Carers have been police, reference and background checked for your peace of mind and security. We maintain a rigorous employment process to make sure only the best are chosen to work for Daughterly Care.
More importantly, the vast majority of our Live in Caregivers have over 10 years' experience caring for older people and take great pride in drawing on their wealth of experience to assist our clients.
We are very proud  of our Live in Carers. Most have been working as Live in Carers for Daughterly Care for many years. Due to this fact their capabilities and personalities are well-known to us, therefore we are able to match the right  Live in Carers to our client's personality and aged care needs. Our experienced Live in Carers are supported by High Care Case Managers and our team of private Registered Nurses.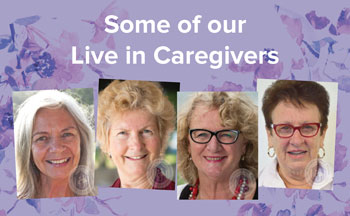 Live in Care provides the best care and quality of life possible
For most people, life starts and ends with family. Whether it's the family you were born into or the family you have chosen to share your life with. At Daughterly Care, we care like Daughters.
Often our Live in Care is an ongoing role with our support enabling years of quality joyful living. In this case our Live in Carers normally care for our private care clients right through the palliative care stage. We are there for you…. for life!
Dear Kate,
I wanted to write and say just how much I enjoyed The Joyful Singers, Wednesday morning.
Every few weeks I spend a few days with my dear friend Betty and was so happy that I was able to come.  It was wonderful to see the smiles on everyone's faces and for me I certainly shed a few tears with a few of those wonderful old chestnuts! And to hear everyone singing and even dancing!
For Betty it was particularly moving as I could hear her singing and for a short while afterwards she was able to speak.
The effort that you and your girls put into looking after dear people who have succumbed to sometimes horrid afflictions in old age is wonderful to see and your Live in Carer, Wendy, is no exception.  She anticipates constantly Betty's every movement and works so hard to improve her life.  Betty is as game as Ned Kelly, so it is not always easy.
I have been to a number of gatherings initiated by your company and just wanted to say thank you and well done !
Best wishes, Jan
Rushcutters Bay, 2011
NSW  Australia.
3 September 2015 – Appreciative Phone Call from a Live in Care client who just used our Live in Care respite service to care for his wife while he took a 10 day break
+++
I just had a call from a Live-in Care client's husband. He rang to say that both our Live in Carers, Judith and Wendy were wonderful with his wife Patricia and he was very happy with the service and attention provided by Daughterly Care and the house was IMMACULATE!
+++
Our Live in Carers did tasks he has not had the time to do. Mr B has used Daughterly Care twice now for short term live in care, while he has taken a holiday and has been very happy.
+++
Lynda Sharwood
High Care Case Manager

Read on 4. Who uses Live in Care?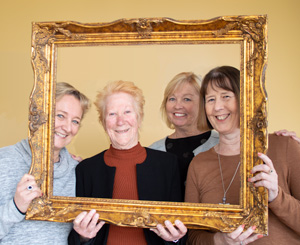 How people use Live in Care: