Trial our 24 hour Live in Care
Page 9 of 11
Sometimes the best aged care decision you can make is to test the options by trialling our 24 hour Live in Care service, after all it is a more positive, hope-filled choice and least disruptive. It requires the smallest change of the two options being faced; return home with enabling care or move to a nursing home.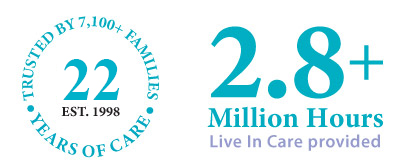 It's common to receive conflicting messages…the doctor is saying "your parent is high care he/she has to go to a nursing home". Yet Daughterly Care's High Care Case Manager has assessed your parent and is saying "your parent can return home with 24 hour live in care".  Who is right?  At the tipping point of needing around the clock care, why 'up end' their life when you know your parent doesn't want to go to the nursing home. Let's give Live in Care a trial.
Choosing the best form of aged care is a big decision and you really want to get it right. The further away you live from your loved one the more you worry. Why not trial Daughterly Care's Live in Care and see how it works for the entire family.
Taking a trial gives you options and time to make an informed decision. You cover-off your short-term care needs and it also buys you time to see if your parent can be re-enabled and you don't have to make a decision you are likely to regret later.
With Daughterly Care's Trial Live in Care, you have the chance to assess for yourself whether in home care is a good fit for all concerned. Some clients actually find that the high quality service our Caregivers provide improves the health of their loved one which then means they can cut back from Live in Care to just a few hours of at home care, during the day.
Daughterly Care's Trial Live in Care service is a great alternative to a nursing home because:
it's easy to arrange and comes with no lock-in contract;
it's competitively priced and there's no nursing-home bond to pay;
it offers a genuine long-term solution for Elders who prefer in home care to the institutional alternative; and
our highly trained Caregivers will guide you through a time of life that can be frightening and unsettling.
Call Daughterly Care today to arrange a trial Live in Care service – Ring us on (02) 9970 7333
What our clients say:
"From the moment Eleanor [Caregiver] walked in the front door she made a great impression. She was well dressed and had a happy bright face. I really want to thank her for treating my mother with great respect and dignity. The family appreciated her updates on how Mum was during the day, and all the details she wrote in the communication book. You are a treasure, Eleanor; please accept our heartfelt thanks."
Mrs C (who lives in Willoughby, on Sydney's Lower North Shore) and her daughter K
"What a God-send. Katherine is amazing!!! Our family will be forever indebted to her. She was calm and strong through some really difficult circumstances, caring for our mother and father with great dedication. Our family cannot thank her enough. We want to keep Daughterly Care for as long as we can so Mum can be stable at home for as long as possible."
Family member, Kiama Downs

–
Read on 10. Live in Care vs 24 Hour Care