Private Live-in Care and 24 hour care for Sydney's Eastern Suburbs
Daughterly Care's Live in Carers and Private Nurses are able to provide elders as well as seniors with 24hr, around-the-clock care or overnight care with extra assistance.
In home Live in Care is the best way to avoid the nursing home, as well as providing respite care for the primary carer.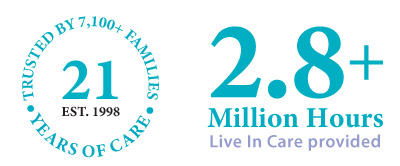 Daughterly Care has provided over 2.8+ million hours

 

of Live in Care over the last 21 years, which means we are the experts in Live in Care
There are 5 benefits to Live in Care and private in home care such as 24 hour and overnight care services:
You or your elderly loved one have complete autonomy over your or their home nursing care. You or your loved one are not restricted by time, day or a strict regime for when certain tasks or activities are on during or any certain day.
Consistency of live in carers and a stable rotation of two main live-in care workers for the length of your or your loved one's private in home care service.
Nursing care, support and an extra assistance from friendly, deeply passionate and highly trained livein carers and private 24hr care Nurses, as well as experienced High Care Case Managers. Most importantly, we best-match live in carers to you or your loved one's home nursing care needs, personality and preferences.
Flexible and personalised in home care for you or your elderly parent. We are great communicators and welcome input from family members, close friends and health professionals so we can truly deliver a unique and exquisite home nursing care service.
The best alternative to a nursing home is in home care. We all want to stay at home and enjoy our remaining days, where we feel comfortable, secure and to continue doing the activities or hobbies we love.
How 24 hr care works with Daughterly Care
Our private 24 hour Registered Nurse and High Care Case Managers are committed supervising and supporting the Live in Carers during these active overnight care services because this type of environment requires a high level of in home care experience and consideration within the Daughterly Care team.
There are no lock-in contracts which Daughterly Care prides itself on being flexible to increase or decrease private home nursing services depending on the elderly client's in home nursing care needs.
Elderly clients who require 24 Hour Care, active overnight care, or around the clock care need substantial support and care so to meet award conditions each 24 hours 3 differerent care workers attend. This allows 3 different carers to actively cover the entire 24hr period and still provide the one-on-one personalised in home care we are well-known for in the aged care services industry.
We ensure that all your personal preferences are attended to while you enjoy the comfort and security of living at home. We support and assist with your medical care needs and lifestyle, rather than you having to fit into the routine of a nursing home, retirement village, aged care facility or hospital.
Discover the tangible benefits of Live-in Home Care from our clients' testimonials and reviews:
13 July 2017 – Thank You from live-in client, Mrs H who lives in Darling Point on Sydney's Eastern Suburbs
Thank you to all my carers for all that you do during my active overnight care.
Compliments from Son of Elder who lives in Edgecliff, on Sydney's Eastern Suburbs
Ettie was superb! Such an amazing soul and a wonderful human-being. By the way, both of the Carers, Ettie and Danielle have been absolutely superb, both professionally and inter-personally. Amazingly wonderful people!
Thank you so much to all at Daughterly Care. You've all been a rock of stability and pragmatism through this whole process – amazing!
David
Appreciation from Accountant Daughter of live in care client in Bellevue Hill, on Sydney's Eastern Suburbs
My Mother was diagnosed with Alzheimer's Disease (a form of dementia) in late 2003, just after she turned 80. Initially, we realised that Mum needed more inhome care assistance with day-to-day tasks. We started with a Care Worker for 2 hours, twice per week to help Mum with shopping and preparing meals. As Mum's memory declined, we added a couple of in home care hours each morning and active overnight care.
In early 2005, Mum broke her hip and had to have an operation and spent 4 weeks in hospital then some time in rehabilitation. Around this time, we found that Dad's memory was also declining and he was diagnosed with Alzheimer's Disease. We realised that they both needed more home nursing care so we increased the in home care to 12 hours per day when Mum came home from the hospital.
We soon realised that this would not work for us as a family and our busy lives. We started with live-in Carers from 7 am until 7 pm daily in 2005 and then we found it necessary to increase the private care to 24 hrs Live in home care as my parents' health deteriorated.
Alzheimer's disease affected my father's personality in a negative way. We knew that the stress of moving him to a Nursing Home would cause considerable pain for everyone involved. We have no doubt that he would have been highly medicated in a Nursing Home as he can be difficult to manage.
The family decided that the best option for my elderly father was to leave him in familiar surroundings and give him the privacy of living in his own home. Daughterly Care enabled this to happen with patient live in Carers who were very attentive to his dementia care needs up until his death in 2009.
"One of the biggest advantages of using Daughterly Care is that we are never left without a Live in 24 Hour Carers which makes them very reliable."
We believe that my parents have always received premium quality private in home care.
"The Caregivers are experienced with dementia, show tolerance and compassion. If any problems did arise, we had an experienced Case Manager or Coordinator who quickly rectified the situation."
Currently, one of our live in carers has been with us for over 7 years and another for over 5 and a half years. A third live in carer was with us for over 8 years. We greatly appreciated the consistency of Caregivers and they have gotten to know both my parents and the family very well. The stable team of overnight and live-in carers are trustworthy, considerate and regularly communicates with the family.
My mother's health is now so poor that we could move her to a Nursing Home and she may not notice a difference of environment. However, with Mum at home the family are able to visit her when it is convenient for my relatives or siblings and for any length of time, and it's very pleasant visiting Mum in her own home.
None of us visit her if we are sick and the live in carers obviously do not work if they are unwell. This means that my Mum rarely gets a cold, the flu or a gastric virus. We don't have to mix with other dementia patients, which can be quite confronting.
We are a large family and having the house has meant it has been easy to celebrate Mum's birthdays at home. It has also meant the house is lived in, we have been able to maintain the house and undertake any necessary repairs while the live in carers are there.
As a family, we have benefited from the capital growth in the value of my parents' home over the last nine years, which is capital gains tax free. If we had sold the house and placed my parents in a Nursing Home, we would have missed out on that growth.
My family have no doubt that Daughterly Care has enhanced the quality of my mother's life and that of my late father. Without Daughterly Care, my elderly parents would not have been able to stay in their own home. I would highly recommend Daughterly Care and my family are very grateful for their assistance and support.
Appreciation from Daughter of livein 24 hr care client, Mrs W who is 99 years of age and lives in Woollahra on Sydney's Eastern Suburbs
Jenny [Daughterly Care Registered Nurse],
I just want you to know I am more than thrilled with Daughterly Care. The communication and in home care support from management, the live in carers, the professionalism is second-to-none. Both ladies [Jenny and Penny (Daughterly Care Live in Carers)] had only been there a week and picked-up marks, which were potential pressure sores on Mum's bottom. They took action and put a cover over the area, as well as suggested an air flow mattress.
Thank You from Wife of client who lives in Rose Bay, on Sydney's Eastern Suburbs
I have been so impressed with the care that I have observed being given to my husband that I have decided to bring my husband home from the hospital with Daughterly Care on-board tomorrow. I think, Daughterly Care is wonderful.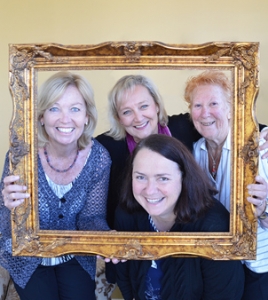 Daughterly Care's High Care / Live in Care
Case Managers (L – R & T – B)
Penny, Suzy, Jean and Kathy
How people use Live in Care: