Adult Children Choose our Private In Home Care for their High-Profile, Successful Parents
Daughterly Care is the best choice for private in home care for discerning, successful and high profile Elders and their families. Why is Daughterly Care the best private care provider?  We're highly experienced. We've been Sydney's leading private care provider for 21 years. We employ experienced, high quality Caregivers who know how to provide exceptional care. Our experienced High Care Case Managers and Private Nurses can provide the full range of in home care services that you would expect from Sydney's leading private care provider, which means less hospitalisations for our clients. It also means you never have to go to a nursing home.
In short, we are a proven  provider of quality private care and nursing services to discerning Elders, who wish to live joyfully in their home, their way. Adult children who are seeking Private In Home services for their parents expect discretion and security – and our Caregivers respect this and deliver.
Typically, the adult children who use Daughterly Care's Private In Home services fall into the following categories:
Families whose culture or values are consistent with the notion that the family provides care for their Elders, yet the younger generation does not have the time to do this on a full time basis – For those families, a Nursing Home is never an option. The best alternative is that Daughterly Care provides the core of the care with family popping in regularly to spend quality time with their parent(s). This way, the Elder receives the best Private In Home care and the best quality time with their family.
Loving, successful sons & daughters, nieces & nephews who don't feel comfortable toileting and showering their much loved parent (and frankly they have too many demands on their time). So we can provide the best of personal care. We can even have lunch cooked so that the adult children can pop in for Sunday lunch, or for dinner on the way home from work. Why not leave work early one day a week and join Mum and/or Dad for dinner?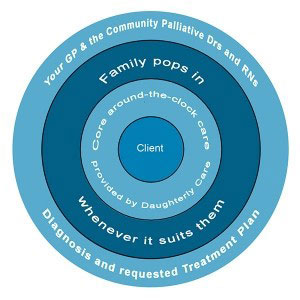 08.03.16 Jane, Janelle and Mr M's daughter, Queensland
THANK YOU SO MUCH!!! You are making a HUGE difference to my parents' lives!! Mum loves you and she is so grateful for your excellent practical assistance, reassurance and caring nature. Goodness knows where we'd be at without you……
We are also so happy and grateful that we have your services for the next three consecutive Thursdays, so that mum can do this carer's course. She kept trying to tell me she was 'too busy' and 'not in the right mind set' to go along to this, and I had to use all my skills and encouragement to get her to agree to go, but having you on board to get her there and back and look after dad, has made all the difference and will ensure that her stress levels are kept in check.
Much appreciated!!