(By Frank Featherstone – the husband of one of our clients)
No means no – but it ain't necessarily so…
Once upon a time it was easy for a husband to lead his lady up the garden path and she'd go with alacrity. But like many things now it would seem that the "No" word is used more often and in an involuntary way to resist doing the things that were once dear to her heart – like gardening for instance.
So, do you take that refusal as final?
It doesn't make sense because it would get her out of that perhaps too-comfortable chair for needed exercise; the blooming of the flowers would delight her and neighbours would get more than a lovely bunch of coconuts. But "No", again, 'You do it!", is the reply.
So what do you do?
Remembering the old adage: "Faint heart ne'er won fair lady" you take a different tack.
One of the ladies in our Narrabeen retirement village is a professional gardener who works at Flower Power. She accepted the brief to be both carer and gardener several hours a month, and create what she calls a "show garden ".
The result in springtime is a delightfully varied garden and you can see the pleasure in Trish's eyes as she takes ownership. In actual fact Trish might only do a bit of weeding and pruning but both of us most days enjoy stepping out onto the patio and appreciating "Our garden".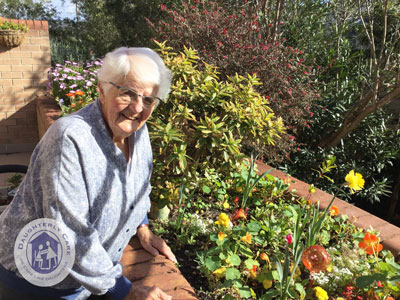 The study option
Like all lovers you seek to be a better one. When I found out that in home care Approved Provider Daughterly Care Community Services ran a course for their Caregivers in the Montessori method of helping to support people with a dementia diagnosis I signed up for the three-stage program eager for tips on how to do things better. It was obvious that Trish's panic attacks and depression were more than she could bear.
I found that there were things I could do to make her happier and that would involve me changing my way of thinking – while retaining it – and learning the do's and don'ts of dementia. You can't always win of course – for always read sometimes – but when you succeed there's an un-imagined surprise and happiness that takes you through to the next day.
Below is one of the moments. (This photograph taken by Daughterly Care carer, Annie P, who also prepared our meal).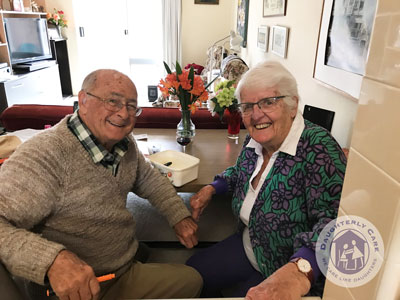 Learn more about how Daughterly Care uses the Montessori Method when supporting a Loved One.
Learn more about Daughterly Care's Joyful Living Approach by enabling meaningful and purposeful activities likes gardening.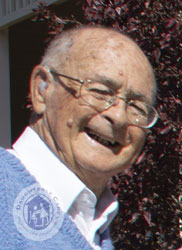 Frank Featherstone