(By Frank Featherstone – the husband of one of our clients)
Suddenly you're as old as the calendar says you are. And you're starting to feel it. You're no longer a threat to tennis champion, Federer, and young women offer you a seat in the bus. But much worse is the realisation that things aren't the same at home.
Now, let me talk personally. Trish, my wife of 54 years, over the last 12 months has developed many of the signs of dementia.
And this is the indefatigable wife who organised me, six children, played tennis too, sang with Sydney's Philharmonia Choir as well as in the local church's one every Sunday. Trish was also a better driver than me but no matter, that helped me to catch up with sleep in the lay-back passenger's seat.
Suddenly the dementia thing
I think it was a series of painful operations that kicked the dementia off but suddenly Trish could no longer find her way around the kitchen. Trish completely lost her desire to sing, spin, knit and sew and didn't want to leave the house. Trish lost her will to lap local pools and didn't want to walk whereas in 1990 she trudged in snow on the Great Wall of China.
Then the Polio came back as The Polio Syndrome.
Now we fight the mobility battle together. Fortunately Trish can still ride a battery-operated invalid scooter with me "riding shotgun" alongside.
Being a typical male, albeit, 82, I soon found that doing everything: the cooking, washing, vacuuming, answering the 'phone and just being on call was a bit too much although my two lovely (in every sense) local daughters did what ever they could, whenever they could subject to the needs of their own three-children families. I started to investigate part-time help but was shocked by the hourly rate.
Organising the hours
Suddenly I developed pneumonia, almost died from diabetes "lows" and other medical complications.
There was no alternative was there?
Mona Vale Hospital did an ACAT Assessment which meant I could access some free carer respite paid for by the Government. I booked Daughterly Care for three-hourly shifts and so far have experienced the different caring natures and individual talents of three different ladies. One even makes capsicum soup!
Perhaps I can continue this story in Kate Lambert's blog next time and let you know my wife's reaction to other women coming in to our home? Also I can pass on a few tips about Dementia not being as bad as some people say it is.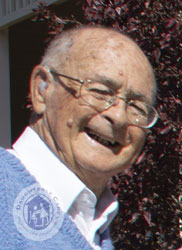 Frank Featherstone