Elder loses 46% of her Government Funding in Approved Provider Fees.
This lovely mother and grandmother, we'll call her Mary, was struggling to live well with just 3 hours a week of in home care from her Government Funded Approved Provider of in home care. Mary sent me a number of her Monthly Home Care Statements so that I could see where her Government Funding was going.
The Old-School Approved Provider was taking a whopping 46% of the Government Funding for their administration and case management fees.
That's almost half the funding gone every month before $1 is spent on care!!!!!!!!!!
I have to say that I was surprised by this high rate of fees as we are well into the Consumer Directed Care Reforms and I have seen Old-School Approved Provider fees reduced to a more competitive level thanks to competition from the New Breed of Approved Providers, like Daughterly Care Community Services.
Let's have a look at Mary's June 2017 statement and you can see for yourself:
| | |
| --- | --- |
| Administration fee | $330 |
| Core Advisory Fee | $120 |
| Case Management Fee | $105 |
| Total fees for June 2017 | $555 for 30 days |
This $555 for the month represents 46% of all the June 2017 Government Funding of $1,202.70 for 30 days of care.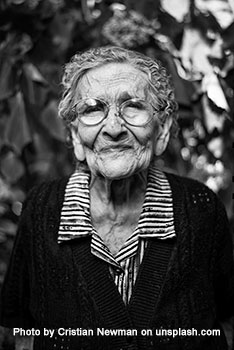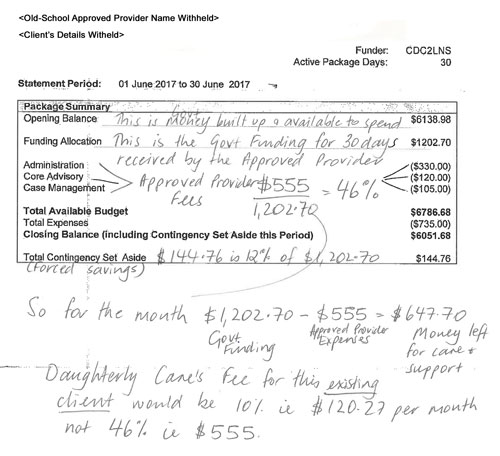 Plus the Old-School Approved Provider had set aside $144.76 being 12% of the Government Funding as a Contingency Fee (even though the maximum Contingency Fee allowed by the Government is 10%)
A contingency fee is not an actual fee that is deducted and lost forever, rather, it is your money which has been quarantined, or set aside for your future use, as needed. However when a Contingency Fee is set aside it's NOT there for you to spend now. Think of it as forced savings for future increased care needs.
What I don't like about Contingency Fees is that:
1. It assumes you have to be forced to save for your future care needs and deprives you of the money NOW for your CURRENT care needs. What if you already have your own money saved for increased care needs? What if you need as much care as possible now? What if that extra help now will help rehabilitate you?
2. Old-School Approved Providers have told Elders things like "we need to keep 10% in case you don't pay your fees". Everyone is guilty until they prove themselves innocent!
Very few Approved Providers charge their clients a Core Advisory Fee plus a Case Management Fee. It's more often one or the other, rarely both.
So if we take the Government Funding for June 2017 – less the Old-School Approved Provider fee of $555, that leaves $647.70 for 30 days' care.
By comparison, Daughterly Care Community Services would charge 10% pa, not 46 %pa, (because they're an existing client of Daughterly Care) so our total fee would be 10% pa of the Government Funding i.e.$1,202.70 = $120.27 which leaves $1,082.43 available for support/care over 30 days.
The award for Caregivers increased from 1 July 2017 so all of the Approved Providers of Government Funded Packages are in the process of increasing their care fees. Our fee has increased from $53 to $55 and will not be reviewed again until 1 July 2018.  So with our increased care fee of $55 per hour the client would be able to afford $1,082.43 divided by $55 per hour = 20.42 hours of care for the month compared to the 12 hours they have been receiving.
So the client would be able to receive 8 more hours of care every 30 days with Daughterly Care Community Services than if they stay with their Old-School Approved Provider, without paying a cent extra.
This client will be financially better off transferring their Home Care Package to Daughterly Care Community Services.
Their life would be more simple as they just deal with us, not with us and another Approved Provider.
We have very good quality Caregivers, that is our point of difference.
We provide a lot of care and support on the Lower North Shore where the client lives.
What is this opening balance of $6,051.68?
As at 30 June 2017 the client had $6,051.68 of UNSPENT FUNDING available to spend on their care. This transfers in full to Daughterly Care for the client to use and we don't charge any fees on this transferred balance EVER as we know the Old-School Approved Provider has already taken 46% of the Government Funding that it came from.
Some other points to note are:
1. This client is a "continuing care client" which means the Home Care Package started prior to 1 July 2014, which means the client never has to pay an Income Tested Care fee, even if they are a self-funded client as they had a package before the Income Tested Care Fee was introduced.
As long as Mary transfers within 28 days and never takes a break exceeding 28 days from the Home Care Package, she will RETAIN this discount status, which will continue to save her $10,552.18 pa. We normally do a next day transfer, so the 28 day rule is not an issue for Mary.
2. The Old-School Approved Provider signed Home Care Agreement dated 22 August 2016 makes no mention of an EXIT FEE, therefore the client cannot be charged an exit fee for transferring to Daughterly Care Community Services.
3. The Old-School Approved Provider signed Home Care Agreement mentions that the client will pay a $132.02 Daily Care Fee, per fortnight, however the Monthly Statement for June 2017 does not show any basic care fee being paid by the client. Accordingly, Daughterly Care would NOT charge a Daily Care Fee ever.
Mary losing 46% pa of her Government Funding in fees is far from ideal.
If you would like to have Daughterly Care Caregivers and you are not entirely happy with your existing Old-School Approved Provider – send me your statements and I will tell you what I see financially and then you can make an informed decision that is best for you.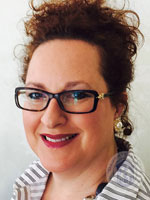 Kate Lambert
B.Ec F.Fin
Daughterly Care CEO & Co-Founder
82% of Australians think it is important to talk to their family about how they would want to be cared for at the end of their life. 
Yet only 28% have done so.
Yesterday was "dying to know" day.
When Verlie's Mother, Thelly was dying of lung cancer, Verlie said to me through gritted teeth "don't mention dying or lung cancer to Mum". Verlie didn't want me to upset her Mother.
Of course, I agreed (even though I knew from my Mother, after my sister died, that people don't want the topic of death ignored).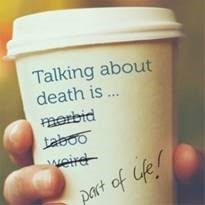 These topics were absolute no-goes for Verlie. However when Verlie popped to the shops, the ONLY topic her Mother, Thelly, wanted to talk to me about was dying.
Thelly was relieved to be able to tell me that she "knew what was coming" because both her parents had died of cancer.
Thelly explained how she had nursed her parents. She recalled how she had cared for them in perfect detail.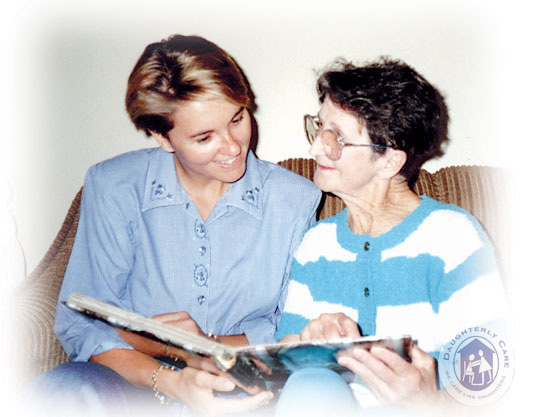 Mostly I just listened. Although "dying" and "cancer" were banned, unspoken words for Verlie – her Mother did not avoid them. In fact Thelly wanted to talk about dying… when Verlie was absent.
I reassured Thelly that medicines had changed and the suffering that her parents had endured did not happen today – not with today's more effective pain relief. Not when the Community Palliative Team was on-board. Not with morphine. Not for Daughterly Care clients.
After Thelly died, Verlie spoke of one regret – that she had not talked to her mother about how she was feeling about dying.
I reassured Verlie that it was 'ok'. There was no way Verlie could talk to her Mother about dying…it was unspeakable to Verlie. I also re-assured Verlie that Thelly could not talk to Verlie about dying because it would have been too upsetting, so she talked to me.
It is common for our clients to talk to our Caregivers about how they feel about dying. Often it is easier to talk with a paid Caregiver than with family who they love too much to talk with. Sometimes the closer you are to death, the harder the conversation can become.
Every adult child and older person would benefit from understanding the palliative care journey and what happens during end of life care.
I recommend reading about it when it is NOT imminent. Here are 3 important pages of information for you:
Our Palliative Care page has information on:
✓ How Palliative Care works in the home, which is where most older Australians prefer to die
✓ 7 tips for a good death
✓ 3 real life Case Studies
2. Our End of Life care page has information on what actually happens in the last days and hours of life. It's educational and helps you know what to expect.
3. Finally, here are another 3 real life case studies on dying at home.
In my experience informed older Australians have better deaths.
The palliative and end of life journey is easier when you know what to expect and you know what your parent / spouse / Loved One wanted.
Have you talked to your Loved Ones about your palliative and end of life wishes? It's not easy, but it does make decision-making easier.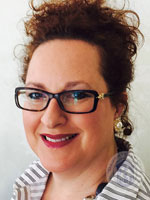 Kate Lambert
B.Ec F.Fin
Daughterly Care CEO & Co-Founder
Hello,
I thought it was time again to hear from THE experts on dementia – and that is the people who have a dementia diagnosis themselves.
I would like to introduce to you, Kate Swaffter – 2017 SA Australian of the Year.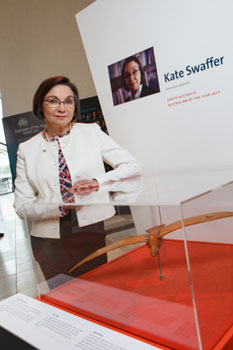 Kate, a retired nurse, was diagnosed with a form of dementia in her 40s. Since diagnosis Kate has completed a Masters of Science in Dementia Care and is part way through a PHD. Kate is also on the Board of Dementia Alliance International, the peak body representing the global voice of people diagnosed with dementia.
Reprinted with Kate Swaffer's permission, here is her most recent blog:
Over the years, it has come to my attention that others speak about me as one of the #DementiaLanguagePolice. There are many of us around the world, and we constantly have to put up with being labelled sufferers of dementia, even when most of the time, we are more often suffering because of this label, and the poor care, or no care received after our diagnosis. We also suffer due to those who accuse us of lying, or who persist in saying "But you don't look like you have dementia."
A recent article in the Huffington Post was the third example of being collectively labelled as sufferers in as many days! When will people without dementia start respecting people living with dementia? I can't speak for others with dementia on this one, but feel free to call me retarded if you wish, as personally, that offends me far less than being labelled a dementia sufferer. Many of the advocacy organisations also advocate for this change, and many have Dementia language guidelines, but still, too often those in the media refuse to change…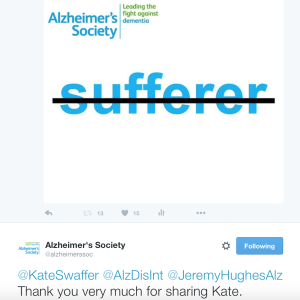 Chris Roberts has said publicly at a conference I attended some years ago; 'I may suffer some of the time, but do not label me a sufferer.' Many have spoken about how offensive this is, long before I became a dementia activist. Helga Rohra speaks about it, as does Keith Oliver, Christine Bryden, Wendy Mitchell,  Mick Carmody, Brian Le Blanc and SO MANY OTHERS… The late Peter Ashleigh and Dr Richard Taylor also spoke strongly on this topic.
Disrespectful language contributes significantly to the stigma, discrimination and isolation we continue to experience, and this is supported not only with vast amounts of anecdotal and anthropological evidence, but also with a significant amount of evidence based research.
Please… the time is now for respectful language.
By Kate Swaffer
Today I listened to 12 people with dementia talk about how words hurt
Today I listened to 12 people with a dementia diagnosis talk about how words stigmatise them and limit their whole person humanity. Yes, they do say they suffer with their illness but no, they are most definitely not "sufferers". Sufferers is a word that disempowers them and does not reflect the truth of their lived experienced, which is, they are whole people who can and do live well, despite their dementia. They would live even better lives if society realised that they have a disability and need "cognitive ramps" to compensate for their condition.
The problem is our attitude and use of one-word labels
A large part of the problem is that one word – dementia – is used as an umbrella word to describe over 150 dementia conditions and that one word dementia is highly stigmatised with 'pre-conceived ideas' about what it means to have a dementia diagnosis. More often than not, those ideas are wrong. Not only is one word used to describe over 150 medical conditions but it doesn't allow for the fact that the experience of living with dementia changes over time. Society sees people living with late-stage and end-stage dementia and then they think of dementia in that context alone. This denies the experience of the people living with early and mid-stage dementia.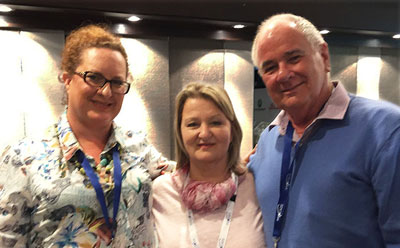 Sue Pieters-Hawke said at a conference – "the problem is we see people with dementia as 'less than'.  Less than us, less than human". She argued that if we truly saw people with dementia as valid, whole, equal humans with a disability we would not use the negative, demeaning words we use to describe people with a dementia. It was a confronting point of view that amplified the silence of the professional audience listening, who unfortunately, still in their presentations used many inappropriate negative labels to describe people with a dementia diagnosis. Sue's point of view was the unspoken truthful elephant in the room. It had to be said. It was a call for the industry and society to be more intelligent, considered, thoughtful, kind and truthful in our use of words.
We under-estimate people with a dementia
In my experience, people with a dementia are more often than not under-estimated by society, even by their loving family, and this is the point Kate Swaffer and Dementia Alliance International, the peak body representing people diagnosed with dementia, are making…to sum up their life as "sufferers" is a negative and stigmatising label. Their true life experience is much richer …rich with functional ability, intelligence, love, humour and joy.  At least that has been my experience of what I have witnessed of the lives of Daughterly Care clients.
Kate Swaffer, Christine Bryden and Dementia Alliance International are right….we do need our language to be more respectful, positive and supportive of a dementia disability. We also need to spend less time focused on losses and think how we can support the person's continuing abilities and their emerging needs. People with a dementia need respect and helpful support. They need "cognitive ramps" for their dementia disability.
Another first for Daughterly Care
To better support and enable our clients, Daughterly Care has had 7 staff accredited to become Montessori Trainers in order to train our 200+ Community Caregivers on the Montessori way of supporting and enabling clients with a dementia diagnosis. Daughterly Care is the first community home care provider to do this in Australia, some Nursing Homes have made this investment, but we are the first community care organisation to adopt the Montessori Method.
It's a massive investment in terms of cost and time, however the evidence based research supports the effort and we are always looking to offer best practice care and support.
The Montessori Framework is all about supporting Elders positively and focusing on enabling, re-enabling and support that leads to greater self-esteem and well-being. It's perfectly aligned to Daughterly Care's Joyful Living Approach™ to support and care. You can read about the 12 principles of the Montessori Method and Dr Maria Montessori here.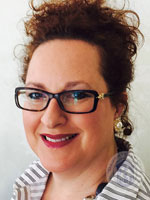 Kate Lambert
B.Ec F.Fin
Daughterly Care CEO & Co-Founder