Daughterly Care's Mosman Aged Care Advice Centre is as busy as the beautiful skirt of our 'Lady Spring' in our window. 
If you live in the Mosman area, drop into by our in Home Aged Care Advice Centre and see Lady Spring for yourself. The ladies there would love to have a chat with you and answer any questions you may have about dementia or other conditions that affect Elders.
Daughterly Care's contribution towards Dementia Awareness Month this September has been to present FREE Educational Sessions for Adult Children and Elders wanting to discover: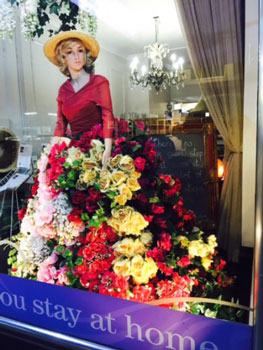 How to avoid having to go to a Nursing Home
No matter what your income is, you may be eligible for Government funding of up to $53,797.35 per person, per annum!
Kylie lambert. B.Ec F.Fin Daughterly Care CEO and passionate Consumer Advocate for Elders explains:
How to DOUBLE or TRIPLE the hours of government subsidised in home care;
receive a FREE copy of the NEW government book – 5 Steps to Access In Home Care;
Receive a FREE report on "24 Industry Insider Tips" to get your package faster than the common 2 year wait; and
How to utilise Government subsidised in home care – NO ASSETS TEST – to avoid a Nursing Home.
Date: Wednesday  30th September and Wednesday the 14th and 21st of October
Times: 10.30am – 12pm
1.30pm- 3pm
5.30pm – 7.00pm
Date: Saturday 26th September and 10th, 17th and 24th of October
Time: 10.30am – 12pm
CLICK HERE to book, bookings essential.
Our other seminar topic is …
What is dementia?
Robin Bower, the Manager of Daughterly Care's Mosman Aged Care Advice Center has over 21 years' experience caring for Elders including people living with forgetfulness, memory loss or dementia.
In her free seminar Robin will explain what dementia is and share 9 valuable and practical tips on how to easily relate to someone living with dementia, including teaching you a new way of communicating with someone who is living with dementia.
You will leave the seminar knowing how to communicate and relate to someone living with dementia.
Dates: Tuesday the 6th, 13th and 27th of October 2015
Times: 10.00am – 12.00pm
Where: Daughterly Care's Mosman Aged Care Advice Centre, Shop 3, 836 Military Road Mosman (opposite Belmont Road and Westpac Bank).
To book, email robin at robinb@daughterlycare.com.au or call our Mosman Aged Care Advice Center on (02) 9969 5954. If you get sent to voicemail, leave a detailed message with the date of the session you want to attend, and the amount of people.
This seminar will be available in Narrabeen soon.