Christmas is nearly upon us. Most of us will soon be hitting the retail stores in an effort to buy Christmas presents. Do you find it challenging? Well, I have 3 terrific gift ideas for someone living with dementia.
People living with dementia are very sensory orientated. They tend to love bright colours and music that reminds them of happy times. They don't lose their sense of taste or their sense of smell so that can lead to all sorts of possibilities.
If you are looking for a gift that will last well after Christmas day you can't go wrong with the following suggestions.
Why not appeal to their sense of sight and sound? Old movies will ignite their memories and give you something to chat about with them long after Christmas is over. Do they enjoy musicals, old westerns, thrillers or do they have another favourite? Old movies are available on DVD. For instant viewing, you'll find a large variety of movies on YouTube.com.
Music is definitely a winner. Read about the research done on how music is so beneficial for people living with dementia. Why not buy an iPod and load it with your loved one's favourite musical tracks. Find out what era of music appeals to them and research the artist of that period. Music has a very powerful effect on everyone and people living with dementia are no different.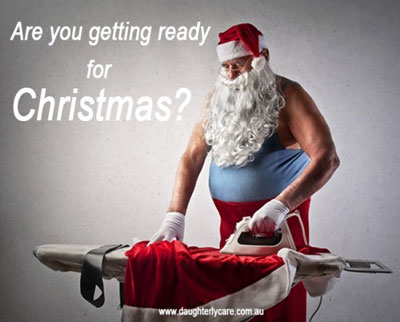 There's always the personalised gift basket. Create your own with all your Loved One's favourite treats. Load up lots of small taste sensations such as mini Christmas cakes, sample jams, quality chocolates and yummy cheeses. Whatever your Loved One enjoys can be included. Make sure you wrap items in brightly coloured paper and then wrap the entire basket of goodies. It will look so enticing and they will love discovering new treats for days.
These are just a few ideas and if none of them appeal, just choose a gift that appeals to their sense of sight, sound, touch, taste or smell and you're sure to please.
Remember if you need some extra time to go shopping or see friends over the holidays we're available to look after your Loved One for you. We can make sure they enjoy themselves while you are attending to all those extra Christmas tasks. We can take them to appointments or out to mail Christmas cards, or buy presents.
Our wonderful Caregivers are here to support you and your Loved One in any way we can. Give us a call today on 02 9970 7333.