There are many ways to communicate
People living with dementia often find it difficult to communicate verbally. But don't underestimate them. We are so used to communicating verbally that when someone is unable to communicate via speech, it can be interpreted that they can't communicate at all. Their senses are usually all functioning and they are probably taking in a lot more than you realise. In our 21 years of specialising in Elder care and dementia care, we have discovered that Elders are able to take in a lot more information than you may first realise.
Don't underestimate me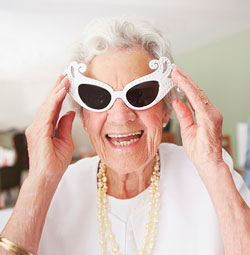 I know more than I say.
I think more than I speak and notice more than you realise.
Experiment with different forms of communication.
When giving your Loved One choices ask for yes or no replies, rather than open ended questions. For example, "What would you like to wear today?". This can cause stress and confusion in a person living with dementia. Rather hold two options up and ask "would you like to wear this or that one?". Simplifying choices is a great help and can increase effective communication. If they can't verbalise their response, they can reach for the item or the other options.
In conjunction with our Elder care Joyful Living Approach™, Daughterly Care uses a very effective method of determining the preferences of a client, even if the client cannot communicate verbally.
Our skillfully trained Private Nurses and Caregivers adapt this Elder Care method to each client so that it is personalised, thus increasing its effectiveness.
People living with dementia retain their sense of taste
Why not experiment with small 'tastings' of different foods to tantalise their tastebuds? Food preferences change in all of us but it may be challenging for those living with dementia to ask for something different. They may eat only a little of something because they don't like it and not because they are full.
It can be frustrating and upsetting to feel hungry or to eat a meal that does not taste very nice. These are the circumstances that Elders can encounter when their meals are not prepared to their food preferences.
Frustration can escalate and may be seen as 'troublesome behaviour'.
To deliver an effective Carer role, one needs to research and investigate the core of the behaviour. The pain, frustration or another emotion can be a reaction from the simplest activity or task. This is why, Daughterly Care Caregivers obtain and update their knowledge and skills to provide specialised care for Elders living with dementia. In our 21 years of focusing on dementia, we truly value the personalised and effective way of communicating with Older people living with dementia and our understanding of their feelings and preferences.
If you would like to arrange an in home consultation on how we can help you or a Loved One, please ring 02 9970 7333.